3 Ways Americans Can Live Better, Longer Lives
A 2015 Influencer in Aging says these public policy investments are key
Editor's note: This article is part of Next Avenue's 2015 Influencers in Aging project honoring 50 people changing how we age and think about aging. Here, Linda Fried, M.D., one of the Influencers, discusses the importance of making better investments in public health for aging Americans.
If I could change one thing about aging in America, I would create optimism that our now-longer lives are an asset for our families and society — and increase investment in the approaches that fully realize that enthusiasm.
Over the last century, our life expectancy has grown by 30 years. By 2030, more than 20 percent of the nation's population will be over 65. That's an enormous public health accomplishment, but with it comes the imperative that these longer lives are lived in good health.
Fortunately, we know that the key to healthier longer lives is disease prevention, which works at every age and stage of life. Yet half of health is created by factors that lie outside of individual control, so health across the life course depends on actions we take collectively.
Here are three key investments that America should make to ensure that longer lives are lived more healthfully:
Design Health Systems for Longer Lives
Now is the time to invest in the medical, public health and social systems that can support healthy aging. We need new health systems for older adults that understand geriatrics and invest in prevention of disease, frailty and loss of independence.
In addition, we must adapt our environments to better support successful aging. With more than 80 percent of Americans living in urban areas, it is crucial that we prepare our cities to meet their needs. New York City's Commission for an Age-Friendly NYC, of which I am a member, has identified four goals that provide a model for the nation:
Improve social inclusion, civic participation and employment opportunities for older adults
Increase the availability and affordability of safe, appropriate housing
Provide age-friendly public spaces and a safe means for reaching them
Ensure access to health and social services to support independent living
Additionally, we need to give future generations of older adults a healthier start. In the United States, almost a quarter of children grow up in poverty, exposed to environmental toxins, violence and inadequate housing. Too many are overweight or obese. These conditions set them up unnecessarily for a lifetime of ill health.
Increase Federal Funding of Research
Preventing disease is more cost-effective than curing it. With chronic diseases (the dominant cause of ill health in the United States), evidence-based approaches to keep us healthy must be a top priority.
For instance, in 1990, fewer than 15 percent of American adults were obese — a figure projected to rise to 42 percent by 2030. As many as 5 million people suffer from Alzheimer's disease, a figure that is expected to triple by 2050. Yet research and development funding to help us better prevent conditions like these has declined from 9.1 percent of the federal budget in 1968 to 3.6 percent today.
If we do not make a larger commitment to research now, we will pay a much higher price in the future.
Develop New Civic Institutions
Older Americans have valuable skills and capabilities that can continue to enhance the lives of younger Americans, while improving the health and well-being of all. New civic institutions should be created that help both generations simultaneously, engaging older Americans while keeping them active and healthy to help mentor younger Americans. Proven examples of such organizations exist, but they should be much more highly prized, better funded and sustainable.
As Americans age, we can simultaneously invest in the assets of older generations and their many benefits, provide social dividends for younger generations and strengthen institutions engaged in crucial work in our cities and elsewhere. That would be a triple win — and a great source of optimism for everyone.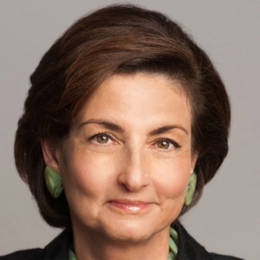 Linda P. Fried, M.D.
Dr. Linda P. Fried is dean and DeLamar professor of public health and professor of epidemiology at Columbia University Mailman School of Public Health. She is senior vice president at Columbia University Medical Center and professor of medicine at Columbia's College of Physicians and Surgeons. She is a Next Avenue Influencer in Aging.
Read More