3 Ways to See Chile
Enjoy the South American country's nature, food and culture
If you yearn to see glaciers and blue icebergs like you'll find in Alaska, fjords like in Norway, the world's driest desert, wine country, evergreen islands and even a slice of Polynesia, you'll find them packed in one exceptionally thin country: Chile. Patagonia, one of the most gorgeous regions you'll ever see, is a 3 ½  hour flight south of Santiago, the capital. The Atacama Desert is a two-hour flight north of Santiago. Wine regions are driveable from Santiago. The Chiloe islands are a 1 ½ hour flight south of Santiago, while Easter Island is a five-hour flight west of Santiago.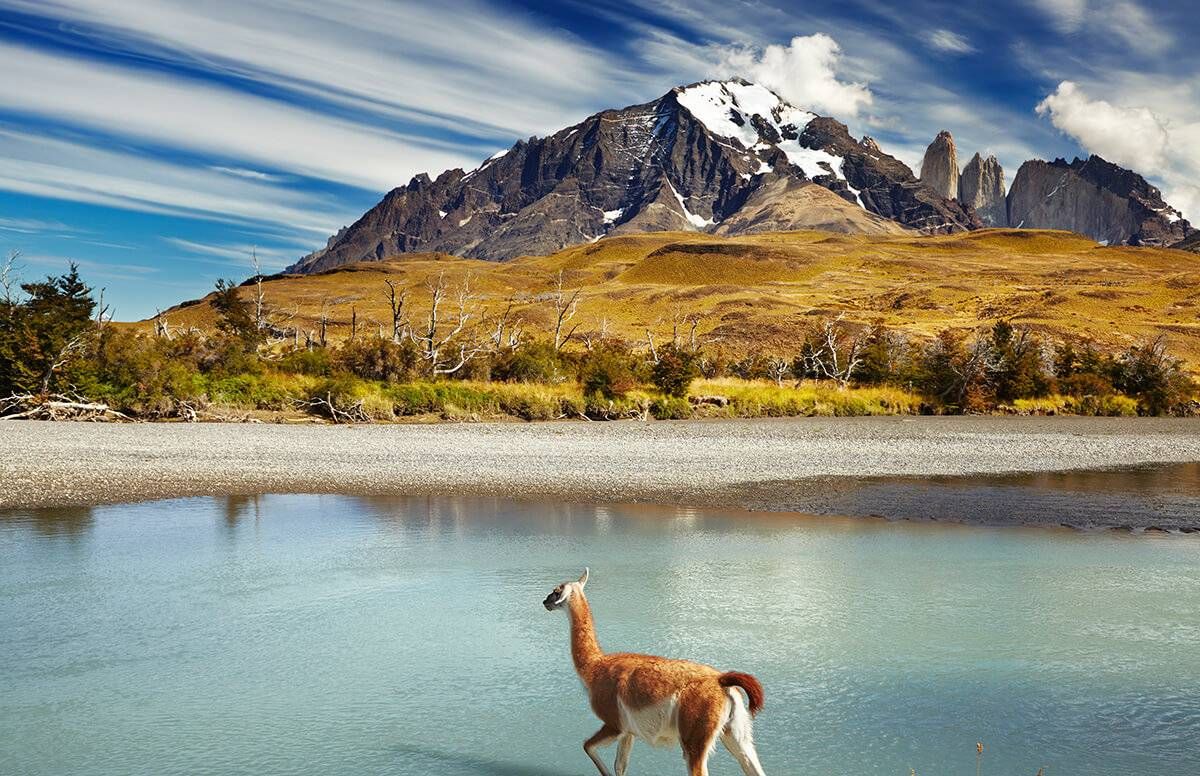 Wedged between the Pacific Ocean and Andes mountains, this South American country is only about 110 miles wide on average, but as long as the distance from Norway to Nigeria. For lovers of nature, the outdoors and adventure, Chile is a don't-miss, but food, wine and culture lovers will also find lots to enjoy. December to March is summer, its high season. Nonstop flights to Santiago, in central Chile, leave from Los Angeles, New York, Miami and Orlando on LATAM Airlines. Best of all: the $160 arrival visa fee has been scrapped.
Here are three ways to experience Chile, focused on nature, food and drink, and culture:
Nature
In southern Patagonia, Torres del Paine National Park is a wonderland of gem-like turquoise and emerald-colored lakes, snow-capped twisted granite peaks, fjords and forests. Hiking options abound, from half-day and day hikes to week-long treks. Kayaking, llama-trekking, horseback riding, mountain biking and fly-fishing are also available. Punta Arenas is the airport, and Puerto Natales the gateway (with seasonal flights  during the U.S. winter).
Besides the chance to do star-gazing upon some of the world's clearest skies at public observatories, the Atacama desert offers moon-like landscapes, salt lakes and cave petroglyphs of llamas, shamans and even monkeys, proof of ancient trade. San Pedro de Atacama is the gateway, and Calama the airport.
The intense green of the legend-wrapped Chiloe islands will remind you of Ireland, but its palafitos (wood and metal houses built on stilts over the water, many now boutique hotels and restaurants) in vivid colors like red, blue and yellow won't. Puerto Montt is the airport on the mainland, Castro on Chiloe.
Easter Island is famous for hundreds of mysterious stone statues, weighing several tons each, somehow built and transported from miles away centuries ago. You can also hike the hills amid ocean views, and snorkel or dive in its crystal-clear waters.
At its three luxury-adventure hotels in Patagonia, Atacama and Chiloe, Tierra Hotels offer a variety of tours, gourmet restaurants, huge picture windows in guest rooms, restaurants and public areas, and a wealth of books on Chile flora and fauna.
You'll find lots of wildlife in Chile: Penguins, guanacos (reddish-brown llama cousins), whales and sea lions in Patagonia, llamas and flamingos in Atacama, the world's smallest deer (the adorable pudu, 15 inches tall), the world's biggest hummingbird, a tiny marsupial called the monito del monte, and the small gray fox.
Food and Drink
Two wine regions offer easy day trips from Santiago: the Casablanca Valley, a 1-hour or so drive north, and Maipo Valley, even closer, but south. At Matetic Vineyards in the Casablanca Valley, you can taste whites like Chardonnay and Sauvignon and reds like Syrah and Pinot Noir at the sleekly-designed winery; its elegant 10-room hotel, restaurants and beautifully-kept flower gardens make for a delightful overnight. The Colchagua Valley, known for red grapes, is a 2 ½ hour drive south of Santiago. Here, Lapostolle, founded by a descendant of France's Grand Marnier family, offers tastings way up in the hills, plus a gourmet restaurant and Relais & Chateaux hotel comprised of four casitas. Both wineries have (surprise) alpacas.
Seafood is very popular, thanks to Chile's ultra-long coastline. Expect king crab, salmon ceviche, mussels, oysters, fish, scallops and conger eel, in particular. A specialty of Chile is curanto, a stew of meat, mussels, clams and potato dumplings in a rich shellfish broth, cooked luau-style underground with hot stones. If cooked in a pot instead, it's called pulmay, and just as delicious. In Patagonia, lamb spit-roasted over an open fire is very popular.   
Culture
Chile's most famous poet, Pablo Neruda, is known for his Nobel Prize-winning love poems, but also the extremely quirky décor of his three homes, now house museums.  Crammed with folk art and treasures from the well-traveled life of an obsessive collector (he was also a diplomat in Burma, Sri Lanka, Indonesia and France), his homes are in Santiago, Valparaiso and Isla Negra, a beach town overlooking the Pacific Ocean south of Valparaiso. You'll find many items from secret passageways, his collections of ship artifacts, masks, seashells and antique maps, statues from Easter Island, colorful glassware from Mexico, Polish dolls and dishes from Luxembourg. Neruda's Santiago home shows a fascinating film about the life of the poet who died soon after the 1973 coup that ousted President Salvador Allende.
Legends abound in the Chiloe islands, which has always felt apart from the mainland. You'll hear about the ghost ship filled with dead sailors, witches who live in caves, the siren whose songs cause shipwrecks, and the helpful dolphin ex-human who warns of the ghost ship's approach.
On Easter Island, Polynesian culture thrives; a festival in February celebrates its dance, music, food and crafts.
Chile has so much to see; I saw Patagonia and Atacama on my first visit, and regions near Santiago on later trips.
Sharon McDonnell
is a San Francisco-based travel and food/beverage writer who's whale-watched in the Azores, ridden a camel in Morocco, seen the Northern Lights in Alaska and taken cooking classes from India to Thailand.
Read More