4 Career Lessons From Weird Al Yankovic
His album is No. 1 — takeaways for you from how it got there
Step aside, Richard Bolles. Have a seat, Timothy Ferriss. America's new career guru is "Weird Al" Yankovic. And if you're 50+, you can learn a few things from Weird Al's stunning success over the past few weeks.
At age 54, and in his fourth decade in his career, Weird Al now has the No. 1 album on the Billboard charts (Mandatory Fun) — the first comedy album to sit there since Allan Sherman's My Son, the Nut, in 1963, according to Forbes' Hugh McIntyre. It's also Weird Al's first No. 1.
Who would have thunk it?
Not even Weird Al, who told Reuters: "The response has surprised even me. I really like the videos and thought they'd have a big impact, but this has been beyond my wildest expectations. This is the most attention that has ever been focused on me probably ever. I'm quite overwhelmed by it all."
(MORE: Resume Rules to Ignore)
Weird Al's 4 Career Lessons For You
Truth is, however, that Weird Al made four brilliant career moves that helped catapult him to No. 1 — and I suggest other midlifers emulate them.
1. He didn't bemoan the way his business changed, he embraced it. When Weird Al started out, in 1976, radio was king and the kooky DJ "Dr. Demento" played the California kid's first song: Belvedere Cruisin'. Three years later, Yankovic launched his parody career by sending Dr. Demento My Bologna (his version of The Knack's My Sharona).
When MTV came along in the '80s, he dived into videos, giving the world his hilarious Eat It video, a send-up of Michael Jackson's Beat It.
These days, radio has become a dinosaur and MTV rarely runs videos, of course. So for his 14 album, Weird Al plotted a strategy for the digital age. His #8videos8days project unleashed, yes, eight videos in eight days for eight songs from the new album — on a smattering of sites ranging from Yahoo! to Vevo to Funny or Die to College Humor.
Not incidentally: spreading the videos across the various channels let Yankovic shoot them all for free, he told Fox Business's Stuart Varney.
(MORE: Older Job Seekers: Get Social and Mobile)
The lesson: If your field isn't like it was when you got in decades ago, don't sulk, pivot (the current buzzword in the workworld). Change with the times, as Weird Al has.
2. He stayed current. The art of successful parody, as Weird Al knows better than anyone, is to mock whatever's trendy. Knocking off something from 2005 doesn't cut it.
That's why his album's laden with jokes on current or recent tunes, from Pharrell's Happy (now Tacky) to Robin Thicke's Blurred Lines (now Word Crimes, a blast at people who misuse the English language).
The lesson: If you're not keeping up with the latest technology and trends for your job, find a way to do so. Connect with a younger person at work to become your "reverse mentor," sign up for a free MOOC (Massively Open Online Course) or take a class at a community college.
3. He got bold. Weird Al needs to get permission from the original artists to release his parodies, and he was indefatigable for the songs on this album. He told Reuters that he's "very tenacious" and has a "strong work ethic."
Forbes says that when Weird Al's manager didn't get a response from Pharrell's people, he emailed the producer directly. "He couldn't have been nicer and he said he was honored to have me do the parody," Yankovic said.
(MORE: Busting Myths About Work in Retirement)
To get Iggy Azalea's okay, Billboard wrote, Weird Al flew to Denver and waited backstage at her concert. "I talked to her as she was literally walking offstage," Yankovic said. "I introduced myself, 'Hi. I'm 'Weird Al' Yankovic and I would love to do a parody of 'Fancy.' The next morning I was in the studio recording.'" The result: Handy.
The lesson: When you're hitting brick walls and bureaucracy at work, get proactive and — like Yankovic — tenacious. That may mean crossing some boundaries or going over heads or getting in someone's face. It worked for Weird Al.
4. He didn't take himself too seriously. It's true that behind Weird Al's humor lies a strategic businessman. But Yankovic still knows how to have fun while working (just look at his clothes in the Tacky video).
"The challenge for me is in finding new ways to be funny, as well as finding ways to differentiate myself from the millions of other people now doing parody videos on YouTube," Yankovic said in a recent Reddit Ask Me Anything (AMA) session.
The lesson: When you've been working for 30 or 40 years, it's easy to get a little grumpy or burned out at work. So look for ways to laugh or to make others laugh during your workday. It's good for your health and, as Weird Al demonstrates, can be good for your wealth.
As Yankovic tweeted today: "If you'd told me 30 years ago this would happen, I never would've believed it. If you'd told me 2 WEEKS ago, I never would've believed it."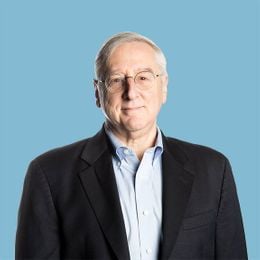 Richard Eisenberg
is the former Senior Web Editor of the Money & Security and Work & Purpose channels of Next Avenue and former Managing Editor for the site. He is the author of How to Avoid a Mid-Life Financial Crisis and has been a personal finance editor at Money, Yahoo, Good Housekeeping, and CBS MoneyWatch.
Read More