4 Easy Ways to Shorten Your Resume
Too much to say to fit on one page? Here's what to do.
When applying for a job, your resumé is the first impression a hiring manager gets. Naturally, you want it to provide all the best information about you. And if you've been working for three decades, there may be a lot to say. But if your resumé is too long, it might get ignored or tossed.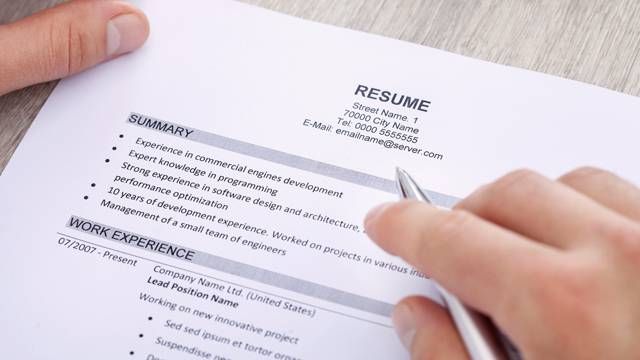 Now that most job applications are submitted online, hiring managers are bombarded with tons of resumés. Often, they don't have time to even look at a whole resumé. So you'll boost your chances of getting hired if you just let your professional experience, education and skills do the talking — succinctly.
Here are four simple tips to trim your resumé:
1. Determine the Most Relevant Information
The first thing to do when slimming down your resumé: Ask yourself which of your skills and job experiences are most relevant to the job you're applying to get.
If you changed careers 15 years ago, positions from your initial career are probably not important to snag this job. Similarly, if you've kept a temp position on your resumé for the past 20 years, but you have 10 years experience in a new career since then, delete the temp info. Remember, if you're called for an interview, you can then explain anything not listed that you want the employer to know.
2. Make Your Resume Friendly for Resume Screeners
Most companies with 50 or more employees use resume screeners (also known as applicant tracking systems) to help filter out job applicants. When you submit your resumé online, the applicant tracking system puts all your information into a candidate profile. The hiring manager can then search by its keywords to see if you're a good match. That's why the keywords and skills in your resumé are extremely important. Scrutinize the job posting to find the most important keywords, ensure those keywords are in your resumé and eliminate whatever else you can.
3. Check Out a Resume Builder
Even if you have a resumé you're confident about, a resume builder can help you screen for any excess information. Go through a resume builder's steps as if you are building a new resumé, then put the finished product beside the original.
What does your original version have that the resumé builder didn't ask for? Chances are, it's extraneous and can be eliminated.
4. Get a Second Opinion
Career coaches are experts in resumé writing. If you can afford one, he or she will be well worth your time and money.
If not, consider asking a friend for help taking a red pen to your resumé. Explain that you are trying to trim it down and want to keep only the vital stuff. It's great to get an objective person's point of view on your professional representation of yourself.
You don't need to take every suggestion from the coach or your friend, just the ones that make the most sense to you.