5 New Tech Tools to Save Money and Invest Better
Two are targeted to Millennials, so tell your kids
We all could use a hand managing our money better, and I've just spent two days at the Finovate conference in New York City watching 70 financial technology companies present their new apps and services to do it. I think boomers, Gen X'ers and their Millennial kids will want to know about five of them.
Although I realize that Millennials are more likely to be early adopters than boomers and Gen X'ers, I was disappointed how little attention these companies paid to people 50+. "We're the first private banking platform built for Millennials by Millennials!" exclaimed Michael Kane, co-founder with his twin brother of Hedgeable.
Below is a rundown of the five apps. Two of them— KapitallM and Dyme — are specifically aimed at Millennials (as you might tell by the spelling of their names). Two others — HelloWallet's Retirement Explorer and Travel Notes — aren't being sold directly to individuals, but through their employers and financial institutions. The CrowdabilityIQ tool is, however, aimed at investors of any age.
Retirement Planning
HelloWallet, a financial wellness advisory firm whose 401(k) research has impressed me, introduced Retirement Explorer, a nifty online retirement planning tool that shows how well you're doing with a single score. The Finovate crowd liked it, too, voting it one of eight Best In Show presentations.
"Retirement planning is scary. You're told to save an unseemly amount of money and the process ends with you being asked when you are going to die. That's terrible," Andrew Vincent, Senior Product Manager of HelloWallet, told the Finovate crowd.
Retirement Explorer instead asks you four questions (none of which is when will you die) and shows you a graph showing when, or if, you'll run out of money. If you don't like what you see, you can change your assumptions to see how the numbers would look if you retired or took Social Security at a different age, for example.
Retirement Explorer is a bit like Flexscore, which I wrote about after that was unveiled at Finovate 2013; the Flexscore mobile app and site calculates an overall personal finance score for you.
As of now, however, HelloWallet is offering Retirement Explorer through employers and banks, so you can't get it on your own.
Fintech analyst Ron Shevlin, director of research at Cornerstone Advisors, told me he thinks getting a financial wellness score is a good idea. "We like to know how we're doing," he said.
Investing
At last year's Finovate, robo-advisers were all the rage — the online financial firms that invest your money and charge less than human advisers. This year, not so much.
But the CrowdabilityIQ stock screener might interest you if you'd like to invest in startups with high growth potential and want to lower your risk doing so.
It's an offshoot of the 2012 JOBS Act (Jumpstart Our Business Startups) which lets fledgling businesses raise capital from small investors through crowdfunding — a kind of Kickstarter for firms not in the arts.
Some critics of that law fear that investors will get snookered, turning over their money to dodgy or financially tenuous companies.
"Imagine if someone from your family calls, excited because they just invested $10,000 in a new startup they found on the Internet and saying, 'I'm gonna be rich!'" said Crowdability Co-CEO Matthew Milner. "For most of us, this would be a scary scenario because someone we care about deeply without a background in private equity is investing a significant amount in a high-risk venture."
The CrowdabilityIQ screener aims to protect investors by compiling scads of research and data on early-stage private companies and letting them filter the database based on their preferences.
For instance, "you can filter by companies with, statistically speaking, the highest chance of going out of business," Milner said. Alternatively, since companies started by multiple founders grow 3 ½ times more quickly than other startups, according to Crowdability, you can search just for firms with multiple founders.
Analyst Shevlin said: "The crowdfunding caught my eye. It answers the question: What are those opportunities that aren't mainstream and being hyped by everybody else?"
Shevlin said he thinks crowdfunding is especially appealing to boomers. "The research I've done has shown me that baby boomers have a certain skepticism about whose best interest financial service firms have in mind when they recommend a stock," he said. "But it's hard to find crowdfunding opportunities."
The CrowdabilityIQ tool normally costs $99 and then $99 a month, but it now has a 30-day, risk free trial offer.
Travel Savings
Travel Notes — whose tagline is Travel More, Worry Less — comes to your financial rescue if your international flight is delayed, canceled or overbooked by getting you reimbursed, with the cash directly deposited to your bank account. This new service is called Travel Notes Flight Compensation.
"Legislation in Europe dictates that fliers are entitled to compensation, but 98 percent of the world doesn't know about this," said Travel Notes CEO Hudson Chilton. "There are $5 billion in unclaimed funds each year.
The service also prevents your credit card from being declined when you use it after you've flown because the issuer thinks it's being used fraudulently. Travel Notes detects when you buy your airline ticket and notifies your bank's fraud engine to stave off any problem.
Travel Notes is selling these services through banks, so you'll have to hope yours offers them if you want to sign up.
Helping Your Millennial Kid Save
If you have a Millennial child who you wish would save more, tell him or her about the new KapitallM and Dyme apps, which actually make saving kind of fun.
Apps like these could be a huge help improving Millennials' finances. Dyme's founder Joseph Prather told the Finovate audience that Millennials spend $1.02 for every $1 they earn, in aggregate, and three in 10 don't even have savings accounts.
With KapitallM, from the Millennial-minded New Kapitall Holdings firm, users get a chance to win cash prizes through raffles every time they add to their savings. The more you save, the more "tickets" you get and the more chances you have to win.
It's like the Dave and Busters for saving. My now-grown sons used to love going to that amusement house, seeing the games spit out tickets and then trading them in for prizes, so maybe they'll cotton to KapitallM.
The technical term for this gambit is Prize-Linked Savings Accounts; I recently blogged about the idea.
"Every dollar you save incentivizes you for a chance to win," said New Kapitall Holding CEO Jeremy Pain. "And if you lose, you still win because you're saving money." What's more, KapitallM users can also win money by paying off their student loan debt and by testing their personal finance knowledge.
Dyme, a free service launching this week that was also a Best In Show at Finovate, aims to turn Millennial spenders into savers through texting. (Of course!)
A user links up his checking account with Dyme and sets a savings goal. Then, he'll see a few Dyme text messages each week prompting him to save and when he texts back how much he'll sock away, Dyme moves the money from his checking account to its dedicated, non-interest bearing account for the savings.
My favorite part: the Dyme customer chooses how he wants be spoken too — standard aerobics instructor, sad high school teacher or "terrible parent." That last one texts lines like: "Why can't you be more like your sister? Text save 20 to save $20 because I said so."
Prather calls the Dyme method Text, Tone and Teach. "It's about brand messaging," he told me.
The reason Millennials need special accounts for their savings goals, he said, is that they tend to treat their checking accounts as spending accounts.
"When I was researching this, I found some Millennials doing oddball things to get themselves to save. They stuck money under their mattress or kept it at their friends house."
Prather said Dyme's now working on adding a "withdrawal delay" feature to help keep them from tapping their savings prematurely.
If his app works, those dymes, over time, could turn into serious dollars.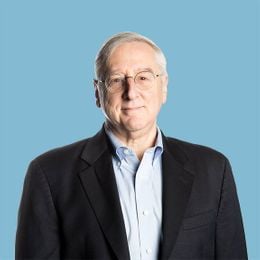 Richard Eisenberg
is the former Senior Web Editor of the Money & Security and Work & Purpose channels of Next Avenue and former Managing Editor for the site. He is the author of "How to Avoid a Mid-Life Financial Crisis" and has been a personal finance editor at Money, Yahoo, Good Housekeeping, and CBS MoneyWatch.
Read More