Sponsored By: 
Humana Inc.
78-year-old Veteran 'Rave Pops' Takes Charge of His Health
Thanks to good healthcare support, nothing is slowing this competitive runner down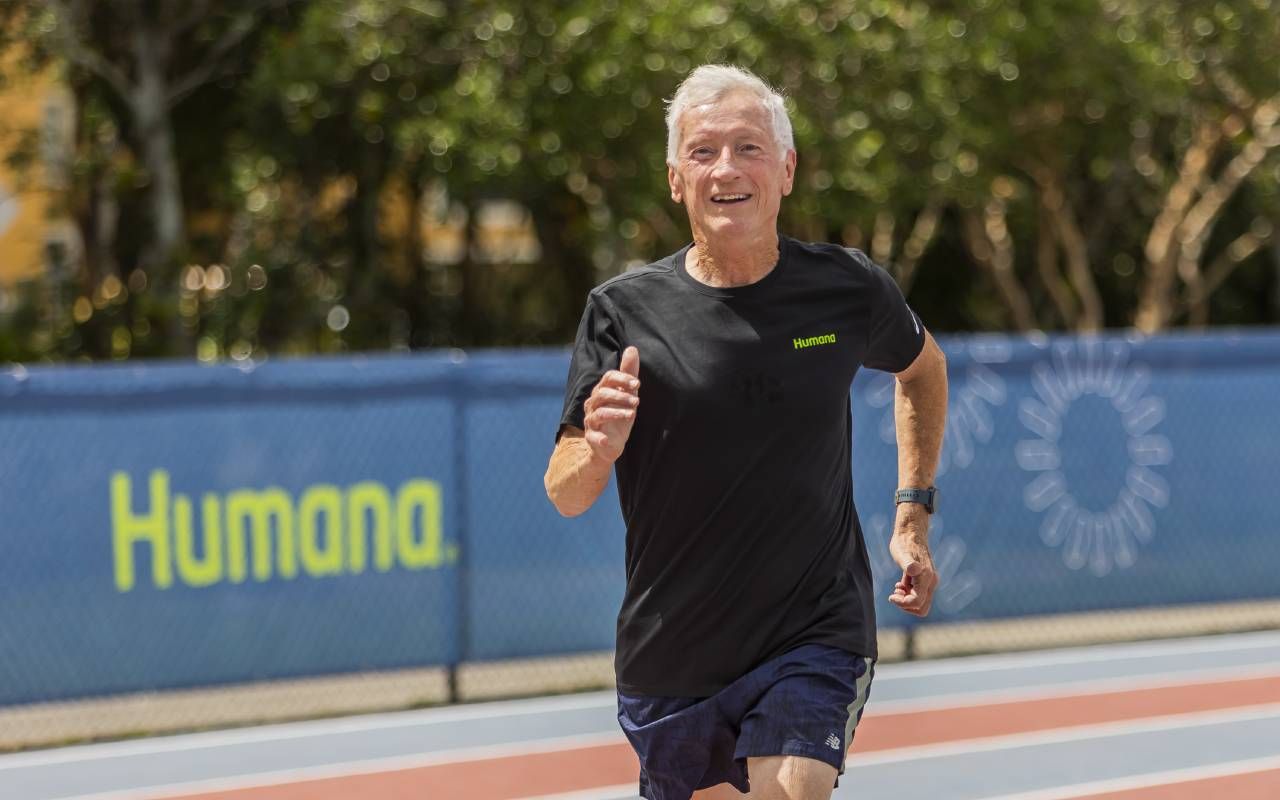 Most people use their age as an excuse to sit back and relax. Then there are people like Alan Grofé, a 78-year-old Vietnam War veteran and beloved grandfather who is always on the move. From competing in marathons, playing tennis, volunteering, keeping up with his grandchildren and even rocking out at electronic dance music festivals, nothing is slowing this Floridian down.
Grofé says the reason he can do what he loves at his age is largely due to his active lifestyle as a competitive runner. "Running 2-3 times a week for 30 minutes — no more, no less — is good. My personal goal is to not get better but to be steady, and I haven't slowed down yet," Grofé said.   
Grofé turned to running when he needed to lose weight in his mid-40s. As a physical activity that can be handled alone, he started hitting the pavement with short jogs around his neighborhood and now loves being a competitive runner. In fact, Grofé competed in his first 10K in 1996 and participates in several races a year. Among the highlights, he secured a bronze medal in the 2019 Florida Senior Games and recently participated in the 2022 National Senior Games, where he was recognized as a "Humana Game Changer" for exemplifying healthy aging and providing encouragement, motivation and inspiration to others.  
The only time Grofé took a break from running was at 72 when he was diagnosed with prostate cancer. After monitoring his health closely and seeing his numbers start to creep up, Grofé connected with a doctor who detected his cancer early and was able to provide treatment. Now he is cancer free and continues to lead an active lifestyle. 
Running is beneficial for your physical health in many ways such as enhancing cardiovascular endurance, strengthening muscles and building strong bones, but it also improves your mental health. A recent study showed that 10 minutes of moderate to intense running can enhance activation in parts of the brain involved in mood regulation that, in turn, benefit your mental health.
Taking charge of your health is crucial for your well-being, especially for older adults. As you age, you become more vulnerable to cancer, heart disease and other chronic conditions. Early detection of these problems is the key to health and longevity. In fact, data from the American Cancer Society shows that early detection of a variety of health issues typically leads to better health outcomes. In Grofé's case, early detection helped him beat prostate cancer and get back to running.  
"Don't be afraid to take charge of your health," Grofé said. "Being proactive with your doctors can help catch any issues early." 
Grofé credits his ability to stay healthy on the good healthcare support that he's received from Humana, including his Medicare Advantage coverage. "The Medicare Advantage program is so cost effective for an individual living on a fixed income. For example, my physician is paid on a monthly fee for taking care of me, not the number of times they get me to come in," he said.  
During the upcoming Medicare Annual Election Period, which runs Oct. 15 - Dec. 7, eligible beneficiaries — including individuals ages 65 and over and those living with disabilities — will have the opportunity to sign-up for Medicare Advantage plans that, unlike traditional Medicare, offer benefits that can include access to fitness programs like SilverSneakers or other types of gym memberships.     
Medicare Advantage plans can also help save beneficiaries money. In fact, Medicare Advantage members spent $2,000 less, on average, on healthcare costs than those using traditional Medicare. And they often experience better health outcomes — MA plan members had a 43% lower rate of avoidable hospitalizations and a 48% lower rate of hospitalizations for those with major complex chronic conditions, than those in traditional Medicare.  
For more information about Medicare Advantage plans, eligible individuals can visit www.Medicare.gov or call 1-800-MEDICARE (800-633-4227), 24 hours a day, 7 days a week. Additionally, you can learn about Humana Medicare Advantage plans, which are recommended by USAA* — a company known for its member satisfaction and commitment to the financial security of current and former members of the U.S. military — by going to www.Humana.com/Medicare or calling 1-888-372-2614 (TTY: 711) to speak with a licensed sales agent from 8 a.m. to 8 p.m. local time, seven days a week. Humana will offer in-person, online, telephone enrollment options and can provide support in 27 different languages. All enrollment options will connect Medicare beneficiaries with a local licensed sales agent.  
Disclaimer 
Humana is a Medicare Advantage HMO, PPO, and PFFS organization with a Medicare contract. Your results may vary. It may not be typical to improve health conditions by taking the actions Alan did. Consult your doctor before beginning any new diet or exercise regimen. Value-based providers may also receive fee-for-service payments. 3.1 million Humana MA members are in value-based care in 2022. Enrollment in any Humana plan depends on contract renewal. 
Y0040_GCHLTXFEN_M

Humana Inc. is committed to helping our millions of medical and specialty members achieve their best health. Our successful history in care delivery and health plan administration is helping us create a new kind of integrated care with the power to improve health and well-being and lower costs. Our efforts are leading to a better quality of life for people with Medicare, families, individuals, military service personnel, and communities at large.