95-Year-Old Jazz Pianist Gets the Band Back Together
See what happens when a retirement home hosts a jam session for a resident
We know that there are lifelong benefits to music. Researchers are finding that playing instruments helps the brain age well and hearing a selection of favorite songs can reawaken the brains of dementia patients. Then there's the benefit of community that emerges when groups of people make and enjoy music together.
Edward Hardy had played with a jazz quartet for nearly 40 years when dementia took hold. Then he moved into a care facility and lost touch with his ensemble. But now the 95-year-old jazz pianist is reliving his musical heyday in his retirement community (see the video below).
With the help of workers at the UK facility where he lives, Hardy was able to post an online ad looking for volunteers to visit him and jam. The response was remarkable. More than 80 people replied to the ad, including the three former bandmates with whom Hardy had lost touch.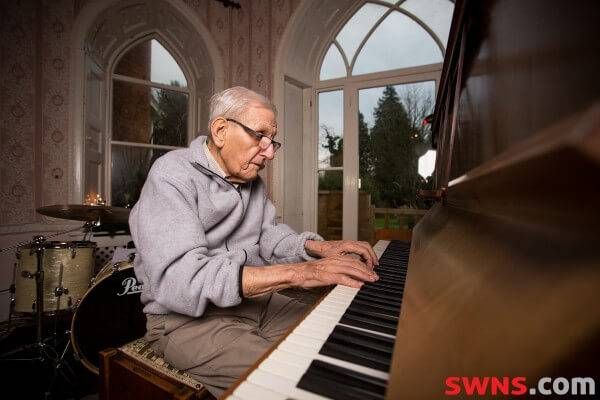 "I have missed playing and when I do play now it makes me feel better and young again," said Hardy, who is working on a public performance with his reunited ensemble later this year.
Our society encourages participation in the arts during childhood and adolescence, but doesn't seem to value arts as much for older adults. Seeing Hardy and his pals take solos on The Lady Is a Tramp makes me wonder, however, what would happen if more musicians were encouraged to form performance groups at retirement communities across the U.S.
Bryce Kirchoff
has produced web and social media campaigns for organizations at all levels of the media industry and also has experience launching community engagement initiatives, building websites and crafting social campaigns. He holds a master's of science degree in New Media Management from Syracuse University's S.I. Newhouse School of Public Communications and lives in Los Angeles.
Read More