A Clever Idea Is Only the First Step in a Second Career
Persuading customers to try a unique new product requires plenty of hustle and chutzpah
Editor's note: This first-person account of changing careers and starting a business is one in a series of eight stories shared by Next Avenue readers. The full collection is available here.
As a TV costumer for 35 years, the commute, long hours, and the sheer physicality of the job were becoming a struggle.
A typical day? Hand-sew 800 foam noodles to a spaghetti costume. Lug heavy firefighter uniforms up and down 12-foot ladders when stocking and restocking. Stuffing my SUV to the brim with racks of wardrobe to pack and unpack at five different shooting locations.
It was less than glamorous, and while my heart was still in it, my hands and knees were not.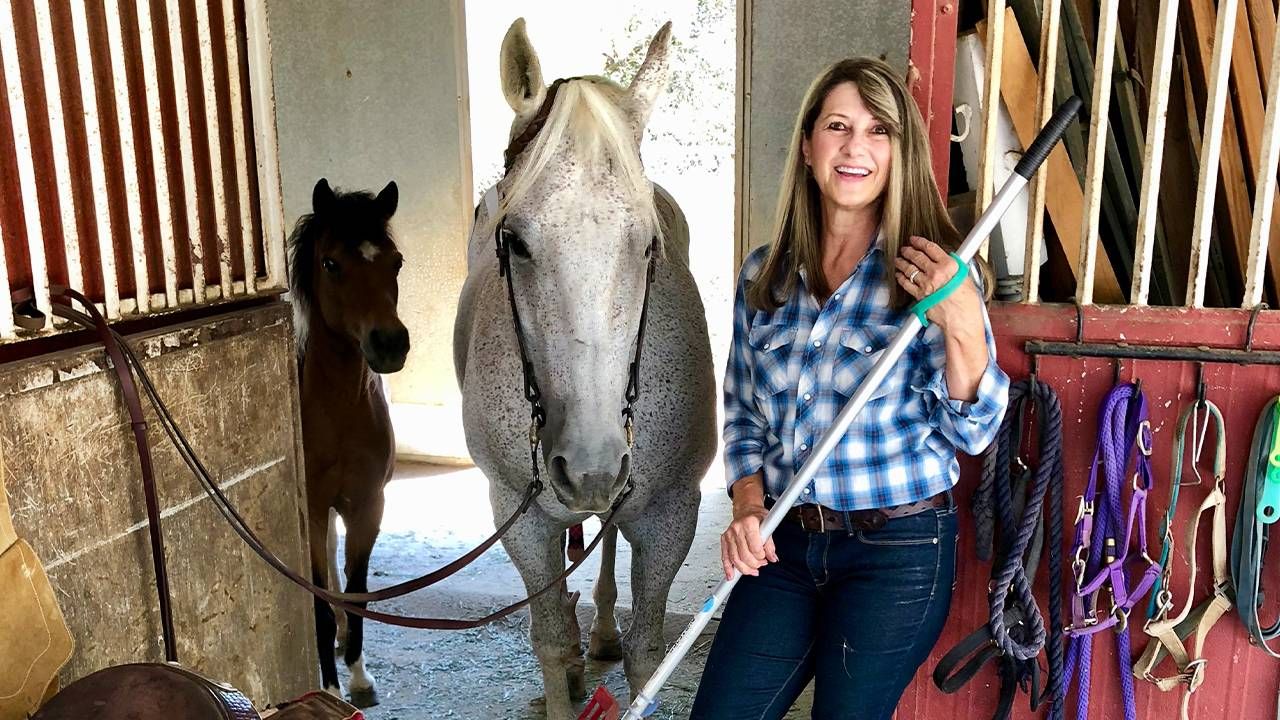 I thought about retiring but a quick Google search on adequate retirement savings said I needed a million dollars in the bank — and I was short, by about a million. I was aging out of my job and needed to find a less physical way of income-producing.
I soon began to think about all my fellow baby boomers. Were they having trouble holding tennis rackets, garden trowels and boat oars?
So on one hiatus, as I was working with my horses and sweeping the barn, my thumb joints were so sore from sewing on those darn noodles I could barely grip the broom. I grabbed some duct tape, made a loop on the handle, slipped my hand inside to see if I could get away without gripping tight. Voila! It worked!
I soon began to think about all my fellow baby boomers. Were they having trouble holding tennis rackets, garden trowels and boat oars? It got me thinking. What if I made a simple cuff out of a soft stretchy material that could make it easier for older adults and people with arthritis or other conditions grasp objects of daily use firmly without pain? The EazyHold was born.
I knew that getting the EazyHold to market would be a big undertaking, not just starting a business, but educating people on an innovative product. I reached out to my sisters for help, and while I filed online for our first patent, searching to make sure there was no "prior art," my sisters learned to mix, color, pour, mold, and cure silicone at a mask shop in Hollywood. We came together in the kitchen and over the next week prototyped 20 different styles of cuffs as well as 1,000 samples to trial.
So how did three sisters with no experience in either engineering or medical-device design sell what would become the first silicone universal cuff approved for use in hospitals, schools, and care facilities? It wasn't easy!
Soft Product, Hard Sell
There was no protocol for appointments with medical professionals and hand therapists. Instead, we hid in hospital hallways to ambush doctors and using a fork to demonstrate the value of an EazyHold. We stood in Lowe's to demonstrate our gripper on a hammer and visited our local paint shop to show how we could make it easier to grip a roller.
Then, in what would turn out to be the most profound contact, we displayed our simple silicone cuffs at a local flea market where a special-education teacher saw them. She worked with a group of children with disabilities and said she would love to trial them.
To say we were surprised would be an understatement. It turned out that not only older adults could benefit from our cuff, but kids with disabilities, too. Those eight children became our first little testers for a very successful trialing.
Now, five years later, our second act business Mellin Works LLC has 25 distributors for EazyHold, which is used in more than 10,000 care facilities and schools globally and is recognized worldwide in university curricula and academic textbooks such as "Pediatric Hand Therapy."
We could not be more humbled.
Editor's note: This article is part of America's Entrepreneurs, a Next Avenue initiative made possible by the Richard M. Schulze Family Foundation and EIX, the Entrepreneur Innovation Exchange.
Kerry Mellin
is the inventor of EazyHold and co-owner of Mellin Works LLC in Ventura, California.
Read More