A Clown About Town
The rejuvenating power of bringing joy keeps a Kentucky clown in demand through five decades
Fifty-one years on the job and no retirement in sight for Nick Wilkins.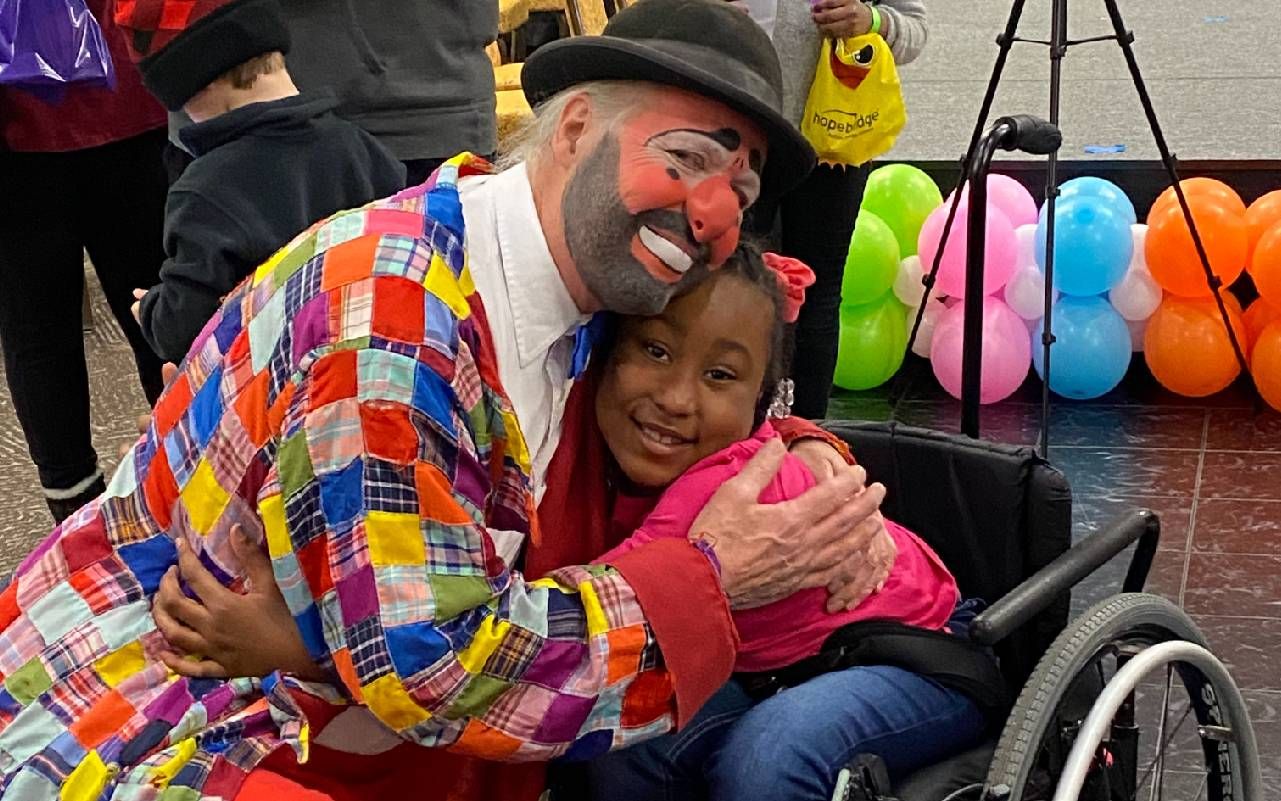 "People ask me all the time if I'm going to retire," says the 67-year-old professional clown.
"Even yesterday someone asked me, and I'm like, 'yeah, I retired last week — I put a new set of Michelin tires on my van'."
Besides always having a funny line ready, I witnessed Wilkins' patience in running his Balloon-A-Gram Company when I met him at his shop at 7:30 one morning. He began inflating clusters of blue and yellow balloons for a retirement party.
Big in the Balloon Business
He launched his balloon and costume company in Bowling Green, Kentucky, 42 years ago with $500.
Patience kept the business thriving when recent shortages hit the supply chain and he couldn't get a requested color of balloons. So, he put one inside the other, ". . . like mixing paint."
"One of the big purposes of teaching is to create a positive attitude for children. I don't allow them to use the word 'can't'."
Creating balloon sculptures that sometimes include more than 1,000 balloons expresses his creative nature, which is complemented by his bachelor's degree in fine arts from Western Kentucky University in Bowling Green.
Wilkins was born in Hopkinsville, Kentucky, and at age 9 moved with his family to Bowling Green when his father Jim took a job in local television, which was his main job until his early 40s. After that, Jim Wilkins' career as "Wandi the Magician" became his full-time job, which was a strong influence on Nick Wilkins in his choice to be a professional entertainer.
I crossed paths with Wilkins at Western Kentucky University one day when he was doing a summer clowning workshop, taking students outdoors to teach them how to walk on stilts. But his teaching is about more than stilts, makeup, clown history, slapstick comedy and juggling.
New Jokes and Older Folks
"Mainly one of the big purposes of teaching is to create a positive attitude for children," he says. "I don't allow them to use the word 'can't'."
He's noticed a decrease in creativity among young people in the past decade, figuring it's the result of too much time on screens and social media.
"When they arrive, they have to surrender their cell phone for two weeks. They do get it back once or twice during the week to call home. They also are not allowed to watch any television," says Wilkins. "So, it forces them to communicate with their peers."
Person-to-person communication is one source of adrenalin that continually renews Wilkins' energy. Others are trying out new jokes and getting smiles from kids to older folks.
His motto: "Life is 90% attitude and 10% showing up."
Wilkins uses his positive attitude and quick wit to lighten the burden of personal trials and heartbreaks.
Trials and Heartbreaks
Once, while driving his mother to a chemotherapy appointment at Vanderbilt Hospital an hour away in Nashville, a gust of wind from a passing truck pulled her wig off her head and deposited it in the middle of the road.
"We laughed and just laughed and laughed," Wilkins recalls. "I went out there and picked it up like it was an animal and gave it back to her."
"You take tough times and try to live through them with some type of humor."
He pauses a moment and adds, "you take tough times and try to live through them with some type of humor."
That is often easier said than done, even for a clown. Several years before his mothed died, Wilkins had driven his beloved, gravely ill father to a hospital, where doctors informed him that his 53-year-old father would not live through the night. Wilkins says seeing a "flatline" heart monitor in a movie used to trigger his memories of that loss.
He's been through other difficult times.
"My divorce was a tough one," says Wilkins. "I never dreamed that would happen. I was with my wife for 19 years."
Wilkins has no biological children, but says, "I have a world full of children." Birthday parties and school workshops are among his major gigs and he has close relationships with his nieces and nephews.
A Serious Business
His endless delight in bringing laughter to people of all ages at celebrations and community events, and the 45 minutes it takes to make sure his makeup is the same every time, reveals his perspective that "clowning is a serious business."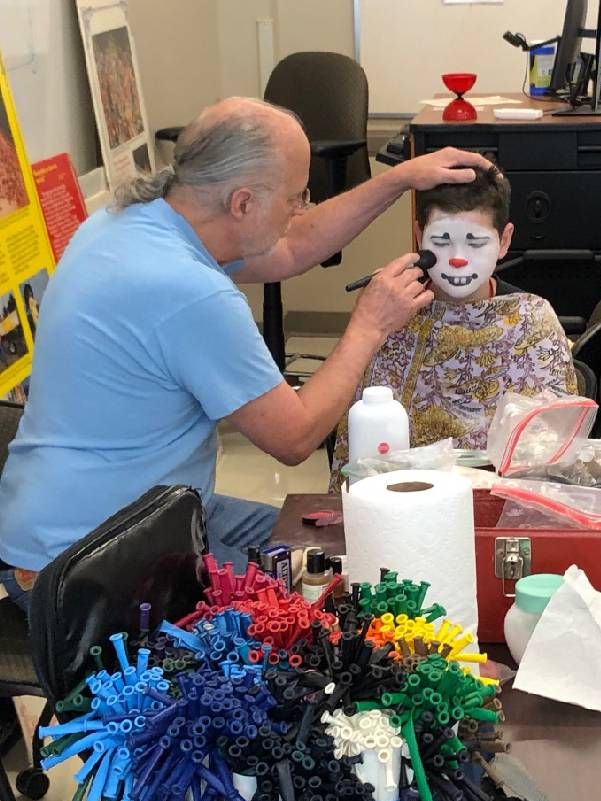 Then again, it's not just a business. It's his life path.
"I was infatuated with clowns, probably by age four. I would a go to the circus and see the clowns and try to mingle with them, and if I got a chance, talk to them," says Wilkins.
That early infatuation was sparked by an Emmett Kelly doll he got one Christmas, a doll he still has.
Wilkins says he was "kind of a character" in high school, which earned him the nickname "Broadway" when he was "a last string quarterback" on the football team. It was during the time legendary New York Jets quarterback Joe Namath became known as "Broadway Joe."
At 16, Wilkins gave up football and focused on the family magic show, but kept the nickname to create his identity as "Broadway the Clown."
The Oxford of Clowning
After graduating from WKU, Wilkins was accepted by Ringling Bros. and Barnum & Bailey Clown College in Florida.
"There were 5,287 applicants; 60 of us were chosen and 56 of us finished the course," he says. "Thirty-seven of us were employed by Ringling Brothers and Barnum & Bailey Circus, the Greatest Show on Earth. So, I was trained by the best. Absolutely."
"In this world today there's so much negativity, I just want to give 'em a chance to stop their brain for enough time to just laugh and smile."
He worked in the circus for two years, then returned to Bowling Green, nurturing a unique business where many of his clients are second-, even third-generation, family members.
When I ask him if there's a difference between Broadway the Clown and Nick Wilkins, he shrugs and says, "I'm definitely a jovial individual. I enjoy cutting up with everybody. In this world today there's so much negativity, I just want to give 'em a chance to stop their brain for enough time to just laugh and smile.
"It's more than a job. It's a passion. I mean, clowning is right here," he says, putting his hand on his chest, ". . . from your heart."
"As a young child, I wanted to always be a professional clown," he adds. "I have followed my dream."
Rhonda J. Miller
is a reporter and audio producer for WKU Public Radio in Bowling Green, Ky. She received a 2018 Journalists in Aging Fellowship, sponsored by the Gerontological Society of America and Journalists Network on the Generations to produce a public radio series on elder refugees in Kentucky. She was a 2019 Continuing Fellow in the program and produced stories on the difficulty of finding Kentucky businesses to hire older workers despite sponsorship by a federal program. Rhonda was Gulf Coast reporter for Mississippi Public Broadcasting, where she won Edward R. Murrow and Associated Press Awards for stories about dying sea turtles, illnesses of cleanup workers in the BP oil spill and homeless veterans. She has been a reporter for Rhode Island Public Radio, South Florida Sun-Sentinel and Pittsburgh Post-Gazette.
Read More