'A Good Bra Isn't a Luxury - It's a Wellness Item'
It's true that bra-wearing needs change with age. Expect some trial and error when shopping for a new bra.
Older adults who wear bras have to consider issues like mobility, arthritis, breast surgeries and even finances when choosing bras. Our breasts take on new shapes and sit differently in bra cups, and hooking a back-closing bra may be a literal pain for those with joint issues.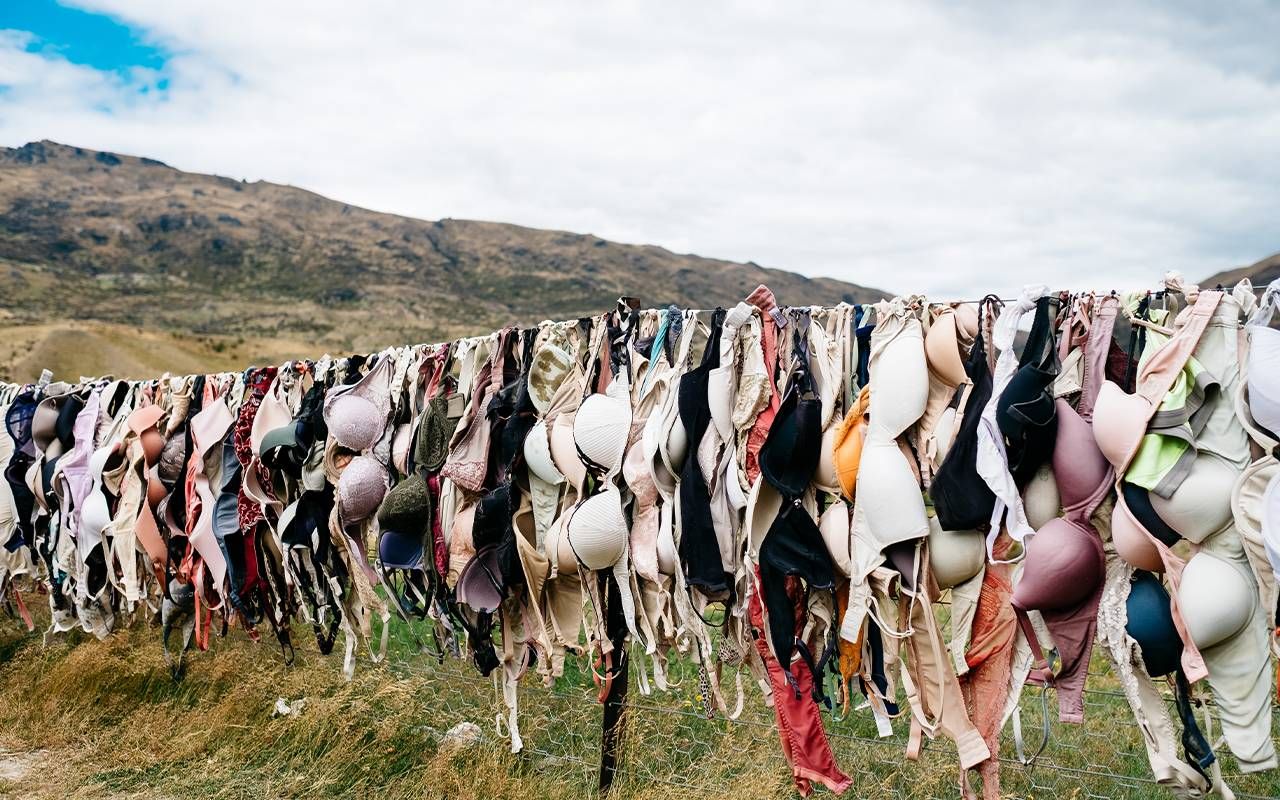 In addition, it becomes difficult to fit an unbalanced chest because of mastectomies or lumpectomies. "Research has shown that bra shopping is among the most stressful clothing purchases for women regardless of a person's age," says Jon Pundyk, CEO of Glamorise in New York City, a bra company that's been in business since 1921.
"So perhaps there is some comfort in the idea that finding the right bra is just an ongoing wellness endeavor — it is not that anyone is being a bra diva," he says.
Comfort and Occasion
Indeed, the struggle is real—many bra-wearers like how they look with a bra rather than without one. "The occasion comes into place as well — am I at work? Am I WFH (work from home)? When it comes to appearance, wearing a bra is every bit as much a fashion choice as wearing make-up," says Pundyk. "Situation and sense of style are the key considerations."
"Wearing a bra is every bit as much a fashion choice as wearing make-up."
Pundyk says that although breasts sag and change shape as we age, he isn't aware of any medical reason that one should wear a bra. However, he says, "braless activities that might have been comfortable at one age can become less comfortable over time."
"Our breasts are made of ligaments and tissue that can stretch over time," says New York-based Jené Luciani, author of "The Bra Book." "Several other factors contribute to sagging like genetics, childbirth, weight loss and gain, but a proper bra will help."
How a Bra Works
Your bra size will change throughout your life, and one brand size may not equal another. So when choosing a bra, Luciani says, proper fitting is essential.
The bra is made up of separate components that have a specific job to do to ensure comfort and support. "Bras are shockingly complicated garments. Cup size and shape are the starting points for fit," says Pundyk.
"If the cup is not a good match to your figure in shape and capacity, the rest of the bra cannot compensate. Understand that no two bras styles are alike due to aesthetic differences that affect how the bra is constructed. When switching models, most women will need to try a new bra on to see if the cup is a good match," he explains.
Luciani says 90% of a bra's support comes from the band around the wearer's chest. "The rest is split evenly between the cups and straps. It's important to understand bra sizes are based on volume. So to tell someone you are a C-cup without sharing the band measurement is inaccurate," Luciani says. "Both numbers work together."
"A wider strap is usually more comfortable, while too much bounce creates its own problems as the day wears on."
While many bras have no band and have been designed to work bandless, Pundyk warns that this design choice is a trade-off. A good band provides support which helps take pressure and breast weight off the shoulder straps.
"One key consideration is the width of the bottom band. While a wider band can help avoid dig-in and other fit issues, if the band is too wide it can flip up or fold," explains Pundyk. "Every woman has her own best answer to the right bottom bandwidth."
Straps are also worth considering. They vary in width and stretch and can affect how the bra feels during the day. "A wider strap is usually more comfortable, while too much bounce creates its own problems as the day wears on," Pundyk says. 
"Finding the right amount of both is a personal decision that may take trial and error and may change as a person ages," he adds.
Bras For Special Needs
Many older adults have unique situations that take precedence when choosing a bra. However, regardless of the specifics of an individual's needs, assuring proper fit becomes paramount, according to Pundyk. 
"Poor cup fit becomes even more of a problem, and mismatched straps or an inadequate bottom band only compound whatever issues might be at hand. Getting fit right always takes patience, but in these cases, it is imperative not to give up."
Mobility problems or joint problems: A front-closing bra may be an option. "Whether you are a spinner or a 'hook from behind' person, a back hook bra can become a bit of a challenge to put on over time. 
Trying a front hook bra may feel like a giant leap, but it can make a huge difference in getting in and out of one's bra," says Pundyk. "A properly made front hook bra will have no security issues; you can wear it in all situations without fear of it opening." 
Also, an all-in-one seamless bra allows the wearer to pull it up and on.
Mastectomy or lumpectomy: "Post-surgical bras have improved immensely. Some bras are designed for immediately after surgery and others are designed for daily long-term wear," says Pundyk.
Front-closing bras are easier to manage post-surgery, and bras are available with pockets to support prostheses without touching delicate skin or surgery sites. Choose a cotton or high cotton blend wire-free bra with soft seams to encourage healing.
Active lifestyle: "It's important to know that sports bras are designed for specific activities. You don't want a yoga style bra if you plan to run in it," says Luciani. 
"It is wrong to think of a good bra as a luxury; a good bra is a wellness item."
"A standard pullover compression style might not suit a larger bust if it doesn't have enough structure. You want to look for a higher spandex content, for more support," Luciani adds.
Sports bras are either compression bras (which bind the bust toward the body in a single structure) or encapsulation bras (which have cups for each bust and unique features for anti-bounce). "Compression bras can become uncomfortable under extended wear. They can also give a person a "uni-boob" shape which many feel is less flattering," says Pundyk. 
"Look for an encapsulation design as the first option for a daily sports bra."
Limited finances: Luciani suggests that a good bra does not have to be expensive but that the wearer should consider the components of the bra when buying to find the right bra to offer support and comfort.
"The cost of bras has continued to climb as has everything in our lives. It is sometimes tempting to cut corners to try to save," says Pundyk, indicating that fewer good bras are better than many poorly-made ones. 
"It is wrong to think of a good bra as a luxury; a good bra is a wellness item. The reality is that a woman typically doesn't need so many bras in her drawer to be set. It is vital to commit to getting this part of the wardrobe right, and the extra cost to do so is typically within reach."
Underwire Bras
In a properly designed bra, says Pundyk, the wire provides shape, but the bra itself gives support. So, all of the bra support fundamentals must be right for a wire bra to be comfortable. 
"The issue many women have with wire bras is wire poke," says Pundyk. Wire poke has two leading causes:
The wire is the wrong shape — too narrow, too wide, too high, too short. Each of these misfits leads to wire poke and pain. The wire must match one's bust shape, or it will not work.
The bra is asking for too much wire. The wire is requested to be supportive in a poorly designed wire bra. This pressure usually leads to the wire applying pressure to the bust and feeling terrible.
"Proper fit is crucial for women who prefer the more defined shape afforded by a wire design. Often, manufacturers do not do an excellent job with bigger wire bras," says Pundyk. "These manufacturers lean on the wire to add support, and the result is a torture device."