A Lunch Lesson in Good Fortune
Memories and gratitude are always on the menu for this father and daughter
My weekly lunch date gently slides into the passenger seat of my sedan. His thin gray hair is carefully combed, his square jaw and cleft chin are freshly shaven. Before I pull away from the two-story house, my childhood home, I lean over to give my 93-year-old dad a hug.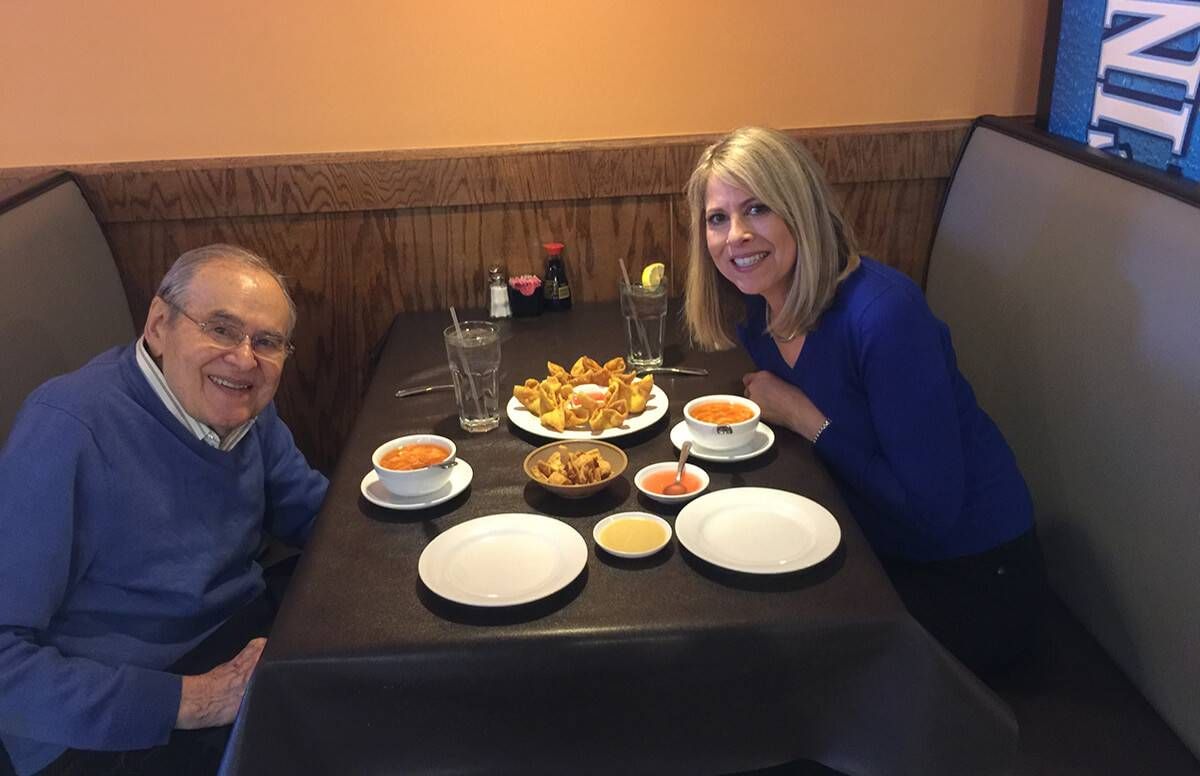 A few years after my dad retired from his pediatric practice at 88, I asked if he wanted to meet me for lunch each week. He readily agreed. Knowing his fondness for Chinese food and his interest in practicing Mandarin Chinese — at the time, he was taking classes — I suggested a nearby restaurant, Rice House.
My dad and I have always been close; he refers to me as his favorite blonde while I disregard the fact I'm the only blonde in the family. Yet our weekly lunches are the one-on-one time I craved as the middle of five children.
More importantly, I'm able to see a side of him my too-busy, self-absorbed younger self failed to notice throughout my childhood.
By spending time with him as an adult and the mom of two children, our relationship has evolved to more of a friendship. I have a better understanding of the life lessons my dad taught me. I have a clearer perspective regarding the challenges he faced. More importantly, I'm able to see a side of him that my too-busy, self-absorbed younger self failed to notice throughout my childhood.
More than a year before our recurring lunch date, my dad underwent open-heart surgery. The delicate procedure has been a stark reminder that he is the final link to his family's history. He has often shielded the parts of his life too painful to share with my siblings and me. Our weekly lunches provide an opportunity to change that.
A Time to Reminisce
Like an archaeologist, I dig into his past and uncover stories about his childhood in Poland. In his younger days, he was a hope-filled immigrant in New York who supported himself through high school, college and medical school.
"Did I ever tell you about the first apartment I rented when I came to the United States?" my dad asks.
"I don't think so," I answer.
"It was so small that if the sun came out, I had to leave," he says, with a laugh.
Always ready with a corny joke or a groan-inducing pun, my dad puts an optimistic spin on most anecdotes. Within minutes of starting a story, he often says, "To make a long story short," but I crave the longer version.
I want to learn about the grandparents, aunts and uncles I never met. I want to know what interested him as a child. I want to know if he was mischievous or a rule-follower, the class clown or the school scholar. My mom would say he encompasses all of those qualities.
As I peer across the table at my dad with his wrinkle-free eyes — a quality I hope is genetic — I see a man who looks 20 years younger. His tri-weekly trips to the YMCA keep him in shape and allow him to walk steadily, without assistance. His friends at the gym, several in their 70s, assume he is roughly their age. He sees no need to correct them. Along with his purposeful gait, his mind is sharp; he is a walking Google, able to recall facts about a variety of topics.
Over Kung Pao chicken and crab rangoon, we talk about my dad's past, before he met my mom and grew his family. We also reminisce about when my siblings and I were little.
"Remember when you took us kite flying one Saturday?" I ask.
"I remember," says the man who recalls minute details of our yearly summer vacations.
"We couldn't get them off the ground, so you took off your white T-shirt and ripped it in half like the Incredible Hulk. Then you shred it into thin strips to make kite tails."
"I forgot about the Hulk part!" he says, laughing.
'Lunch With My Favorite Blonde'
Throughout our childhood, my siblings and I recounted our daily events to our dad in excruciating detail. The moment he stepped through the door, we barraged him with accounts of our day. Although he was exhausted from seeing an office full of patients, he gave each of us his full attention.
We've reversed roles. Before he describes the kind teachers, neighbors and relatives who encouraged him to continue his path to becoming a physician, I turn my phone to silent and my attention to my dad. I'm the one listening intently.
We finish our lunch, my dad tells the server "Syeh-syeh" (thank you in Chinese) and we leave the restaurant. Less than 15 minutes later we arrive at his home.
"Thanks for lunch," my dad says as we hug.
"I'll see you next week," I tell him.
He steps out of the car and his phone rings. "Hi, Raquel," he says to my mom. "I just came back from lunch with my favorite blonde."
He walks to the front door, turns and waves. I wave back and recognize the same "be safe" look I give my children.
I smile and drive away.