A Newer Kitchen for an Older Couple
Life in their one-bedroom apartment was upended for six weeks (hotplate quesadillas, anyone?) but a beautiful kitchen made it all worthwhile
Do you find yourself yearning for six weeks of stress headaches, second-guessing and regrets? Then drop everything and embark on a kitchen renovation — especially if you live in a one-bedroom New York apartment like my wife and I do. What feels vaguely romantic in your twenties becomes depressing when you're within shouting distance of 70.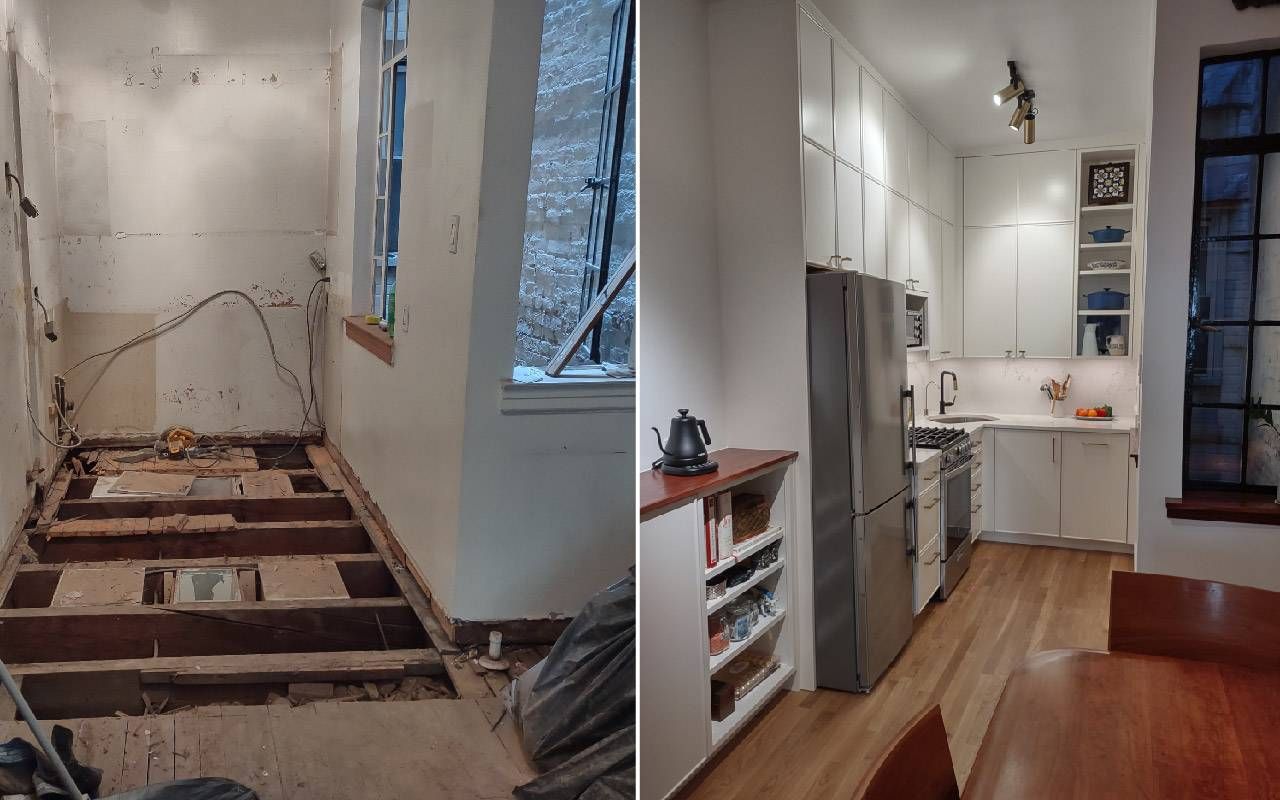 For instance, feel like making quesadillas on a tiny hotplate in the living room? As our daughter assured us, "It'll be like you're camping!"  Great. I hate camping. Actually, I've never gone camping, but I know I'd hate it.
The only thing keeping me from living on a park bench was cable TV and escaping to the occasional background acting gig. Had I been clever enough, I'd have moved into the apartment on "The Marvelous Mrs. Maisel" set for six weeks.
Thanks to supply-chain delays, we had to order our new appliances six months ahead of our approximate demolition date.
Wait, did I say this was a six-week project? Thanks to supply-chain delays, we had to order our new appliances six months ahead of our approximate demolition date. And if the pressure we were already experiencing was any indication, it would also coincide with the demolition of our marriage.
For nights on end, I lay awake wondering what kind of fun stuff we could have done with the money we were shelling out for this project. Was a new kitchen better than, say, spending a summer in Reykjavik at a five-star hotel? OK, I suppose it depends on your taste for smoked puffin and 21 hours of daily sunlight.
The question became moot upon the arrival of an email stating, in so many words, The job starts tomorrow, pal. Whoa, hang on, fella! How about a heads-up with more time than can be measured in hours? (As you can see, there's no pleasing me.)
Demo Day One
After spending demo day number one on a spacious, air-conditioned Brooklyn soundstage, I returned to a kitchen that appeared to have been not just gutted but ravaged, razed and ruined for good measure. As for the entryway and living room, the floors were covered with hardboard sheets, while layers of thick plastic draped ungracefully over the furniture and TV like a haunted house at a cheesy amusement park.
The top of the dismantled kitchen table was behind the couch, its legs stashed in a corner. An open Ikea cabinet nearby held canned food items and kitchenware. The old refrigerator, which we still needed until the job was done, had been moved in as well. Rarely had a living room been so unlivable.
Meanwhile, a zippered plastic "door" separated the entryway from the bedroom, where we had already moved yet another Ikea open cabinet filled with still more kitchenware. Thanks to the plywood backing coming loose, silverware regularly cascaded to the floor like a metallic Niagara Falls. It was like living in a drug den with a TCM (Turner Classic Movies) subscription.
Rarely had a living room been so unlivable.
Not that I didn't do my bit to make things even worse. One morning, in order to accommodate the arrival of the new cabinets, I had to open the apartment door all the way — a difficult job thanks to the hardboard covering. So difficult, the door popped off its lower hinge.
It was all I could do to keep from crying. Not so much because of the door itself but what my wife would do to me when she returned from the gym. My life was spared thanks to a locksmith provided by our superintendent. The four tiny screws — original to our 1885 building — were replaced with several six-inch monsters that would probably survive an attack by a crazed orangutan.
Our reno crew had done a great job on our bathroom some years ago, so at least they could be trusted. Being from Eastern Europe, they often drowned out the sound of demolition with military marches, 1980s Europop and Slavic comedy shows on their radio. With what we were shelling out, any kind of free entertainment was welcome, even if we didn't understand half of it.
Pluses and Minuses
There was some historical value to the process, too. The crew discovered an empty pack of Twenty Grand Cigarettes (copyright 1932) and a Ruppert Knickerbocker Beer bottle cap beneath the floorboards. No wonder the kitchen had been slanted — people were too busy smoking and drinking on the job the last time.
Speaking of drinking, I admit having the old refrigerator temporarily parked in the living room made reaching for a beer from my easy chair a delightful experience. But if we wanted a homemade salad rather than ordering in meals, it was necessary to wash the veggies in the bathroom sink. All I could think of was the "Seinfeld" episode where Kramer washed the lettuce while taking a shower. And he was further from the toilet than I was.
I was ready for some good news, and eventually received it when the beautiful, brand-spanking new refrigerator and range arrived. The bad news was they were three weeks early. The worse news: they weren't the ones we paid for.
Six weeks of dust, noise and bathroom salads made possible a beautiful kitchen it would be a joy to prepare meals in.
To be fair, the store had only six months to get the order right. Exhausted by the whole process, I was ready to pretend there was nothing wrong, but my wife wasn't having any of it. A week later, the correct appliances were temporarily parked, of course, in the living room along with the new dishwasher that had already been sitting there before the reno even started.  Oh, and don't forget the old fridge in between them, too. Just like camping.
Yet somehow, some way, one day the job was finished. Six weeks of dust, noise and bathroom salads made possible a beautiful kitchen it would be a joy to prepare meals in. And it boosted the value of our apartment, too. We deserved to turn a profit after an experience like this.
Oddly, perhaps the best part of the reno is the floor. It's perfectly straight and solid and, miraculously, no longer squeaks, creaks or groans. So impressive is it that my wife immediately considered the possibility of a floor renovation for the rest of the apartment.
Cue up the military marches! And keep that "Maisel" set standing for a little while longer. It's going to have a new tenant any day now.
Kevin Kusinitz
is a writer living in New York with his wife. To his shock, he won three Promax Awards for his network promos at the turn of the 21st century. His cynically humorous outlook on life, culture and politics can be read at www.theolfisheye.blogspot.com.
Read More