A Summer of Small Business Mentoring From SBA and AARP
The free programs and webinars focus on second-act businesses
Boomer entrepreneurs and wannabes have a problem and a new program from the Small Business Administration (SBA) and AARP may be the solution.
In a recent Gallup poll of boomer entrepreneurs, only 47 percent said information relevant to growing a business was easily available in their city or area and just 35 percent believed entrepreneurial training and education were readily available where they live.
To the rescue: The SBA/AARP Summer of Encore Mentoring, a program of free local workshops and webinars specifically designed to counsel, train and mentor "encore entrepreneurs" — those who are 50+ who have, or want to launch, second-act businesses.
Boomer Entrepreneur Binge
Boomers are twice as likely to be planning to start a new business within a year as Millennials, according to Gallup, even though — as Next Avenue blogger Chris Farrell recently noted — the boomer entrepreneurship binge has cooled a bit since 2010.
Boomer entrepreneurs are choosing to start businesses mostly "to be independent," to "pursue my passion"and for "the opportunity to increase my income," the Gallup survey found.
"If you're hitting the encore part of your career, have an entrepreneurial interest and want to convert an interest, passion or hobby into a business, the Summer of Encore Mentoring is right for you," said Jack Bienko, Director (Acting) for the SBA's Office of Entrepreneurship Education. "There are introductory classes and if you already have a business and want to grow it, we can accommodate you, too."
The SBA/AARP Encore Mentoring Events
There will be 22 local SBA/AARP Encore Mentoring events in July and August, ranging from one-hour-long panels to full-day workshops. The focus of the particular offerings varies widely. A few examples: How Did They Start & Grow Their Businesses and the Lessons Learned Along the Way (Hays, Kansas; July 22); Starting a Business for a Second-Stage Career (Columbia, Mo.; July 30) and Free and Low-Cost Resources for Your Business (San Francisco, Calif.; Aug. 5).
"They're different depending on the community and its needs," says AARP's Rosa Maymi, a Project Advisor for Consumer and Work Issues.
The SBA's website has a map showing where and when each event will be held.
The SBA/AARP partnership is the outgrowth of what began as Mentor Day in 2012. That evolved into Mentor Months in April 2013 and 2014 and ultimately into this year's entire summer of assistance. The programs are run by SBA's 68 district offices and AARP's state offices and are taught by local small-business owners and experts.
One-on-One Business Mentoring and Webinars
After you attend an SBA/AARP group session, you may be able to get matched up for subsequent one-on-one counseling from a small biz mentor over the course of a year or two. "We find the right fit for you," says Bienko. "If you're just starting out, you might be assigned a mentor who ran a business. If you have a unique interest, like exporting, we will connect you with an export specialist at the local Small Business Development Center. We do a lot of custom matching."
If you can't get to a local event or none will be near you, there might be an SBA/AARP webinar worth attending whenever you have the time. You can either watch live or see it anytime afterwards.
The next webinar will be Social Media 101: A Road Map to Winning Customers. It'll be Thursday August 13 from 2 pm to 3 pm ET.
The most recent one, on the AARP webinars site, was Becoming Your Own Boss: How to Write a Winning Business Plan.
"When we started this in 2012, we did a lot online, with tools and templates for business plans and information on SBA-guaranteed loans," says Maymi. "But one of the first questions in the webinar was from a woman who asked: 'How do I get over the fear?' And we realized: 'OK, this is for people trying to figure out what's next. A lot of people are trying to figure out what to do next.'"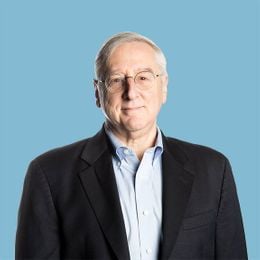 Richard Eisenberg
is the former Senior Web Editor of the Money & Security and Work & Purpose channels of Next Avenue and former Managing Editor for the site. He is the author of "How to Avoid a Mid-Life Financial Crisis" and has been a personal finance editor at Money, Yahoo, Good Housekeeping, and CBS MoneyWatch.
Read More