A Tale of Two Vietnam War Correspondents
Michael Herr's death is a reminder of the power and price of raw truth
From the way the news of writer Michael Herr's recent death rippled through the veteran communities, you would have thought he was one of us. I heard the phrase "lost a great one" again and again.
Of course, Herr wasn't one of us. But the Vietnam war correspondent for Esquire magazine captured the truth about our experience in his classic book Dispatches. That refrain of "lost a great one" came alongside a chorus of "he got it right" and "damn straight the best book about that war, or any war."
As we veterans know better than most, the war came at a steep cost. Herr, too, would forever be plagued by what he saw and wrote about in Vietnam. He was never the same after he came back home to America.
Like Herr, I was a combat correspondent in Vietnam. But unlike him, the sanitized stories I wrote were prepared under the aegis of the United States Army. Meaning they were a lot more upbeat and positive than the reality the Vietnam War warranted. Herr, on the other hand, lived alongside the grunts who were doing the fighting and dying and wrote the truth. I guess you could say he was embedded, but haunted is more like it.
The success of his book, published in 1977, he said, "blew my cover." Herr avoided the spotlight. He hated giving interviews. And now he's gone.
Rock 'n' Roll War
Herr almost single-handedly introduced the "new journalism" style of reporting to Vietnam. And he overlaid the phantasmagoria of Vietnam on a fusion of drugs and rock 'n' roll. If Jimi Hendrix's music was the sonic equivalent of Vietnam combat, Michael Herr's prose was its voice.
"Michael Herr's Dispatches says it all," says Roger Steffens, who worked for Army PsyOps near Saigon in 1968-'69 and is an accomplished artist, writer and photographer himself as well as a recognized expert on Jimi Hendrix and Bob Marley. Dispatches, he says, demonstrates that "Vietnam was the first rock 'n' roll war and Jimi was its forward scout."
Dale Dye, a Marine sergeant who spent time with Herr during the bloody battle for Hue city in 1968 and is quoted in Dispatches, also remembers the writer as an incredibly keen observer.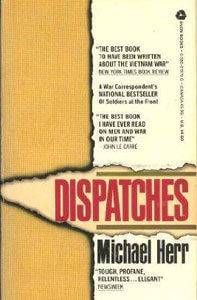 "Unlike other Vietnam journalists, Mike never had a deadline, so he spent a lot of his time watching, especially the arcane and esoteric," says Dye, an actor and writer who's appeared in the movies Platoon, Born on the Fourth of July and Band of Brothers. "I could tell that Vietnam was killing him. Mike felt things deeply — he was a very emotional guy — and emotions could get the best of you in a place like that."
The generation of war correspondents who preceded Herr in Vietnam — Gloria Emerson, Malcolm Browne, David Halberstam, Neil Sheehan, Frances FitzGerald, Peter Arnett, Morley Safer — went to war with visions of Ernest Hemingway and Martha Gellhorn in their heads. But those "good wars" were over, and the horror and brutality of Vietnam were the grist of Michael Herr's reporting.
"Life-as-a movie; war-as-a (war)-movie; war-as-life is a complete process if you got to complete it, a distinct path to travel, but dark and hard, not any easier if you knew that you'd put your own foot on it yourself," he wrote.
Nobody had ever written about war like that — hyper, stoned and scared. He described the Central Highlands as "spooky, unbearably spooky, spooky beyond belief."
He was right.
Dispatching the Truth
We Army information specialists (aka journalists) toiling in Vietnam during the war's last years boned up on Herr and Joe McGinniss, guys our own age who could have been in the same predicament we were in if things had turned out differently. We wanted to write like them, to tell it like it was, to put our words to the music of CCR, Aretha, and the Stones.
While Herr later contributed the narration to Apocalypse Now, Francis Ford Coppola's frenzied adaptation of Joseph Conrad's Heart of Darkness, and co-wrote the screenplay for Full Metal Jacket, with director Stanley Kubrick and author Gustav Hasford (the film was adapted from Hasford's novel The Short-Timers), it was Dispatches that distinguished him. And it remains a must-read.
It's sad, really. Herr didn't have to be there. He didn't have to stay. He didn't need to accompany the grunts deep into combat. He didn't need to get his own version of PTSD. But if he hadn't made the sacrifice, we wouldn't have Dispatches and the truth it tells. If you've never read it, read it now. If you have read it, re-read it. You will never be the same again.
Rest in peace, Michael Herr. Thanks, brother, for standing tall with us, for being there and for telling the truth about what we had to endure. I'll leave the last words to you:
"The Sixties had made so many casualties, its war and its music had run power off the same circuit for so long they didn't even have to fuse. … What I'd thought of as two obsessions were really only one, I don't know how to tell you how complicated that made my life. Freezing and burning and going down again into the sucking mud of the culture, hold tight and move real slow. ... And no moves left for me at all but to write down some few last words and make the dispersion, Vietnam Vietnam Vietnam, we've all been there."
Doug Bradley
recently retired from the University of Wisconsin Sytem, where he was the director of communications and currently teaches a course on the effects of popular music during the Vietnam War Era. Doug is a U.S. Army veteran and the author of DEROS Vietnam, a fictional montage of war stories set during the early 1970s. He also is a member of the Deadly Writers Patrol (DWP) writing group that publishes a periodic magazine which includes work by veterans of the Iraq and Afghanistan wars. Visit doug-bradley.com to learn more.
Read More