A Veteran's Playlist: The Top 10 Vietnam War Songs
Every soldier had his own soundtrack to the war, but these stand out
I first became a soldier in a war zone on Veterans Day (Nov. 11) 1970. It's an irony I've wrestled with for 45 years, due in part to the precise timing of U. S. Army tours of duty in Vietnam, which meant that Uncle Sam would send me back home exactly 365 days later — on Nov. 11, 1971.

Needless to say, the date is etched in my mind and will always be. It's personal, of course, but in a way it's lyrical, too. I say that because my earliest Vietnam memories aren't about guns and bullets, but rather about music.

As my fellow "newbies" and I were being transported from Tan Son Nhut Air Force Base to the Army's 90 Replacement Battalion at Long Binh, I vividly recall hearing Smokey Robinson and The Miracles singing Tears of a Clown. That pop song was blasting from four or five radios some of the guys had, and with the calliope-like rhythm and lines like "it's only to camouflage my sadness," I was having a hard time figuring out just where in the hell I was.
But I knew one thing for sure. Music was going to get me through my year in Vietnam.
Did it ever.
In fact, it's sustained me for the past 45 years, as it has countless other Vietnam veterans.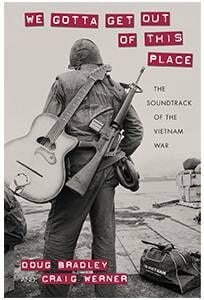 Craig Werner and I discovered the power of music from a decade of interviews with hundreds of Vietnam vets. Our new book, We Gotta Get Out of This Place: The Soundtrack of the Vietnam War shows how music helped soldiers/veterans connect to each other and to life back home and to cope with the complexities of the war they had been sent to fight.
Many of the men and women we interviewed for We Gotta Get Out of This Place had never talked about their Vietnam war experience, even with their spouses and family members. But we found they could talk about a song — These Boots Are Made for Walkin', My Girl, And When I Die, Ring of Fire and scores of others. And the talking helped heal some of  the wounds left from the war.
When we began our interviews, we planned to organize it into a set of essays focusing on the most frequently mentioned songs, a Vietnam Vets Top 20 if you will, harkening back to the radio countdowns that so many of us grew up listening to.
Well, it didn't take long for us to realize that to do justice to the vets' diverse, and personal, musical experiences would require something more like a Top 200 — or 2,000! Still, we did find some common ground. These are the 10 most mentioned songs by the Vietnam vets we interviewed. Realizing, of course, that every soldier had their own special song that helped bring them home.
10. Green Green Grass of Home by Porter Wagoner
Neil Whitehurst, a native of North Carolina who served with the 1 Marine Air Wing at Marble Mountain, states emphatically "the No. 1 song that takes me back to Vietnam is Green, Green, Grass of Home." Songs like this, those that tapped into loneliness, heartache and homesickness hold a special place in the hearts of Vietnam vets. While some liked the Tom Jones version better, others we interviewed felt the earlier, Porter Wagoner version was "more real, more sad."
9. Chain of Fools by Aretha Franklin
Usually heard in the States as another of Aretha's powerful statements on racial and sexual equality, which it certainly was, Chain of Fools took on special meaning in Vietnam. Marcus Miller, an infantryman in the Mekong Delta during the war, said the song referred to the military "chain of command." And David Browne, who'd grown up in Memphis and served with the 101 Airborne, recalls that when he first learned of the assassination of Martin Luther King Jr., while a soldier in Vietnam, the only thing that stopped him from "killing the first honky I met" was listening to Chain of Fools. "I thought, that's my story," and that chain is gonna break ...
8. The Letter by The Box Tops
Mail call was a sacred ritual in Vietnam and this song captured its importance lyrically and musically. Didn't hurt that it spoke of "getting a ticket for an airplane" and "going home" because "my baby just wrote me a letter." Nothing kept guys going more than love letters from home — and the dream of getting back to their beloved.
7.  (Sittin' on) The Dock of the Bay by Otis Redding
Just before his tragic death in a place crash in Madison, Wis., in late 1967, Otis Redding had completed recording (Sittin' on) The Dock of the Bay, perhaps his greatest song and the first record to ever become a posthumous No. 1 hit. Was Otis Redding thinking of Vietnam? We'll never know for sure, but he'd agreed to travel to Vietnam to entertain the troops shortly before his passing. Frank Free, an information specialist at USARV Headquarters at Long Binh in 1968-69, admits that he gravitated to music that expressed feelings of yearning and loneliness, and that Redding's portrait of the lonely wanderer resting by the ocean watching the sun go down in (Sittin' on) The Dock of the Bay perfectly captured that feeling.
6. Fortunate Son by Creedence Clearwater Revival (CCR)
When asked to sum up the music of the war, Peter Bukowski, who served with the Americal Division near Chu Lai in 1968-69, responded: "Two words. Creedence Clearwater." "They were the one thing everybody agreed on," he told us. "Didn't matter who you were — black, white, everyone. We'd hear that music and it brought a smile to your face." ROTC graduate and heavy mortar platoon leader Loren Webster singled out Fortunate Son because it "pretty well summarized my feelings about serving, particularly since I had to serve in the Reserves with a whole lot of rich draft dodgers after I returned."
5. Purple Haze by Jim Hendrix
Maybe it's because he could have been in Vietnam that Jimi Hendrix holds so much appeal for 'Nam vets. A member of the prestigious Screaming Eagles of the 101 Airborne Division at Fort Campbell, Ky., Hendrix preferred guitar playing to soldiering, hence his early discharge in 1962. But even more than that, his guitar sounded like it belonged it Vietnam, reminding GIs of helicopters and machine guns, conjuring visions of hot landing zones and purple smoke grenades. As James "Kimo" Williams, a supply clerk near Lai Khe in 1970-71, attests: "The first time I heard Purple Haze, I said, 'What is that sound and how do you do that?' The white guys who were into rock liked him," Williams continues, "and the black guys who were into soul liked him. He appealed to everyone."
4. Detroit City by Bobby Bare
No matter whether it's theme or style, any song with a lyric about going home was sure to find an in-country audience and show up on a list of Vietnam vets' favorite tunes. Maybe that's why Detroit City, sung by the country and western singer Bobby Bare with its lingering refrain, "I wanna go home/I wanna go home/Oh how I wanna go home" was so popular on jukeboxes in Southeast Asia long after its release in 1963. Big fans included veteran C&W music lovers Jim Bodoh and Jerry Benson, who didn't think country music ever got enough airplay over Armed Forces Vietnam Radio (AFVN).
3. Leaving on a Jet Plane by Peter, Paul and Mary
When we played this song at LZ Lambeau, a welcome home event for Vietnam vets and their families held at Lambeau Field in Green Bay, Wis., in 2010, we were overwhelmed by the response it received, especially by spouses of Vietnam vets. They sang along with tears in their eyes, because they were the ones saying goodbye to the men who were boarding the planes for Vietnam. And it got to soldiers/vets, too. As Jason Sherman, an AFVN DJ during part of his tour in Vietnam, recalled: "Leaving on a Jet Plane brought tears to my eyes."
2. I Feel Like I'm Fixin to Die Rag by Country Joe & The Fish
Misunderstood and misinterpreted by most Americans, Country Joe's iconic song became a flashpoint for disagreements about the war and its politics. But Country Joe, himself a Navy veteran — who when we first met him told us "I'm a veteran first and hippie second" — intended this "not as a pacifist song, but as a soldier's song." "It's military humor that only a soldier could get away with," he added. "It comes out of a tradition of GI humor in which people can bitch in a way that will not get them in trouble but keeps them from insanity." And the soldiers got it! As Michael Rodriguez, an infantryman with the 2 Battalion, 1 Marines, affirmed: "Bitter, sarcastic, angry at a government some of us felt we didn't understand, Rag became the battle standard for grunts in the bush."
1. We Gotta Get Out of This Place by The Animals
No one saw this coming. Not the writers of the song — the dynamic Brill Building duo of Barry Mann and Cynthia Weil; not the group who recorded it — The Animals and their iconic lead singer, Eric Burdon; not the 3 million soldiers who fought in Vietnam who placed extra importance on the lyrics. But the fact is that We Gotta Get Out of This Place is regarded by most Vietnam vets as our We Shall Overcome, says Bobbie Keith, an Armed Forces Radio DJ in Vietnam from 1967-69. Or as Leroy Tecube, an Apache infantryman stationed south of Chu Lai in 1968, recalls: "When the chorus began, singing ability didn't matter; drunk or sober, everyone joined in as loud as he could." No wonder it became the title of our book!
We sincerely hope veterans and their families will read We Gotta Get Out of This Place and take heart from its message of survival and healing. And maybe add their own music memory at our website. There's still an awful lot of healing that needs to be done. And we've become convinced that music can help. It got me through 365 days in Vietnam, and from my first Veterans Day to this one. Vietnam war songs.
Doug Bradley
recently retired from the University of Wisconsin Sytem, where he was the director of communications and currently teaches a course on the effects of popular music during the Vietnam War Era. Doug is a U.S. Army veteran and the author of DEROS Vietnam, a fictional montage of war stories set during the early 1970s. He also is a member of the Deadly Writers Patrol (DWP) writing group that publishes a periodic magazine which includes work by veterans of the Iraq and Afghanistan wars. Visit doug-bradley.com to learn more.
Read More