The Troubling AARP Long-Term Care Scorecard
Its 50-state tally finds a 'slow and uneven' pace of change
Roughly 52 percent of people turning 65 today will require long-term care at some point, according to the U.S. Department of Health and Human Services. I'm sad to say that the new AARP Long-Term Services and Supports State Scorecard finds that most states aren't doing a great job helping people needing such care.
Overall, AARP says states have made "incremental improvements" since its 2014 Scorecard, but calls the pace of change "slow and uneven." That's especially troubling since many state budgets are healthier than they were three years ago.
Long-Term Care Changes at the State Level
"People need to understand how this is playing out close to them, because changes often occur at the state and local level. There is no national long-term services and support federal policy, aside from Medicaid, which is administered by the states," says Susan Reinhard, senior vice president and director, AARP Public Policy Institute.
The report, funded by AARP Foundation, The SCAN Foundation and The Commonwealth Fund, is called Picking Up the Pace: A State Scorecard on Long-Term Services and Supports for Older Adults, People with Physical Disabilities, and Family Caregivers.
Dr. Bruce Chernof, president and CEO of The SCAN Foundation, said in a statement: "This new Scorecard shows that it's time for all states to accelerate care improvements for older adults and people with disabilities. States that consistently rank at the top have strategically planned for their aging population across the main sectors of health, housing, transportation and family caregiving."
Top and Bottom States for Long-Term Care Services and Supports
The top-ranking states in the 2017 Scorecard: Washington, Minnesota, Vermont, Oregon and Alaska. (Minnesota was No. 1 in 2014.) The states at the bottom are mostly in the South: Indiana, Kentucky, Alabama, Mississippi and Tennessee. The most improved states since the 2014 Scorecard: Tennessee and New York.
The Scorecard crunches data in five categories of long-term services and supports: Affordability and Access; Choice of Setting and Provider; Quality of Life and Quality of Care; Support for Family Caregivers and Effective Transitions. No state landed in the top quartile in every category.
The Good News in the Long-Term Care Scorecard
Not all of AARP's long-term care news is bad, though.
For instance, 48 states have reduced the use of antipsychotic medications given "off label" for nursing home residents whose conditions don't support their use.
They were nudged into it by the federal government, which began regulating the use of such medications for dementia patients in nursing homes three years ago. That's also when nursing homes started getting graded on the percent of their dementia patients receiving antipsychotic medications in Medicare's Nursing Home Compare online tool. "When you shine a light on an issue, it gets attention," says Reinhard.
AARP also found that an impressive 42 states have moved toward person- and family-centered practices that support family caregivers. (This AARP report shows a few uplifting examples in six states.) "That was a happy surprise for me," says Reinhard. A chief reason for this improvement is that 39 states have passed what's known as The CARE Act (CARE stands for Caregiver Advise, Record, Enable). That law generally requires hospitals to: record the name of any family caregiver on the medical record of your loved one; inform the family caregiver when the patient is to be discharged, and provide the family caregiver with education and instruction of medical tasks he or she will need to perform for the patient at home.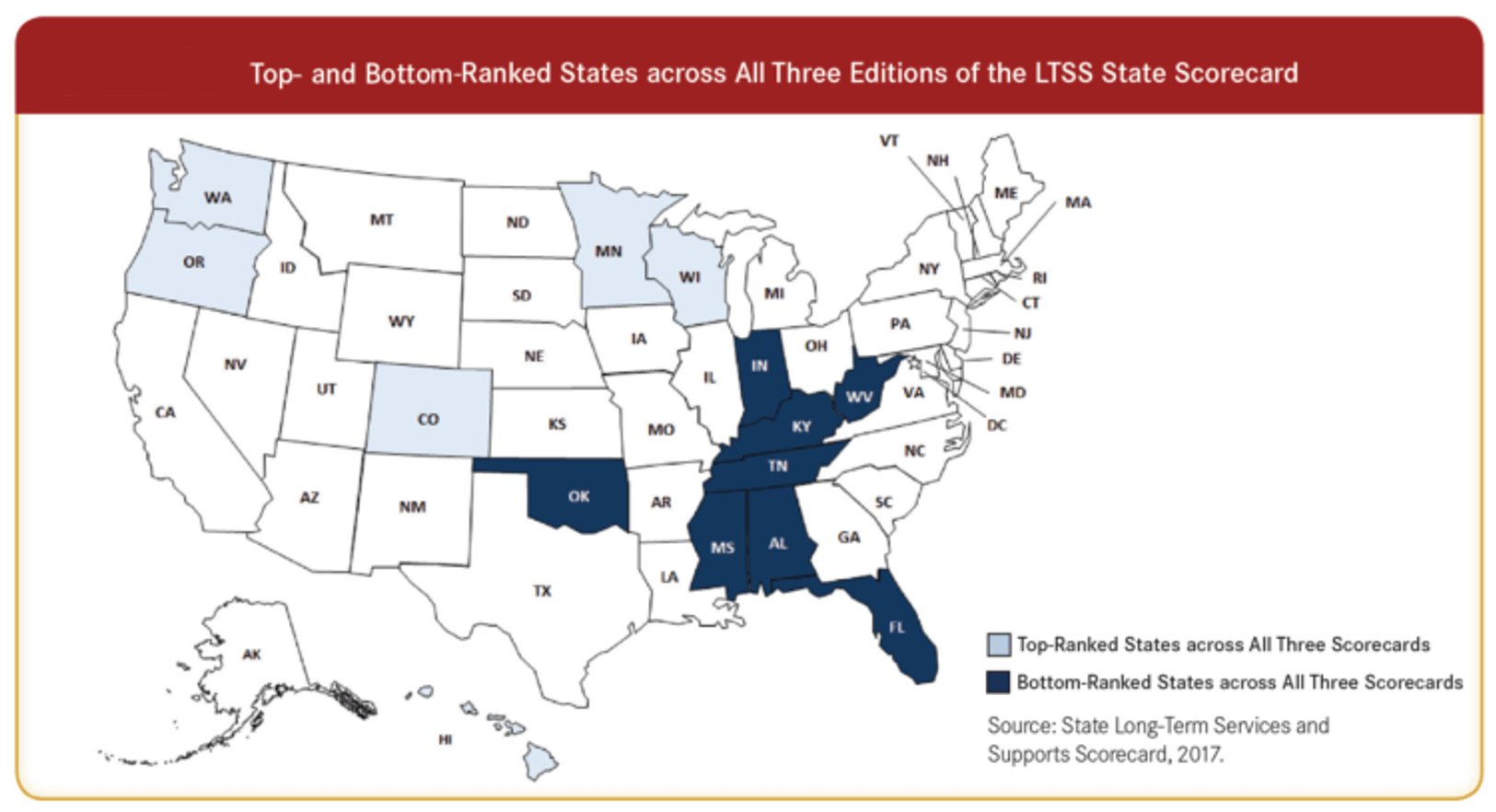 There's a pretty good chance you may at some point be a family caregiver, benefiting from The CARE Act. Over the course of their lives, about 17 percent of adults end up providing care for the parents, according to a recent report by economists Gal Wettstein and Alice Zulkarnain of the Center for Retirement Research at Boston College.
AARP developed and spread the model CARE Act legislation. "The last time we did the Scorecard, we didn't even have the policy proposals for the CARE Act. That kind of rapid adoption is very encouraging," says Reinhard.
The Biggest Decline
On the flip side, AARP saw the most significant decline since its last Scorecard in the number of states where long-stay nursing home residents on Medicare move back to living in their communities; that number is now down to just 21 states. (The top states: Utah, Oregon, Washington, Arizona and Idaho, where 12 percent of long-stay nursing home residents, on average, transitioned back to the community.)
"Going backwards is concerning," says Reinhard. "Once you enter a nursing home, if you are there for 100 days, it's really hard to leave." Transitioning from nursing homes back to communities is an area AARP plans to study further.
Long-Term Care Affordability Hasn't Budged
Most states showed no change in the Affordability and Access category. Nursing homes often cost more than $90,000 a year and a home-health aide can run over $30,000 annually. And, as long-term care analyst Howard Gleckman wrote on Forbes, the average need for long-term care is two years at a cost of $138,000 in today's dollars. One in seven, he notes, will need the care for five years or longer; their tab will exceed $250,000.
"The cost of long-term services and supports over time continues to be much higher than what middle-income families can afford," the Scorecard report says.
Big Disparities in Some Long-Term Care Categories
AARP found some gigantic disparities among the states in certain categories of long-term care support and services. Take the portion of Medicaid and state funding on home- and community-based services, which has been growing overall. However, the Scorecard report said, it will take 51 years for the average of the bottom five states to reach the level of the average of the top five states in this area.
"When you look at the fact that boomers will be turning 80 by 2026, that's a heartbeat away," says Reinhard. "We will need to triple or quadruple our pace of change."
How to Use the Long-Term Care Scorecard
Although the Scorecard will probably be of greatest interest to policymakers and analysts, it's also worth reviewing if you're concerned that you or a loved one may need long-term care or you're a family caregiver.
"You can ask your representatives, 'Why is my state not ranked very well? What's going on here?'" says Reinhard.
Fears for the Future of Long-Term Care
Looking forward, AARP is especially concerned about potential Medicaid cutbacks from the Affordable Care Act repeal-and-replace legislation.
The American Health Care Act passed by the House of Representatives would reduce spending on Medicaid by over $800 billion. That would be "the largest single reduction in a social insurance program in our nation's history," according to Harvard Medical School professor David Grabowski and Brown University professor Jonathan Gruber.
"I hope in three years we don't see an erosion of the Medicaid safety net," says Reinhard.
Next Avenue Editors Also Recommend: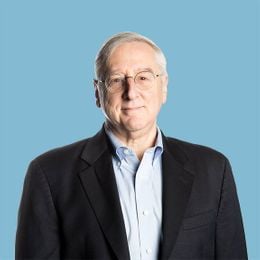 Richard Eisenberg
is the former Senior Web Editor of the Money & Security and Work & Purpose channels of Next Avenue and former Managing Editor for the site. He is the author of "How to Avoid a Mid-Life Financial Crisis" and has been a personal finance editor at Money, Yahoo, Good Housekeeping, and CBS MoneyWatch.
Read More