AARP's Jean Accius Documents The Longevity Economy
His team's report refutes long-held stereotypes of people 50+
There's plenty of talk these days about "the longevity economy" — the amount that Americans 50+ spend and contribute to society. But Jean Accius (pronounced Ax-ious), the Haitian-born senior vice president of global thought leadership at AARP based in Washington, D.C., has put a dollar figure on it.
Specifically, in the groundbreaking 2019 AARP report he headed up, "The Longevity Economy Outlook," Accius and his team determined that the nation's 117.14 million people who are 50+ (35% of the population) contributed $8.3 trillion in economic activity in 2018 and another estimated $745 billion in unpaid benefits caring for a family member or loved one; helping to raise grandchildren and volunteering their time and supporting charities.
If the 50+ population in the United States was its own country, its Gross Domestic Product would be the world's third largest, after America and China.
Accius has plenty of thoughts about the longevity economy, its implications and its future prospects.
Next Avenue: What first got you interested in doing work related to aging?
Jean Accius: It really dates back to my birth. My grandmother raised me for the first four years of my life; she is now ninety-four years old and has early stages of dementia. But she really instilled in me at a very young age to always think about the greater purpose that you have.
Fast forward, my first job was working in a retirement community at the age of fifteen. I loved it so much that I spent more time working there than I did hanging out with my buddies. And fast forward, I then had an opportunity to work for the state of Florida for the Florida Department of Elder Affairs and I ended up eventually at AARP.
I do believe that aging is a social justice issue, in part because many older adults are marginalized or discounted just because of their age. And then when you take into account the intersectionality of age, race and gender, you have a triple whammy type of situation.
"This is really a population and a customer base you cannot ignore."
So how do we start to create the systems in a way that are responsive to the changing demographics to ensure that we actually see the value of older adults, the wisdom that they provide?
Your Longevity Economy report said that people 50 and older in America are stimulating jobs and creating opportunities. And yet there's a very popular view that older people are a drain on society. What does your report say to that?
When you look at direct consumer spending in the United States, fifty-six cents of every dollar are spent by someone over the age of 50. They're not spending that money just on themselves; they're parents paying for their kids or their grandkids. They're contributing to the range of activity that really ensures that our economy is strong.
This is really a population and a customer base you cannot ignore.
What are the implications of your findings?
Ageism is so pervasive that is critically important to be able to illustrate and counter that narrative. Our longevity economy report was designed to shift the paradigm and to encourage industry and other stakeholders to look at the value and the opportunity that comes with an aging population.
So, the report is designed to illustrate that older adults are not a liability. That in fact, they're a huge economic driver.
It is designed to counter the biases that exist in our country and frankly around the world — to motivate, encourage and drive systemic change in terms of how we view and value older adults.
What do you hope the impact of this report will be?
We know that many companies are now looking at this market, from the vantage point of how can we better serve them? How can we ensure that older adults are at the center of the design of products and services?
From a marketing standpoint, we are seeing more and more companies really think about the images they portray and how they can ensure that the older adults that are reflected are not homogeneous, but more reflective of what it means to be aging in this country.
I was at a meeting that AARP was part of at the United Nations a few months back, about the importance of age, diverse workforces and older workers around the world. I was frankly a little surprised to see that the United Nations would be interested in this. Can you talk about that?
What we've been able to do over the last year and a half is elevate the issue of longevity, meaning the fact that in many cases, people are living longer, and either want, or need, to continue working. So how can we ensure that, companies are leveraging an age-diverse and multigenerational workforce?
The United Nations has been such an amazing partner. And so has the World Economic Forum and OECD [the Organization for Economic Co-operation and Development, comprised of 37 countries].
What does research say about mixed-age teams in the workplace?
They tend to outperform those that are not as diverse.
Do companies around the world understand that?
We recently released a global survey of over 6,000 employers and we found that 53% do not include age as a factor in their DEI [diversity, equity and inclusion] policies. So, we still have some work to do.
"Age discrimination is actually stifling our economic growth. Ageism, at its core, is actually hurting us all."
You were quoted as saying that we must address ageist attitudes within the workplace. How?
AARP released another report, about the cost of age discrimination, and we found that age discrimination cost the United States eight hundred and fifty billion dollars in 2018. Had we eliminated age discrimination, the economic activity of Americans fifty and older would have been more than nine trillion dollars.
So, what that means is that age discrimination is actually stifling our economic growth. Ageism, at its core, is actually hurting us all.
I know your report came out before the pandemic, but what have we been learning about the effects of the pandemic on the fifty-plus population and the impact on the economy?
One of the things that we've been seeing with COVID-19 is the disproportionate impact this pandemic is having on older adults, especially older adults in long-term care facilities. That is an area that needs to be addressed.
This is a problem across the globe.
So, the key moving forward will be to incorporate adequate responses to redesign our long-term care systems in a very meaningful way. Anything short of that will not be sufficient.
I also saw you say that you think COVID-19 has disrupted the negative stereotype that older adults are not comfortable with technology or they can't use technology. How?
What we're seeing is that older adults are very comfortable with technology. They are Skyping and Zooming with their family members and their grandkids and they're using the computer in ways that really disrupts this notion that older adults are afraid of technology.
We're also seeing that older adults are very resilient. They can adapt and pivot and they are nimble.
You also think that the pandemic has, in some ways, brought us closer together across generations, too. Can you talk about that?
The pandemic is bringing out the best in many of us. Generations are coming together, whether it's college students who are helping to provide meals or to say, 'Hey, I'm just calling to check up on you.'
We're seeing more and more of that sense of purpose, that sense of humanity.
Intergenerational opportunities are popping up all across this country.
I know you've said that the way people are aging in America is changing dramatically. How are you seeing that happening?
The average age of an entrepreneur is close to fifty years old and the most successful entrepreneurs are over fifty. You're seeing an increase in the number of people over the fifty who are going back to school or shifting gears to go part-time and do something different.
The new reality is the fact that in so many ways, these added years have given people the freedom to live their fullest lives to the extent that is possible, while also realizing the reality that also comes with aging.
I think it's a different mindset. It's a different perception — the freedom to choose how you want to live as you age. And I think that is what's changing drastically right now.
Two Questions for Our Influencers
If you could change one thing about aging in America, what would it be?
Eliminate the widening disparities gap, which stifles our economic growth and prosperity and robs people, particularly communities of color, of the opportunity to live longer, healthier and productive lives. We all have a responsibility to close this opportunity gap. We must be bold and courageous. It is time to reimagine and build a future that is more equitable, and where race and other sociodemographic factors do not determine health and economic outcomes.
How has the COVID-19 pandemic changed your perspective on aging?
The pandemic hasn't changed my perspective on aging. If anything, it's reinforced what I've been saying for decades about inequality in aging. Whether it's age discrimination in medical care, scaling back clinical and social services due to local shutdowns or underlying conditions that put them at greater risk of infection, older adults around the world are the bullseye for the COVID-19 arrow. As we imagine our post-COVID world, we need to remember that if we want a better world tomorrow, we need to speed the pace of progress against inequality today.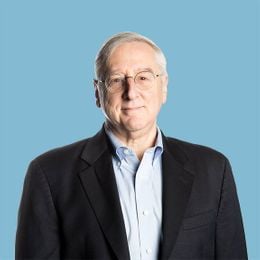 Richard Eisenberg
is the former Senior Web Editor of the Money & Security and Work & Purpose channels of Next Avenue and former Managing Editor for the site. He is the author of "How to Avoid a Mid-Life Financial Crisis" and has been a personal finance editor at Money, Yahoo, Good Housekeeping, and CBS MoneyWatch.
Read More