Americans' Position on Retirement Planning: The Shruggie
A smattering of surveys find few people are taking basic steps
After reviewing six recent surveys and studies from financial services firms and the U.S. government, I've decided that Americans' position on retirement planning can be summed up in, well not a word exactly, but an emoji: The Shruggie. ¯\_(ツ)_/¯
Yes, people believe there's a national retirement crisis — though they say they're not having one personally, Vanguard's survey, "Retirement Transitions in Four Countries," finds. When Vanguard queried 892 pre-retirees, 59 percent agreed that there's a national retirement crisis but only 10 percent described their own retirement situation as a crisis.
Yet the research (from Fidelity, T. Rowe Price, Bank of America Merrill Lynch/Age Wave, Bankers Life, the U.S. Census plus Vanguard) shows many Americans are, sadly, pretty clueless about how much money they'll need for a comfortable retirement, how much they could withdraw in retirement to avoid outliving their savings and investing basics.
Average Retirement IQ Score: 30
In Fidelity Investments' first Retirement IQ survey, "people didn't do very well; the average score was about a 30," out of a possible 100, said Ken Hevert, Fidelity's senior vice president of retirement.
For example, about three-quarters of respondents (and four-fifths of those age 55 to 65) underestimated how much they'll need to save for retirement. Although Fidelity said financial pros recommend people save at least 10 times their final year of pre-retirement income, most surveyed said they thought the rule-of-thumb was two to three times income just before retirement.
Similarly, the Bank of America Merrill Lynch/Age Wave survey found that 81 percent of people didn't know how much money they'd need for retirement. And only 37 percent of middle-income boomers feel "well prepared or very well prepared" for retirement, according to a new Bankers Life Center for a Secure Retirement survey, "10 Years After the Crisis: Middle-Income Boomers Rebounding But Not Recovered."
Few Are Actually Doing Retirement Planning
The reason so many don't know how much they'll need — and granted, no one really knows — is that so few people bother to even estimate the figure. Vanguard's survey said just 55 percent of pre-retirees have determined the amount of money they'll need to retire. And even fewer — 43 percent — have planned for how they'll generate retirement income.
Rick Moody, an expert on the power of dreams in retirement, recently told the Age Without Borders Virtual Summit: "We're really not prepared for retirement in the way high school prepared us to go to college or the way we get prepared to get married."
Fidelity found Americans haven't wrapped their heads around how long they're likely to live, either. When it asked: "Given the average life expectancy, if you want to retire at 65, about how long would you need your retirement savings to last?," 38 percent of those age 55 to 65  said: between 12 and 17 years. The correct answer: 22 years.
Those extra years can mean more time to enjoy life and loved ones but also more years to cover your costs. Maybe that's why, in T. Rowe Price's study, "Understanding Investor Attitudes Toward Retirement," 59 percent of boomers called the longevity bonus (the idea that we could have an extra 30 years added to our lifespan) "both a blessing and a curse."
Underestimating Health Care Costs in Retirement
One big cost people aren't being realistic about, Fidelity found, is health care. A striking 72 percent of Fidelity's survey respondents underestimated how much a couple retiring at 65 will likely spend on health care in retirement (correct answer: $260,000, not including any long-term care costs).
Worse: 19 percent of pre-retirees underestimated that figure by $200,000. You read that right.
"Many people assume everything will be covered by Medicare," said Hevert, or that they'll pay any health costs out of savings.
How Much Money to Withdraw in Retirement
Only 42 percent of pre-retirees Fidelity asked knew the percentage of savings that financial experts typically suggest you withdraw annually in retirement (that would be 4 to 5 percent). Worse, 38 percent of those over 55 said they could withdraw 7 percent or more a year. Withdrawing that much, Fidelity says, could put "many at risk of quickly running out of savings in retirement."
Hevert suspects so many went with 7 percent because that's roughly the average historical annual return in the stock market. In other words, people think their retirement savings will grow 7 percent a year, so they'll be able to withdraw 7 percent without touching their principal — what Hevert calls "the holy grail."
But the thing about averages: they're averages. Some years, the stock market has risen much less than 7 percent or, of course, fallen. Other years, it's gone up by more than 7 percent.
"We [in the financial services industry and the media] need to do a much better job helping people understand what reasonable withdrawal approaches can be," says Hevert.
I agree.
Asking Too Much of People?
Monique Morrissey, an economist at the Economic Policy Institute, spoke at an Aspen Institute program I just attended on why retirement tax incentives aren't getting people to save enough. "We are asking people to be financial advisers. But we don't ask people to operate on themselves," she said. "They go to a doctor."
Morrissey thinks Americans are being wrongly blamed for not understanding how to save for retirement wisely — "something that is highly complex."
Indeed, NYU law professor David Kamin told the Aspen Institute that the retirement tax incentive system "is not working well" — half of Americans don't participate in employer-sponsored retirement plans or IRAs and, he added, 60 percent of the benefits of the retirement tax breaks now go to the top quintile of the population. A recent U.S. Census study said only 14 percent of employers offer retirement plans.
"Current tax incentives are mistargeted, complicated and too easily manipulated," notes Kamin. What could get more people to save and what could get people to save more?
How to Get More People to Save for Retirement
Kamin has three recommendations:
1. Refocus retirement-saving tax breaks toward low- and middle-income Americans One write-off aimed at those people — The Saver's Credit — is greatly underutilized, said Aspen Institute panelist Catherine Collinson, of the Transamerica Center for Retirement Studies. Only 7.9 million tax filers claimed the credit in 2014, at an average amount of just $175. Collinson estimates that nearly 30 million are eligible for this credit, which offers tax savings of up to $1,000; $2,000 if you're married and filing jointly.
A couple of reasons why so few people take The Saver's Credit: "Only one in three workers are aware of it," says Collinson. "And you can't claim it on the 1040 EZ form."
2. Increase portability of retirement savings plans Some retirement analysts favor a universal retirement account that you could easily take with you from one employer to another.
3. Raise the "default" savings rate in employer-sponsored retirement plans The default rate is the percentage of pay some employers automatically withhold for 401(k)s and it's often just 3 percent or so.
I think all three of those ideas sound like good ones for policymakers and employers to adopt. In the meantime, I'd love to see American workers make a change, too: start getting serious about retirement planning while you still have time.
Next Avenue Editors Also Recommend: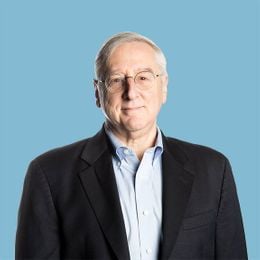 Richard Eisenberg
is the former Senior Web Editor of the Money & Security and Work & Purpose channels of Next Avenue and former Managing Editor for the site. He is the author of "How to Avoid a Mid-Life Financial Crisis" and has been a personal finance editor at Money, Yahoo, Good Housekeeping, and CBS MoneyWatch.
Read More