An Artist Displays 'Serious Whimsy'
Vicki Sawyer paints birds in hats and critters in costumes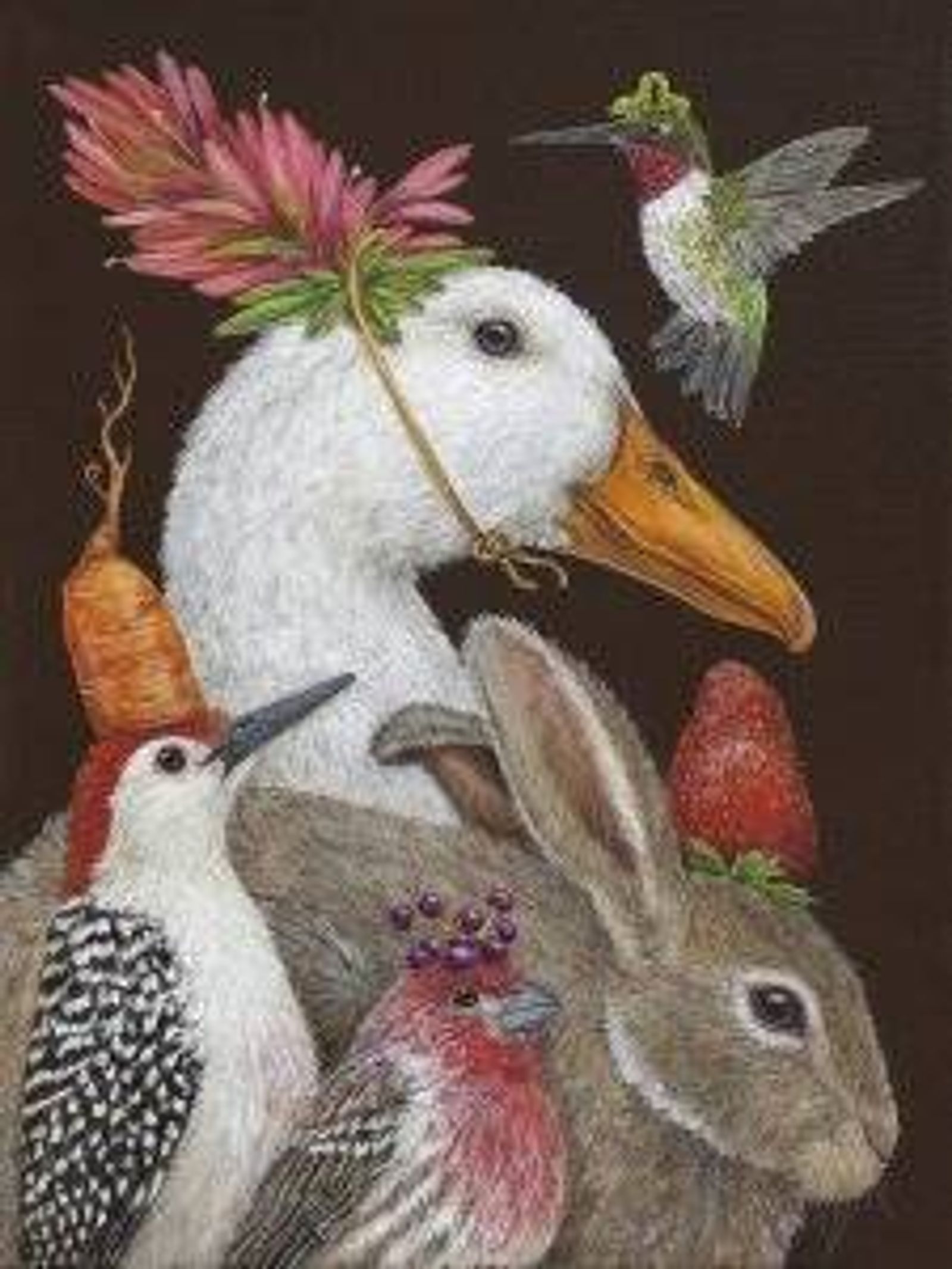 A rooster sports a tower of vegetables on his head; a deer is adorned with Jack-in-the-Pulpits; blue jays and robins don weedy fascinators; a cardinal goes undercover in a mask made from seeds; a lamb is outfitted with antlers, ready for reindeer games. One pig has earned a halo.
Artist Vicki Sawyer created this world. Over the past 15 years, she has painted more than 2,000 pictures of birds and other animals wearing hats, necklaces and masks, and every creature retains its inherent dignity. How did this happen?
"On a walk one day, it occurred to me that if birds could build nests, they could make hats," says Sawyer, 63, an avowed animal lover. "I label my art as serious whimsy. It's seriously painted, but whimsical." Sawyer lives in Franklin, Tenn., south of Nashville.
In 2015, a set of appetizer plates boasting Sawyer's critters was included on Oprah Winfrey's "Favorite Things" list. Today, the memorable images adorn greeting cards, placemats, needlepoint kits, mugs, teapots, phone cases, kitchen towels, aprons, rug hooking patterns, napkins, calendars and journals. Starting this summer, some of Sawyer's work will be on screen-printed pillows from Eric and Christopher, based in Bucks County, Pa.
"I label my art as serious whimsy. It's seriously painted, but whimsical."
Success came to Sawyer in her mid-50s. Did she see it coming? "Not at all," she says, laughing.
A Lifelong Nature Lover Pays Homage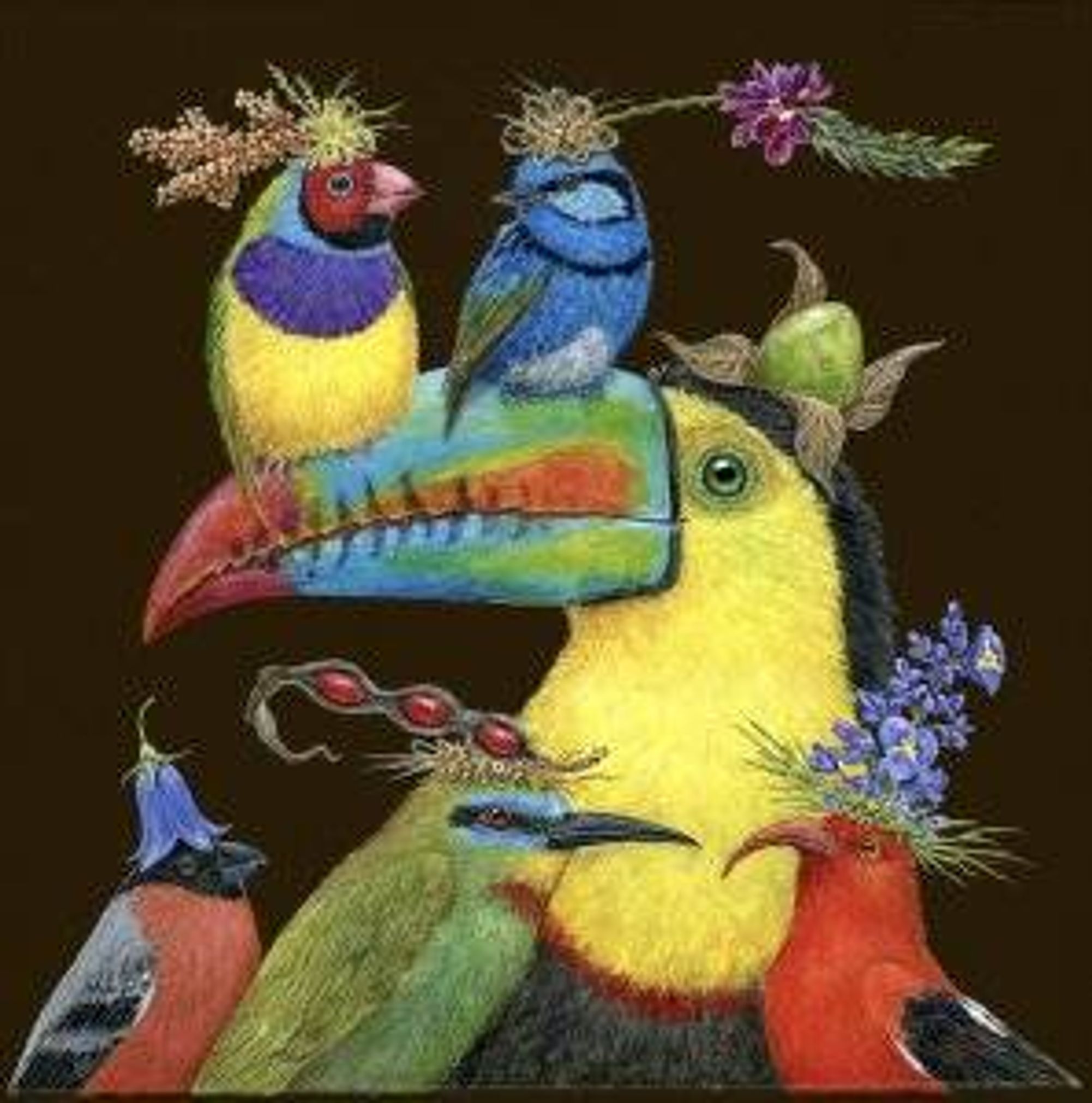 Sawyer grew up in a suburb of Pittsburgh, where "the city was centralized, but you would cross some bridges to get into the countryside," she says. "My grandfather would take me for walks, and we would talk about the plants. My dad was a birder, so we would identify birds together. And my mother liked to paint, so she encouraged me to draw."
After earning a bachelor of fine arts degree from Penn State, Sawyer worked as a graphic artist. Then, after marrying and having three children, she made soft-sculpture dolls and ornaments, projects she could pick up and put down as she had time.
When the family moved to Long Island, N.Y., in 1989, Sawyer joined forces with another graphic designer and they began painting commissioned murals.
"That work taught me a lot," Sawyer says. "You have to paint whatever the customer wants, and you have to get inspired immediately. You can't be a fussy artist." A lot of the murals were nature-themed, so Sawyer painted many birds and flowers. "I'd always been so intrigued by nature, so I did that joyfully."
In 2004, the family moved to Tennessee. "By then I was 49, an empty nester and tired of being up on ladders, painting walls," Sawyer says. "I decided to get back to painting on canvas."
She works in acrylics, painting many layers, and then using spray varnish to give the art a sheen so it looks like an oil painting. Soon, Sawyer began taking part in art shows at local schools, which increased her visibility.
'Vicki's Work Makes Everybody Smile'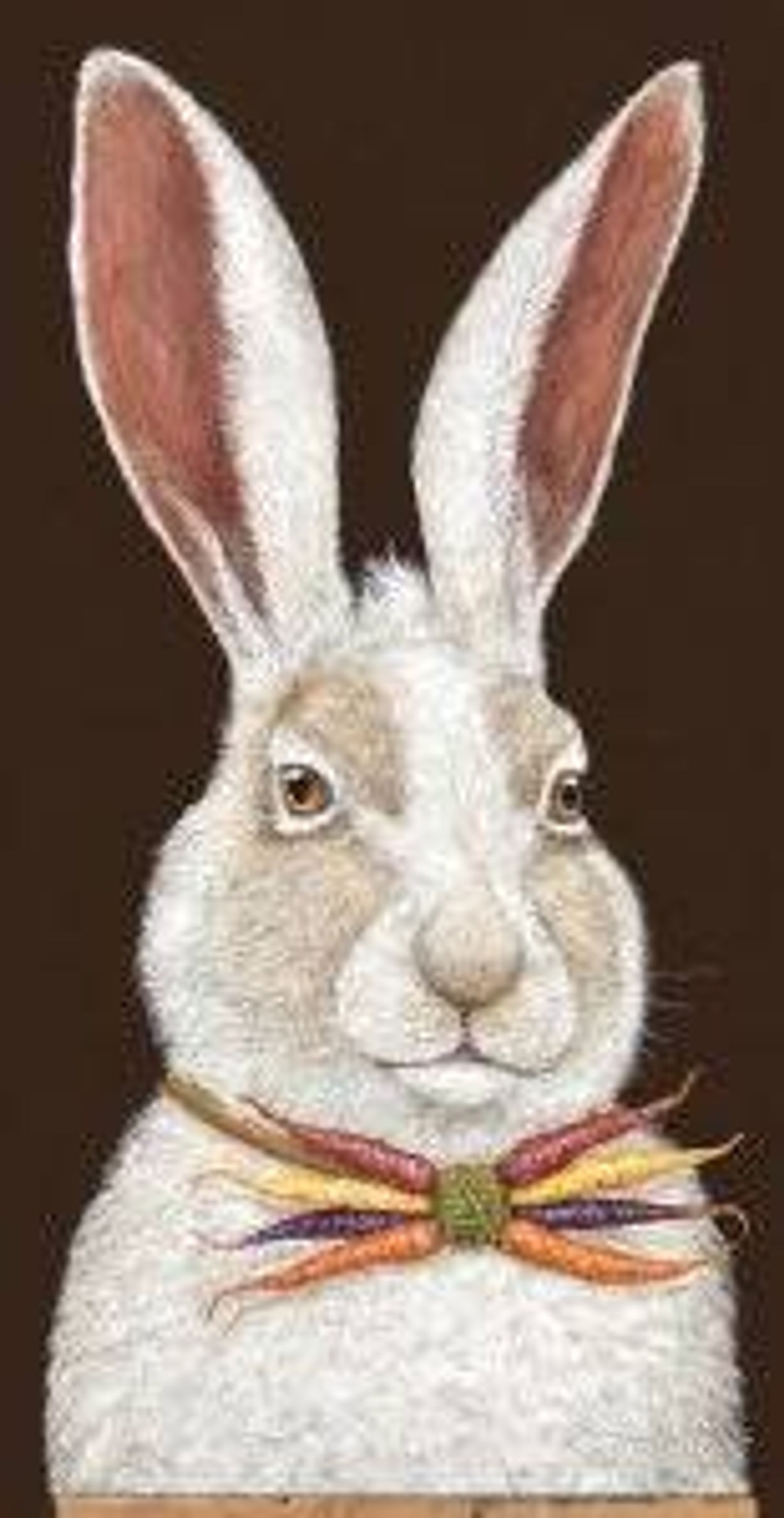 Angie Cook, the co-founder of Hester & Cook, a family-owned paper products business in Nashville, first encountered Sawyer's art about a decade ago and has worked with her for the past seven years. Cook's company sells cards, placemats and coasters festooned with Sawyer's images.
"Vicki's work is something special," says Cook. "It's timeless, and it makes everybody smile. You don't often come across something so original — plus, she is a delight to work with."
Sawyer also has licensing agreements with other companies in the U.S. and England, and her work is in three galleries. One is in Franklin, one is in Charlotte, N.C., and one is part of an online collective, managed in New York.
Sawyer's most recent work is a portrait of a tufted titmouse, a bust painted to human scale. "If you saw this bird on the street, it would be six feet tall," she says, laughing. She also has a renewed interest in trees, and says she's thinking about trying something new, "maybe an impressionist abstract inspired by roots or branches."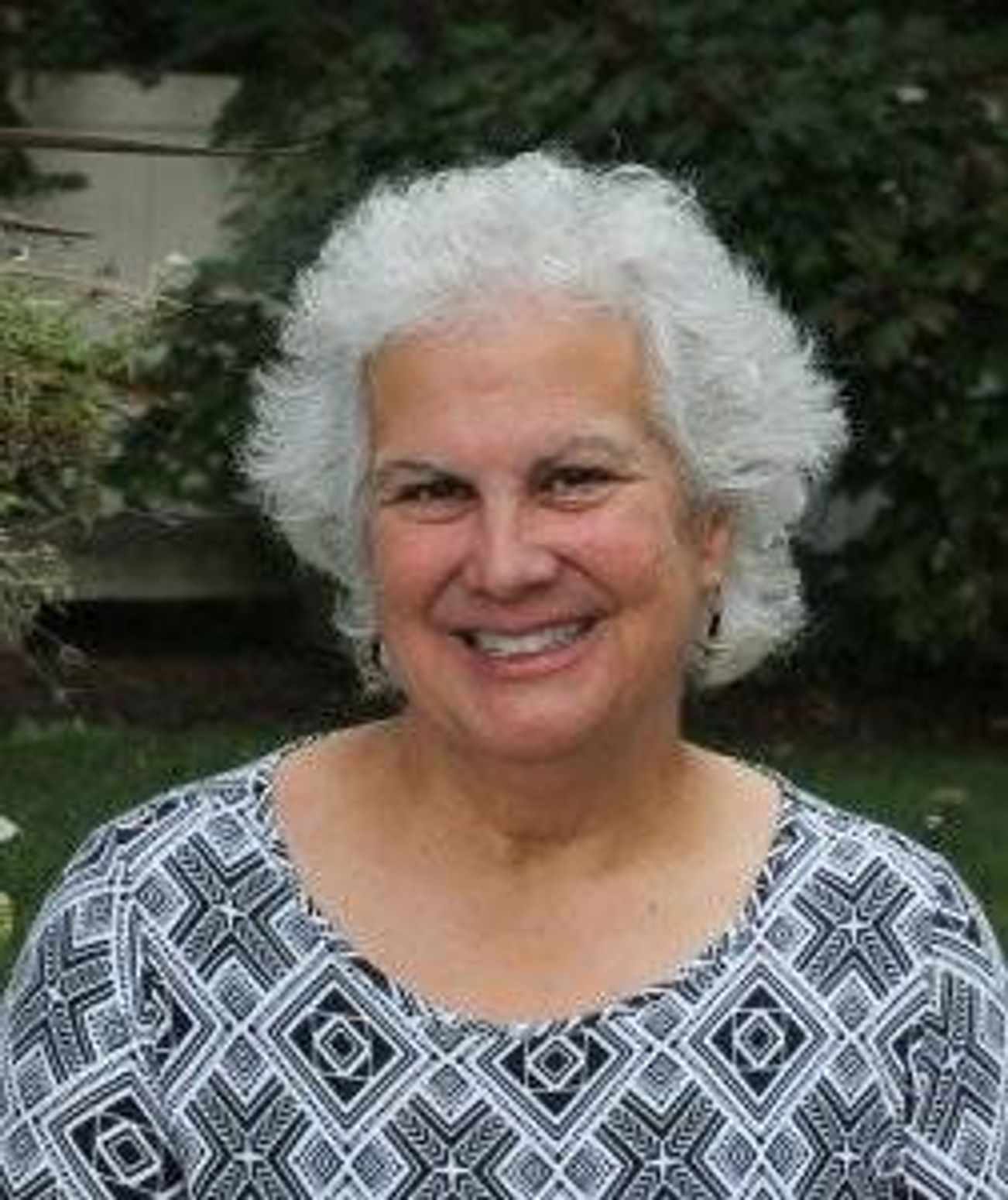 Of all her images on all the different products, does Sawyer have a favorite?
"I'll get interested in one thing, and then I get interested in something else, but I do have a favorite bird — the great blue heron, because they are so stunning," she says. In addition to birds, Sawyer has painted penguins, alpacas, llamas, bears, raccoons, even possums.
"I love painting European badgers," she says, "and lately I've loved painting hares. I have one wearing a bow tie made of colorful carrots."
Honored by Fans With Tattoos and Sweet Notes
Many of her customers seem to favor products that feature groupings of Sawyer's birds in stylish headgear, images that she notes take "a lot of time and detail."
One fan wanted more than a card. "The rooster with the vegetables on its head is now a tattoo on a chef's arm," she says, "and someone else has a tattoo of some of my owls."
Not all Sawyer's fans express their appreciation with body art. Some send her notes. "I get the sweetest emails. Some say my art has made them laugh and others tell me to keep doing what I'm doing, because I bring so much joy to the world," she says. "That's exactly what I want to do."
Patricia Corrigan
is a professional journalist, with decades of experience as a reporter and columnist at a metropolitan daily newspaper, and also a book author. She has written for Next Avenue since February 2015. Read more from Patricia at latetothehaight.blogspot.com.
Read More