Are You Set to Pay a $262,800 Nursing Home Bill?
What the latest figures for long-term care costs mean for you
Editor's note: This article is part of a year-long project about aging well, planning for the changes aging brings and shaping how society thinks about aging.  
Today is one of the most depressing, but significant, personal finance days of the year. And I'm not referring to Tax Day Minus One.
I'm talking about the release of the annual Genworth Cost of Care Survey — the median cost of long-term care in nursing homes, assisted living facilities and at home.
(MORE: SPECIAL REPORT: Transforming Life as We Age)
The news is never pretty, but some of this year's numbers are especially scary. As Bob Bua, Genworth Vice President, told me: "The consumer needs to be educated how expensive this is."
How expensive?
$87,600 for a Nursing Home
The median annual rate of a private room in a nursing home is now $87,600, according to Genworth. That's up a stunning 4.35 percent over 2013. Over a three-year period — the longest most nursing home residents stay — that room would cost $262,800, assuming its price doesn't continue rising.
A semi-private room in a nursing home now runs $77,380, Genworth found. That's an increase of 2.62 percent from the previous year.
(MORE: How to Get Good Long-Term Care Coverage)
Key Long-Term Care Costs Outrunning Inflation
Those price rises are substantially more than U.S. inflation overall. Inflation only increased 1.5 percent last year; medical price inflation rose 1 percent, according to the U.S. Bureau of Labor Statistics. (Hospital and related services spiked by 4.9 percent, however.)
If these nursing home costs surprise you, you're in good company. A recent AP/NORC survey found that 58 percent of people underestimate the costs of a nursing home. You can test your long-term care knowledge at a clever quiz that PBS Newshour created.
Other figures from Genworth's report:
Hiring a home health aide for long-term care costs $20-an-hour or $45,188 annually (median rate). That's a one-year increase of 1.59 percent.
It costs $43,472 a year ($19 an hour) to employ someone to handle homemaker services. These include things such as shopping, cooking, cleaning and transportation to doctors' appointments. That figure is up by a striking 4.11 percent over 2013.
Genworth's CareScout subsidiary compiled its data by surveying nearly 15,000 long-term care providers in 440 regions nationwide. It has published results every year since 2004.
Why You Should Care About Long-Term Care Costs
The reason these numbers matter so much: If you live to 65, there's a 70 percent chance you'll need some form of long-term care services in the future. The number of Americans needing long-term care services and supports is expected to mushroom from 12 million in 2010 to 27 million in 2050, according to the U.S Department of Health and Human Services.
(MORE: Why Long-Term Care in the U.S. is Headed for a Crisis and What We Can Do)
As I reviewed the Genworth survey, I was quite surprised to see the nursing home private room rate soar by more than 4 percent in a year.
When I asked Bua what he thought accounted for that, he explained that most people in nursing homes stay in semi-private rooms since Medicaid often pays for that. "So the private-room rate is a chance for nursing homes to be a little more profitable to help cover the costs of government reimbursement," said Bua. "A private room has a lot of value to some people. And if they have the money, they'll pay for it."
Bua said the 4.11 percent rise in homemaker services "was a surprise to us." He thought that might be due to increased demand for home care by people needing long-term care (and their families) rather than nursing homes and assisted living facilities.
Big Cost Differences Depending on Where You Live
Genworth's study also showed sizable regional variation for long-term care costs.
The median cost of a private room in a nursing home now ranges from $57,488 in Oklahoma to $240,900 in Alaska; a semi-private room goes from $52,925 in Oklahoma to $237,250 in Alaska.
Aside from Alaska, nursing home rates are highest mostly in the Northeast, the Northwest, California, Washington state and Hawaii, where they typically hover around $100,000 or more.
While $42,000 is the median rate for an assisted-living facility, the cost exceeds $60,000 in Alaska, Connecticut, Delaware, Massachusetts, New Jersey and Washington, D.C.
Costs vary much less regionally for home health aides and people providing homemaker services.
What the Numbers Mean For You
So what do the study's results mean for you and your family?
If you'll be looking for long-term care for your parent or a loved one, don't assume that the care will necessarily be better just because it's more expensive than in another part of the country. Bua said there's no correlation between an area's higher cost of care and the quality of services provided.
That said, you may well want to factor in the huge geographic cost differences for assisted living facilities and nursing homes when looking for a place to provide care for financial reasons.
"Absolutely, this is one of several factors to consider," said Bua. "It's also a factor to consider when thinking about where you will want to live in retirement." After all, you may need long-term care someday too; most Americans over 65 do.
Genworth's website lets you compare the minimum, maximum and median cost of long-term care in each state and see the compound annual median growth rate over the past five years.
The new Genworth numbers also provide yet more evidence that you need to save a good chunk of money for potential long-term care costs.
Only 35 percent of Americans have done so, however.
Maybe as more people hear about annual long-term care bills of $42,000 to $86,700, they'll get the hint and start saving or buy a long-term care insurance policy. A 60-year-old couple who each buys $164,000 of protection through long-term care policies will pay an average of $3,840 a year for the insurance, according to the American Association for Long-Term Care Insurance. (Premiums are much higher if you buy coverage in your late 60s or 70s, assuming you're not turned down.)
Long-term care costs are unquestionably steep. But taking proactive steps to pay for them could prevent you and your family from exhausting the savings you do have.
That could then boost your chance of living out your life — in the words of Dr. Bruce Chernof, chair of the recent federal Commission on Long-Term Care — "with dignity, independence and choice."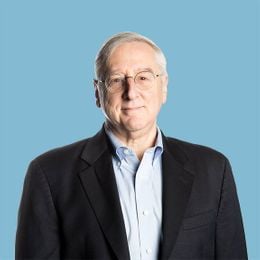 Richard Eisenberg
is the former Senior Web Editor of the Money & Security and Work & Purpose channels of Next Avenue and former Managing Editor for the site. He is the author of "How to Avoid a Mid-Life Financial Crisis" and has been a personal finance editor at Money, Yahoo, Good Housekeeping, and CBS MoneyWatch.
Read More