'Assembly Required' at New Museum Exhibition
Pulitzer Arts Foundation in St. Louis invites visitors to 'co-create' interactive works
Imagine walking into a museum, unfolding a lengthy piece of fabric on display, stretching it out on the floor and then crawling inside one of several "person-sized pockets" as your friends and other visitors do the same, like so many surprising peas encased in a cloth pod.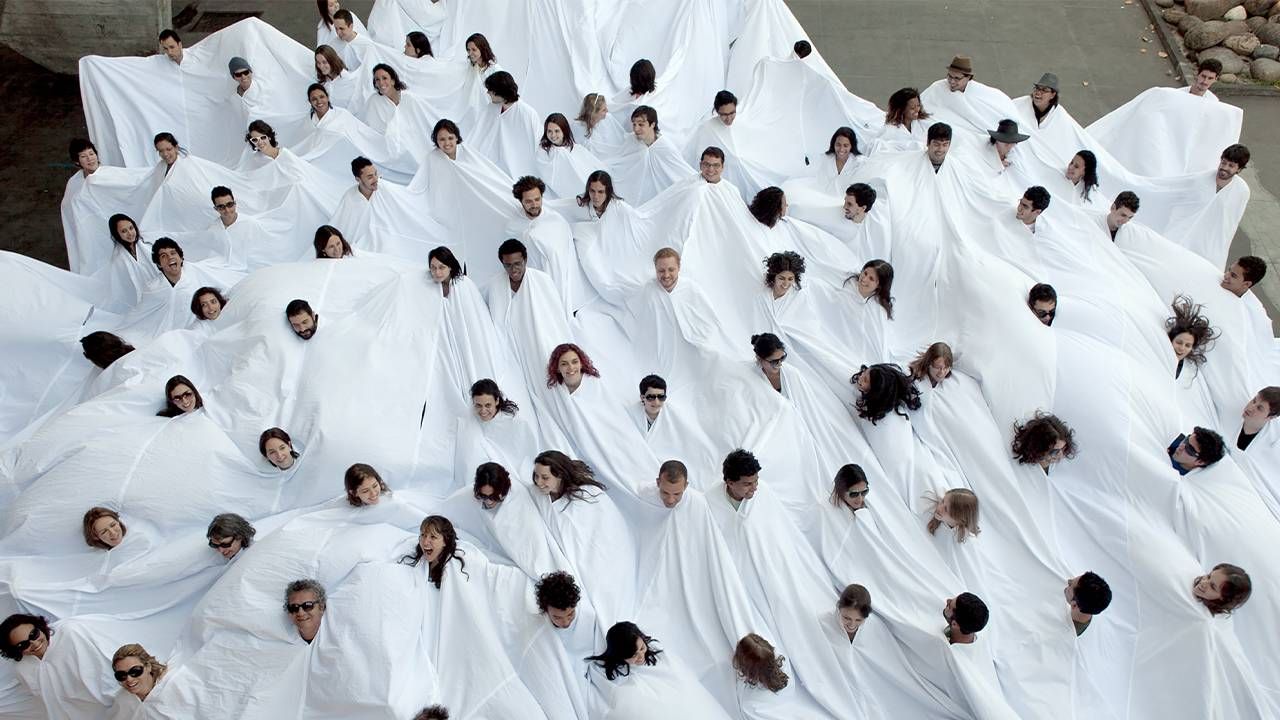 That's possible — and permitted — right now at the Pulitzer Arts Foundation in St. Louis, where German artist Franz Erhard Walther's "First Work Set (1963-1969)" is on display as part of "Assembly Required," a new exhibition in development for three years that opened March 4 and runs through July 31, 2022.
"This exhibition is more experiential than many museum shows, and designed to make visitors feel more at home interacting directly with the art."
"This was one of the first pieces I thought about when we were asking ourselves how the Pulitzer could reach out to new audiences and offer new ways of engaging with art, and how we could create a space for optimism and hope," said curator Stephanie Weissberg. "This exhibition is more experiential than many museum shows, and designed to make visitors feel more at home interacting directly with the art."
In addition to several more of Walther's hands-on displays that emphasize process over product, "Assembly Required" includes works by eight other artists. They are Francis Alÿs, Rasheed Araeen, Siah Armajani, Tania Bruguera and the collective INSTAR, Lygia Clark, Hélio Oiticica, Yoko Ono and Lygia Pape.
Step on Yoko Ono's Painting
"Each artist invites the public to act as participants in creating the final realization of the artworks, and each invitation comes from a deep belief in the importance of working together as a means of transforming society," Weissberg said.
She added that though each work also addresses or responds to moments of political tension, the works are not purely activist, and some of them evoke a sense of playfulness or creativity.
Ono's "Painting to Be Stepped On" is on the floor in front of the Visitors Experience desk just inside the museum door. Elsewhere, arrayed across the gallery walls are more than 100 pages from Ono's book "Grapefruit," which proposes eclectic instructions for performing an artwork.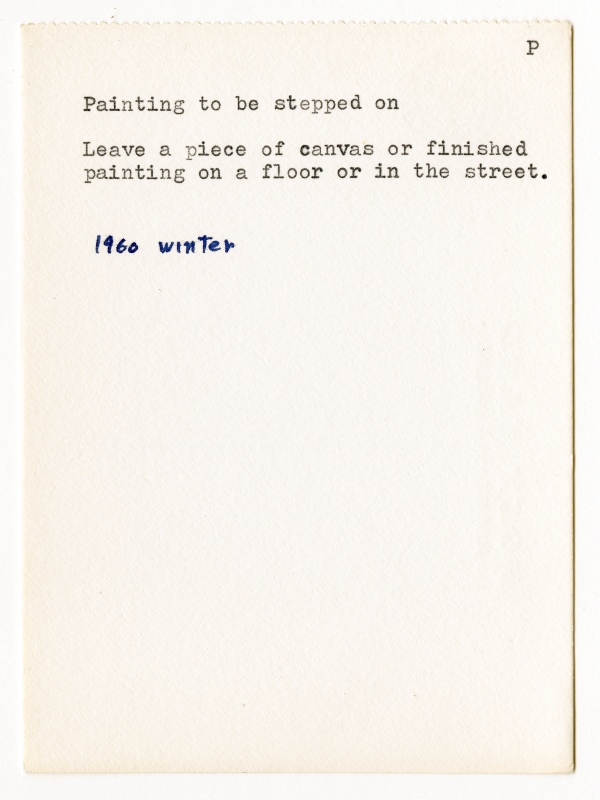 One page reads, "Watch snow fall until dinner time;" another suggests, "Draw a map to get lost."
On display in the Pulitzer's outdoor courtyard is "Zero to Infinity," a work by Karachi-born Araeen, who is based in London. He has crafted a 6-foot-by-6-foot grid of 36 red cubes, each measuring 19 5/8 inches by 19 5/8 inches. Visitors are invited to take apart the grid and reconfigure the cubes. Each evening, the cubes are assembled back into the grid.
"Rasheed Araeen is inspired by Minimalism, but he also is motivated to democratize the form of his art works by inviting visitors to break the grid and create something different," Weissberg said.
Small foldable sculptures, known as bichos (critters or creatures), by Brazilian artist Clark are set out in one gallery for visitors to rearrange.
"We also have what Clark called her 'dialogue goggles,' which contain a series of mirrored lenses," Weissberg said. "The idea, when you look into another's eyes through the goggles, is to think about how we see each other, how we can relate to each other outside of the scripts we normally use and how to develop more empathy and consideration for other people."
Enjoy 'Mental and Physical' Experiences
One part of "Assembly Required" is a reading room designed by Armajani, an Iranian-born sculptor who was based in Minneapolis until his passing in 2020. Dedicated to the English philosopher Alfred Whitehead, the reading room provides spaces for conversation and reflection.
"Siah Armajani has created many rooms that act as spaces for people to engage around his intellectual heroes, and it was his idea to include this room in the exhibition," Weissberg said. "Whitehead is a good pairing. His core idea was that we are all linked to one another and that our choices have implications."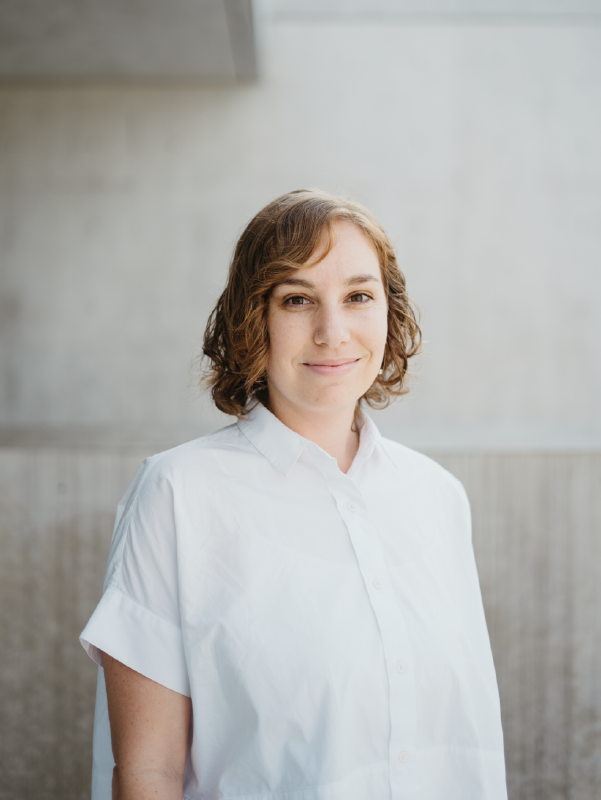 The reading room also helps address Weissberg's concerns about pacing. "I wanted to be sure we didn't create the same experience over and over for visitors," she said. "We wanted an ebb and flow, a mix of mental and physical, and it's nice to have a place where people can sit and read some of Whitehead's writing or talk with one another."
In another gallery, "Book of Creation" by Brazilian artist and filmmaker Pape, is unbound so visitors may arrange the 16 pages to tell their own stories about the origin of the world. Weissberg described the exhibition copy as "like a pop-up book," with pages that depict such images as ocean waves and representations of the solar system.
Video documentation of "Divisor," one of Pape's most famous performative works, also is on display. In 1968, the year in which the dictatorship in Rio "suppressed public assembly, introduced mass censorship and suspended habeas corpus, making citizens vulnerable to arrest without cause," Pape draped local children under an enormous sheet with their heads sticking out, and had them march through the streets.
"This was a poignant political statement, but also a lighthearted gesture that brings a sense of playfulness," Weissberg said. "It's also a great metaphor for a lot of the works in the exhibition, illustrating that people who are in some sense separated can also work together, exchange ideas, coordinate actions as they work toward a common goal."
Enter an Experiential Sculpture
Like Pape and Clark, Oiticica was a member of the Brazilian Neo-concretist movement that arose in the late 1950s and sought "to dissolve the boundaries between art and audience, treating the public as active participants rather than viewers."
Visitors are invited to enter Oiticica's "Penetrável Macaléia (1978)," an experiential sculpture that employs yellow mesh walls, sand and plants to evoke Brazil's rich tropical plant life and also its favelas, primarily poor neighborhoods originally built by soldiers.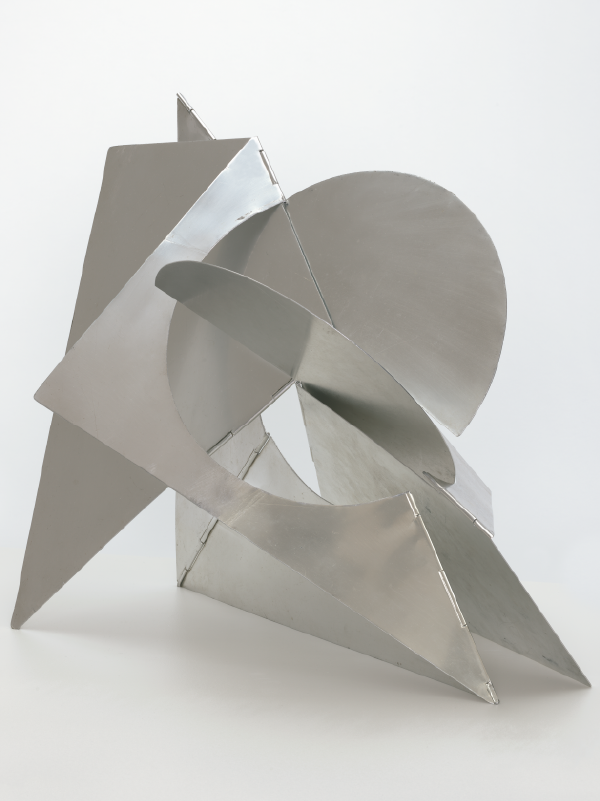 A gallery on the lower level contains video projections, drawings and paintings related to "When Faith Moves Mountains," a one-time performance work created by Alÿs, a Belgian-born artist based in Mexico.
Over the course of a day, 500 volunteers armed with shovels endeavored to move a 1,500-foot-long sand dune outside Lima, Peru. In what is described as "a gesture of optimism, an allegory about the potential of the collective will and a realist observation about the enormity of the challenges to achieving long-term change," the workers shifted the dune by about four inches.
During the run of the exhibition, Cuban artist and activist Bruguera and the collective INSTAR is conducting a residency at the Pulitzer, coordinating public programs that connect local artists and scholars with activists in Bruguera's organization. Weissberg noted that some of the resulting conversations will be made public virtually.
Weissberg noted that originally, the key idea behind "Assembly Required" was to respond to the sense of hopelessness shared by many in 2019 regarding the "dire social and political circumstances internationally."
Since then, the pandemic has led to the loss of social connections, and that has served to reinterpret, even amplify, the exhibition's theme of encouraging collaboration.
"Now," she said, "the exhibition has become even more poignant."
Patricia Corrigan
is a professional journalist, with decades of experience as a reporter and columnist at a metropolitan daily newspaper, and a book author. She now enjoys a lively freelance career, writing for numerous print and on-line publications. Read more from Patricia at latetothehaight.blogspot.com.
Read More