At GOP Debate, Social Security Has a Moment
Christie and Huckabee wrangle over the program's future
While other pundits watched yesterday's Republican presidential debates for the histrionics and the horserace, my focus was on domestic issues of importance to Americans over age 50. Here, it came down to a single exchange about Social Security.
Surprisingly, at least to me, economic issues didn't come up at all until 49 minutes into the debate.
That's when former Arkansas Governor Mike Huckabee and retired neurosurgeon Ben Carson made their cases for a form of a flat tax. Huckabee called it a "fair tax" (actually a flat tax on consumption) and Carson favored what he called a "taxation system based on tithing" — with a 10 percent tax rate for everyone which, he said, would "get rid of all the deductions and all the loopholes." Soon after, former Florida Governor Jeb Bush said it was time to "fix the convoluted tax code" and Wisconsin Governor Scott Walker echoed him, demanding lower tax rates and a reformed tax code.
The Debate Over Social Security
Then, New Jersey Governor Chris Christie and former Huckabee tussled over keeping Social Security solvent; the program's recent trustees' report predicted the Social Security retirement trust fund will be exhausted 20 years from now — in 2035.
Christie, who referred to himself as "the only guy with a 12-point entitlement reform plan," offered his provocative proposals:
Raise the Full Retirement Age for Social Security by two years (from age 67 to age 69), one month a year, over the next 25 years. This change would start in 2022.
Means-test Social Security, so Americans with "retirement income" above $200,000 and with "more than $4 to $5 million in liquid assets saved" wouldn't receive Social Security benefits because "they don't need that Social Security check." (Previously, as Yahoo Finance's Rick Newman has written, Christie has actually called for phasing out benefits for households with non-Social Security income of $80,000 or more.)
Said Christie: "If we don't deal with [Social Security], it will bankrupt our country or lead to massive tax increases — neither of which we want."
Huckabee disagreed. Noting that 60 million Americans receive Social Security benefits and that a third of them depend on 90 percent of their income for the money, he asked: "Whose fault is it that the system is screwed up — recipients or the government?"
Huckabee's solution was a head-scratcher: "If Congress wants to mess with it, why not start by changing their retirement program instead of talking about getting rid of Social Security and Medicare?"
Of course, no one is talking about getting rid of Social Security or Medicare, though some Republicans favor reforms to privatize both.
Bernie Sanders Chimes In
But neither Christie nor Huckabee got the last word on Social Security last night. That came from another presidential hopeful's tweet.
Shortly after the Christie/Huckabee exchange, Democratic presidential candidate and Vermont Senator Bernie Sanders tweeted: "Social Security can pay every penny owed for the next 18 years. Lift the cap on taxable income and it'll be solvent for decades." (His proposal is Washington-speak for the $118,500 ceiling on earnings that are taxed by Social Security.)
Whether you agree with Christie's specific proposals or not, I think you have to give him credit for opening up debate — at the debate — about Americans' retirement security. I'm hoping the rest of the Republican and Democratic candidates will weigh in, too.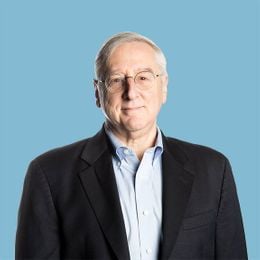 Richard Eisenberg
is the former Senior Web Editor of the Money & Security and Work & Purpose channels of Next Avenue and former Managing Editor for the site. He is the author of "How to Avoid a Mid-Life Financial Crisis" and has been a personal finance editor at Money, Yahoo, Good Housekeeping, and CBS MoneyWatch.
Read More