Barnes & Noble Taps Into Adult Coloring Pages Craze
The chain encourages everyone to come in and try their hand at coloring
Walk into any Barnes & Noble bookstore and it's easy to tell what the hottest-selling titles are. Sure, there's The Girl on the Train by Paula Hawkins and The Witches: Salem, 1962 by Stacy Schiff. But before you can even see the shelves of where those bestsellers are housed, you'll see display after display of books filled with coloring pages for adults.
Not since scrapbooking has a creative hobby created so much buzz. And everyone seems to be jumping on the bandwagon. Just this week, Crayola hopped on with its Color Escapes Adult Coloring Kits including 50 colored pencils, 12 markers and 12 coloring pages and offering a "soothing, creative experience that's easy to do and easy on your mind" for $22.49.
That's one way of describing the allure of adult coloring pages. Alex Perruzzi, vice president of gifts for Barnes & Noble, puts it this way: "People want to get away from the digital world and their crazy lives. Coloring is a great way to relax."
Crazy for Coloring
Sales of coloring books and art supplies are going through the roof, he says. And as demand for adult coloring pages grows, publishers are coming forward with books that appeal to all sorts of interests. The mind-bending array of options will be highlighted Saturday Nov. 14 from noon to 5 pm at the Barnes & Noble All-American Art Unwind, in every one of the nearly 650 B&N bookstores across the country.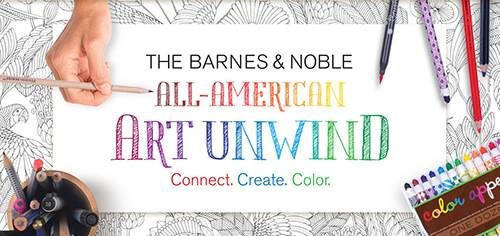 The point of the event, Perruzzi says, is to let customers sample and experiment with coloring. If you go, you'll be invited to be part of creating a "national digital art mosaic" by helping color a Millie Marotta original. Marotta, one of grown-up coloring's biggest names, is the artist who created the international bestselling Animal Kingdom and Tropical World books.
Marotta's books fall in the nature category. But there is seemingly no end to the types of adult coloring pages out there. "There's truly something for everyone," Perruzzi says. Books featuring cityscapes are also popular, as are mandalas and geometric designs. Other popular coloring book categories include mandalas and geometric designs. There's a hide-and-seek category, whimsical books that delve into the fantasy realm, self-help coloring pages that encourage readers to use coloring as meditative practice and even Harry Potter coloring books.
Bestselling Books
Some of the most popular titles, in no particular order, are:
Christmas to Color
Lost Ocean: An Inky Adventure and Coloring Book
Enchanted Forest: An Inky Quest & Coloring Book
Mandala Meditation Coloring Book
Secret Garden: An Inky Treasure Hunt and Coloring Book
Animal Kingdom: Color Me, Draw Me (Millie Marotta Adult Coloring Book Series)
Tropical World: A Coloring Book Adventure (Millie Marotta Adult Coloring Book Series)
Color Me Calm: 100 Coloring Templates for Meditation and Relaxation
Animorphia: An Extreme Coloring and Search Challenge
Secret New York: Color Your Way to Calm
Coloring is simple — pretty much anyone can do it. And that's part of its appeal. But many adults who haven't colored in decades have questions. Barnes & Noble will have artists on hand from Hallmark to help answer questions during its big event.
Wendy Piersal, author of Coloring Animal Mandalas, is surprised at the number of questions she gets. There's no wrong way to color, she says. Still, she offers suggestions to help the stumped get started, plus a detailed list of her favorite art supplies.
"I just assumed that this would be a zero-instructions-needed kind of book. It's coloring! Who hasn't colored before?!," she writes on her blog. "To my utter surprise, how to color in coloring books has been THE most asked question I have gotten as a coloring book artist."
But that doesn't seem to be stopping anyone. Based on social media buzz, Perruzzi is confident that interest in coloring is only growing. "We're expecting a huge crowd," he says.
Heidi Raschke
is a longtime journalist and editor who previously was the Executive Editor of Mpls-St. Paul Magazine and Living and Learning Editor at Next Avenue. Currently, she runs her own content strategy and development consultancy.
Read More