The Big Money Mistake Many Americans Are Making
Staying out of the stock market can be hazardous to your wealth
There's a pretty good chance you've made a big mistake with your money: You fled the stock market.
A recent USA Today article calls this "The Age of Safety" for investors, noting that the financial crisis of 2008-2009 and the Great Recession have convinced many Americans to get out of stocks and stay out. Dialing down risk in a major way is the new "in" thing, according to the story.
Ron McElhaney Jr., 48, of Savannah, Ga., told USA Today reporter Adam Shell that he doesn't invest in stocks anymore. Bruce Tepper, 67, and his wife, Nancy, 68, acknowledged that they're putting any extra cash they have into a money-market checking account. "It's earning next to nothing, but the money is accessible," Bruce said.
What Could Endanger Your Retirement
Not only do I think McElhaney, the Teppers and others like them will be sorry, I think they may be endangering their retirement. As Miranda Marquit just said in a U.S. News article: "It's important to realize that always playing it safe is a recipe for falling short financially in the long run."
If you're in your 50s or 60s and keeping all of your money in the bank or in bonds, I urge you to reconsider that strategy.
The Recent Stock Market Run-up
You've already missed out on a pretty incredible market rally. The market has doubled since March 2009, and so far this year the Dow is up about 13 percent and the NASDAQ index of tech-heavy, over-the-counter stocks has soared by 21 percent.
Meanwhile, banks and bonds have been offering puny returns. The average rate on bank money market accounts is 0.49 percent; the yield on 10-year U.S. Treasuries is just 1.75 percent, down from 2.1 percent in May. In fact, if you take inflation into account, you're probably losing money with these financial products.
Worries About Family Finances
Staying conservative in this difficult economy is understandable. Americans age 50 to 64 say their overall financial situation has deteriorated in the past 12 months, according to the latest Bankrate Financial Security Index.
And no one can guarantee that stocks will continue to deliver impressive returns.
But the Federal Reserve's September 13 announcement that it will keep interest rates low through mid-2015 means that money-market accounts, bank CDs, U.S. bonds and U.S. bond funds aren't likely to return much for the foreseeable future.
That's a plausible reason why stocks have shot up so much lately; they're the natural alternative to bonds.
(MORE: Create a Sound Investment Mix for Retirement Income)
Over the long term, no one knows for sure how well stocks will do compared to bonds, of course. And smart people have very different views.
The Outlook for Stocks
On the one hand, as Next Avenue has noted, Bill Gross, the founder of the mutual fund behemoth PIMCO, recently declared "the cult of equity is dying." (Translation: Don't look for great returns from stocks.) On the other hand, John Bogle, the founder of Vanguard mutual funds, expects stocks to earn about 7 percent annually over the coming decade, while bonds return about 3 percent.
Putting the predictions aside, the important thing to keep in mind is that you need to diversify your portfolio — precisely because no one can say for sure which investment will do best.
Asset Allocation Advice
How much should you have in stocks?
Traditionally, financial advisers would recommend this asset allocation rule of thumb: Subtract your age from 100 and the number you get is the percentage of your portfolio to keep in stocks. So if you're 60, you'd keep 40 percent of your money in stocks and 60 percent in bonds.
But with Americans living longer these days and needing to make their money last for more years than in the past, many money pros have revised their thinking. They now recommend subtracting your age from 110 or 120.
That means, if you're 60, about 50 to 60 percent of your money should be in stocks; if you're 50, roughly 60 to 70 percent of your portfolio should be in stocks.
(If you are partly responsible for the finances of your parents and your kids, determining your asset allocation is a bit more complicated. Next Avenue writer Jeff Brown offers guidance in "Asset Allocation Advice for the Sandwich Generation.")
Rules of thumb don't apply to everyone, though. "If someone panicked and sold their stocks in 2008 or early 2009, I don't think they belong in the market," says Allan Roth, founder of Wealth Logic, a financial planning and investment advisory firm in Colorado Springs, Colo. "They're likely to do it again."
Diversification Is Key
For most people, though, it's a good idea to always keep some money in stocks, no matter how frightening the world looks. Mutual funds, ETFs (Exchange Traded Funds) and 401(k) accounts can provide diversification and prevent you from taking a bath because a particular stock crashes.
Timothy Fidler, a portfolio manager at Ariel Investments, told USA Today, "Right now, people are reaching for safety; eventually people will need to reach for return again."
I hope eventually comes soon.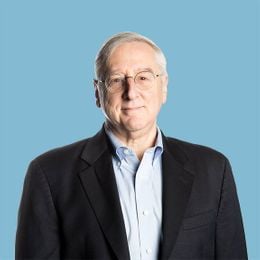 Richard Eisenberg
is the former Senior Web Editor of the Money & Security and Work & Purpose channels of Next Avenue and former Managing Editor for the site. He is the author of "How to Avoid a Mid-Life Financial Crisis" and has been a personal finance editor at Money, Yahoo, Good Housekeeping, and CBS MoneyWatch.
Read More