Boomer Grandparents: Taking It to the Next Level
A chat about them with the author of 'The Grandparent Economy'
We boomers seem to have made our mark, for better or for worse, with just about everything we've touched. So should we be surprised that boomer grandparents —nearly 60 percent of all U.S. grandparents — are a breed apart, too? (Let's leave aside John Stamos's grandfather-by-surprise character on the new Fox show, Grandfathered.)
"Boomer grandparents are taking grandparenting to the next level. They're not standing back waiting to be invited into their grandchildrens' lives. And they're not just showing up at the baby's delivery; they're staying engaged with their teenage grandkids," says Lori Bitter, author of the new book The Grandparent Economy: How Baby Boomers Are Bridging the Generation Gap and publisher of Grand, a digital magazine for grandparents.
After surveying 1,000 boomer grandparents and researching her book, Bitter told me she found that boomer grandparents are spending more on, and spending more time with, their grandkids than previous generations. Since 2000, Bitter writes, grandparents' spending has outpaced general consumer spending at an average rate of about 8 percent annually.
Boomer grandparents are also seeing the role of grandparents much differently. Here are highlights of my conversation with Bitter, who is also President and Senior Strategist for the consulting firm The Business of Aging and former President of J. Walter Thompson's Boomer division, JWT BOOM:
Next Avenue: What is The Grandparent Economy?
Lori Bitter: I define it not just by the money grandparents are spending on their grandkids, but also the investment of their time. They're helicoptering into their grandchildrens' lives and taking over where the grandchildrens' parents can't.
And how do the parents of the grandkids feel about this?
Overwhelmingly, when we talked to all generations, they see this as an extremely positive experience.
But you also write there are some alienated grandparents who aren't in the lives of their grandkids at all. Why is that?
Yes. It's a really sad situation; I think it's much more prevalent than it used to be.
There are as many reasons as there are families. Couples don't always get married when they have a child and when they split up, the grandparents can end up feeling like they have no rights.
Sometimes it's about meddling. Some boomer grandparents view the grandparenting experience as a 'do-over' for their parenting. They think: 'Now I have the time and I have the money.' You can see how that can go bad very easily.
Also, in this generation of young families, there are a lot more intercultural and interracial relationships. That can create tension about how the children are raised; what cultures and religious groups they're going to embrace. Sometimes parents push back and tell the grandparents: 'That's not how we we want to raise our kids.' It creates strife and alienation.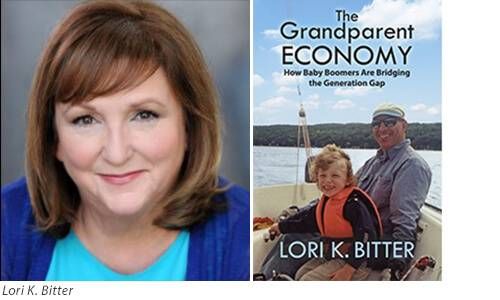 So you found some conflict?
We heard young mothers and daughters-in-law say they love having their grandparents involved and want them in their children's lives, but 'We have rules and expectations for their upbringing and want the grandparents to accept that.' And that's where we see a lot of conflict, in spoiling and manners.
But I also read about grandparents' interference with parents in articles from the turn of the century, so this is not particularly new.
Yes, grandparents have always spent money on their grandkids. What's different about the boomers' Grandparent Economy of 2015?
It's a huge generational cohort. As a generation, they are more affluent in their old age and working later, so they have access to money later. But they're just generally healthier and somewhat more active.
So they want to be engaged with their grandchildren in different ways, whether that's outdoor activities or through tech devices or weekends away from mom and dad. They want to be engaged and they're not waiting for an invitation.
And how is their spending different than grandparents of the past?
It's really different.
In the past, grandparents waited and helped pay for the grandkids' college education or a car at 16 or they'd want to help throw a Sweet 16 party — big events, including family vacations. Those peak experiences are still there, but now there's much more day-to-day spending on things you wouldn't expect: Car insurance, help with the grandkids' rent, school clothes and school supplies. Little extras the parents have a hard time budgeting for.
I was at a toy store recently and saw more grandmothers with grandchildren than mothers with children. It was amazing. I was watching my research play out in real life.
Are the grandparents overdoing it?
Sometimes to their own detriment. In our survey, the sacrificing that grandparents make for their grandchildren, across economic lines, was pretty profound.
In my book, I mentioned a grandparent on a fixed income saying 'I'd rather do without something I need so my grandchild can go on a trip with school.' That can be risky for the grandparent.
The more affluent grandparents said they have put away money for their retirement but were just as likely to say they will spend money to help their grandkids before putting away more for retirement.
You kind of want to shake everybody up and say, like they do on the airlines: "Please put your oxygen mask on first; you can't save the person next to you if you can't save yourself.'
And how are boomer grandparents spending time with their grandkids differently than in the past?
It's after work and it's got to work in their schedule. With my mother's generation, she could call my grandmother and know she'd be available all the time for any help. With this generation of grandparents, things have to be scheduled. And if the grandparents aren't working, they're volunteering or they're engaged with the community. They're not sitting at home waiting for the kids to arrive.
It's not necessarily seen as a negative. It's just the way life is.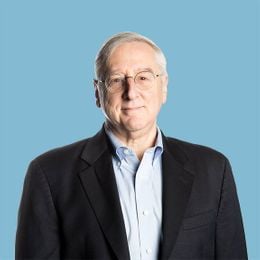 Richard Eisenberg
is the former Senior Web Editor of the Money & Security and Work & Purpose channels of Next Avenue and former Managing Editor for the site. He is the author of "How to Avoid a Mid-Life Financial Crisis" and has been a personal finance editor at Money, Yahoo, Good Housekeeping, and CBS MoneyWatch.
Read More