Boomer Guru to Marketers: Wake Up!
'The Old Rush' author says aging consumers are angry
Peter Hubbell, CEO of the BoomAgers ad agency specializing in the you-know-which generation, thinks there are fortunes to be made by brands that understand, and appeal to, the 78 million Americans who are now age 50 to 68.
But in his new book, 'The Old Rush: Marketing for Gold in the Age of Aging,' Hubbell, 55, argues that boomers are a bust for most brands today. "Madison Avenue worships you until age 50 and then you don't matter," he told me. Advertisers, he added, need to "get old."
Why He Won't Buy Levi's
Most don't, according to Hubbell, a former top exec at the global advertising powerhouse Saatchi & Saatchi. It's the reason he doesn't wear Levi's anymore and now pledges his jeans allegiance to a company you probably haven't heard of: J.L. Powell.
(MORE: Boomer Myths and Realities)
"Levi's embodied my values of hard work, authenticity and patriotism," he says. "Now I've aged out of their marketing cohort. I'm looking at their ads of these tattooed kids with messy hair, ripped clothing and pierced skin making out in the back of the car and I'm going: 'That's not my brand.'
"Either I no longer matter to them, which is disturbing to me after all my years of loyalty, or they truly don't get the core values of their brand. So I went out of my way to find a new brand of jeans."
Hubbell switched to J.L. Powell (whose tag line is "Well-crafted menswear for the adventurous spirit") because "it's a great storytelling and lifestyle catalog brand catering to the boomer segment and filled with images of rugged boomer men who are George Clooney-handsome."
(MORE: Yikes! A Senior Discount for Me?)
During our conversation about 'The Old Rush,' Hubbell spoke about the boomers' anger toward brands that dismiss them and why marketers had better wise up.
Highlights:
Next Avenue: What do you mean by The Old Rush?
Hubbell: The imperative on Wall Street had been growth; then it was you had to sustain your growth; then it became we want to see fast growth. I pose the notion that fast growth is no longer geographic, fast growth is demographic.
So this notion of a Gold Rush popped into my head and then I got onto The Old Rush. The prospectors who got to California first found big nuggets on the ground and easy pickings. The ones who waited had to dig and pan for dust.
What do you mean by The Age of Aging?
2014 is the beginning of a new era — The Age of Aging — because it's the year when the last of the boomers will turn 50 and effectively age out of the marketing cohort that is deemed to matter most [to advertisers]: age 18 to 49.
In five years or so, there will be more people over 65 than under age five for the first time in world history. There is no other global trend that will do more to affect global economies than The Age of Aging.
(MORE: Why Aging Is The Next Big Investment Opportunity)
But you say many marketers aren't treating boomers right and boomers are getting upset.
When I go out and speak, boomers bend my ear about how they're really really frustrated about advertising — some are pissed off. I hear things like: 'Wait a second! What do you mean you're using pop culture icons I don't even know because I don't stay up late enough to watch the shows they're on?'
There's bewilderment, which gives way to frustration, which gives way to anger. I think anger is a very powerful emotion and compels you to take action. And they will.
You call boomers The Most Valuable Generation. Why?
This is the generation that defined today's marketing model. They are the ones that dominate the majority of consumer categories. If you go back to when the first boomers turned 18 in 1964, they were the original brand managers, because that was the beginning of modern marketing. As the boomers were searching for the meaning of life, Madison Avenue found meaning in their magnitude. Pepsi called them 'The Voice of a New Generation.'
And who are boomers today?
The Apple Generation. The Genius Bar at Apple stores was created for boomers who are embracing technology because they want to be current. Boomers have FOMO — a Fear of Missing Out.
You don't believe boomers are trying to feel younger?
Everybody thinks aging people are trying to feel younger, but they're simply trying to stay current.
But I keep seeing commercials for anti-aging products.
At our agency, we don't embrace the notion of anti-aging products. We think that for this generation, which is extremely optimistic and positive, instead of talking about wrinkled skin, we'd rather talk about celebrating your natural beauty.
I don't want to be categorized as being 50+, but if you want to talk to me by saying that as I age, my mouth changes and I change the way I think about oral care, that's OK. Instead of telling me you've got something for gingivitis and gum disease, tell me you have something for oral rejuvenation.
You say there are a few things marketers need to stop believing about boomers. What are they?
They need to stop believing that because an older consumer has less years to live than a younger consumer, the older consumer is worth less.
They need to stop thinking boomers are stuck in their ways and not open to new choices and behaviors. It's actually the opposite. Every time I do something new or learn something new, I feel that much smarter, younger, modern and current. Because I watched my parents get old and stale.
Which brands are marketing to boomers well?
Very few are.
I think one brand that has done it well and has made it a priority is Toyota.
It had a great ad [Toyota Venza's 'Keep on Rolling'] a couple of years ago, where parents are out enjoying this cool mountain bike trip and their kids are at home on their computers talking about how lame their parents are because they don't have any friends on Facebook. But relationships are about people you spend time with and have a cup of coffee with. You don't text them.
Prudential's 'Chapter Two' ads embrace the notion that it's not 'retirement,' it's your next chapter. They're not saying it's your last chapter, they're saying it's your next chapter. I think that's really smart.
All in all, you view aging as something positive.
Aging is the future of living. It's about well-being, joy and growth. You're brimming with the confidence of a life well lived.
That's why people are reinventing themselves and become encorepreneurs.
If you believe boomers are brimming with wisdom, competence and confidence, this will be a wonderful entrepreneurial phase for his country compared to previous generations who rocked in their chairs.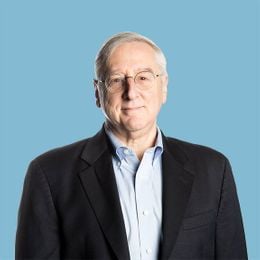 Richard Eisenberg
is the former Senior Web Editor of the Money & Security and Work & Purpose channels of Next Avenue and former Managing Editor for the site. He is the author of "How to Avoid a Mid-Life Financial Crisis" and has been a personal finance editor at Money, Yahoo, Good Housekeeping, and CBS MoneyWatch.
Read More