Boomers Took Fitness and Made It Their Own
Gyms have responded by offering kinder, friendlier workouts for older adults
Maybe you decided to drop-kick your boot camp fitness class when your knees refused to enlist. Or perhaps your physician finally convinced you that Netflix marathons did not count as aerobic workouts. Whether we're downshifting or just getting started, exercisers who are over the age of 50 are reshaping the fitness industry.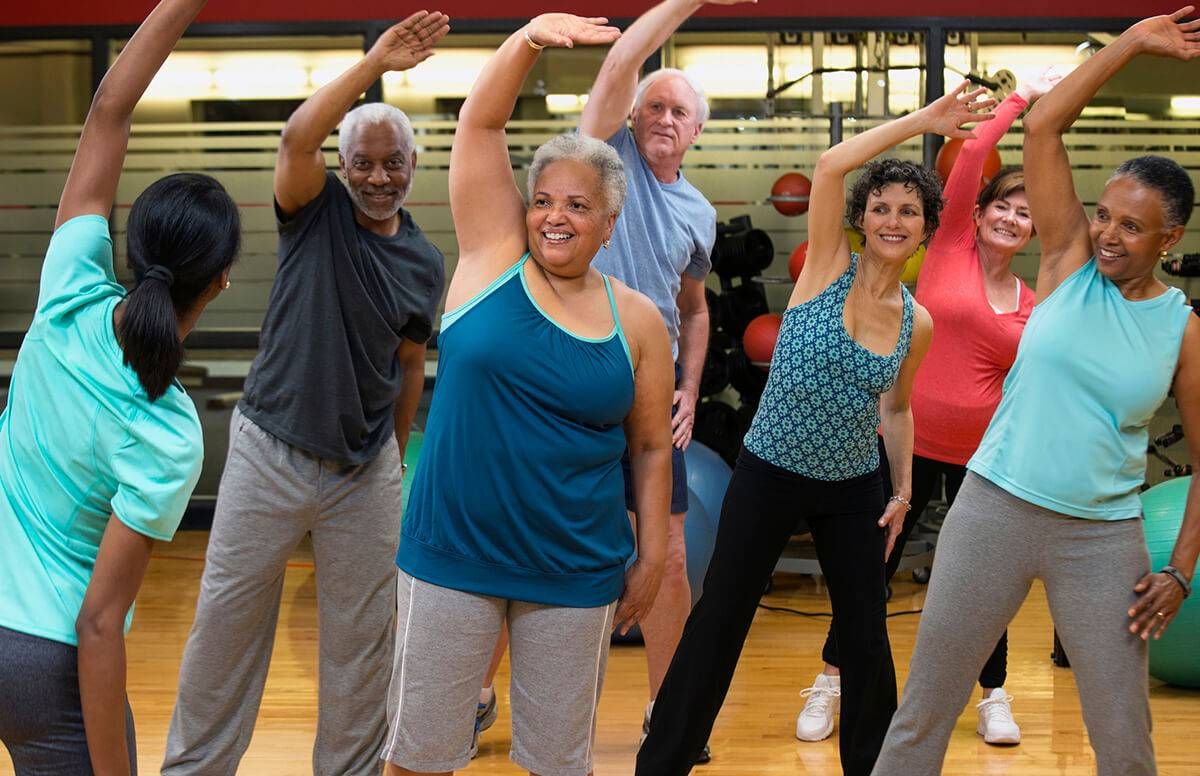 "Baby boomers are the population that embraced group fitness," says Caroline Khalil, who oversees SilverSneakers, the matriarch of older adult fitness programs, now celebrating its 25 anniversary. Boomers "know what they want, and they're not afraid to ask for it," adds Khalil, who is vice president of Network Partnerships and Programming at Tivity Health formerly Healthways).
Getting Gentle With It
To cultivate this growing market — and fill their properties during off-peak daytime hours — gyms and community centers are beefing up their low-impact offerings.
SilverSneakers is rolling out peppy new "Boom!" classes in dance, strength and stretching at some of its 13,000 participating locations. The YMCAs in some regions now feature "gentle yoga," where you can hold onto a chair to improve your balance. Other choices they offer are "gentle stretch" and "Pilates fusion." Other gyms add ballet barre, Tai chi and strength classes where no one snickers if you go for the one-pound weights.
Clearly, the American College of Sports Medicine (ACSM) was onto something when its annual survey listed "programs for older adults" among the top 20 fitness trends for 2017.
"Your aging body starts calling out for more balanced workouts," says Grace DeSimone, a spokesperson for ACSM and group instructor at the Wyckoff Family YMCA in Wyckoff, N.J. "Strength and flexibility become major factors."
The Couch-Potato Problem
That still leaves a lot of us lounging around on our couches — even if we claim otherwise. Asked about their exercise habits in a 2015 Gallup poll, 53 percent of those 45 to 64 and 50 percent of those over 65 said they worked out for 30 minutes or more at least three times a week.
Such boasts may be more inflated than a balance ball, however. According to the Centers for Disease Control and Prevention, about 32 percent of older adults get no physical exercise whatsoever in their leisure time.
And despite overwhelming evidence that exercise benefits our bodies and our brains, the President's Council on Fitness, Sports and Nutrition reports that only 20 percent of all Americans meet the national guidelines: A minimum of 150 minutes of moderate to vigorous exercise a week, plus two workouts with weights or resistance bands.
"Inactivity remains a significant problem," says Wojtek Chodzko-Zajko, a kinesiology professor and dean of the Graduate College at the University of Illinois Urbana-Champaign, who advises the ACSM on fitness for older adults.
Who Goes to the Gym — and Why
There are encouraging signs of progress, however. Ten years ago, Khalil notes, about 60 percent of the 2 million or so SilverSneakers members were newcomers to exercise, while 40 percent were veterans. Now, she says, those percentages have reversed, and most members are already experienced exercisers when they join. Some of that shift is no doubt powered by the fact that membership is free for adults over 65 who are covered by Medicare Advantage, Medicare Supplement and other plans, with more health insurers getting into the game.
But budgets aren't the only motivating factor for those who go. "I want to be healthy," says Gay Rogers, 64, a former office manager in Centre, Ala., who joined a gym through SilverSneakers four years ago when she retired with a disability. She now uses weight machines to build her upper-body strength.
At the other end of the experience scale, I recently found Jere DiCostanzo, formerly a professional flamenco dancer, gliding through a SilverSneakers yoga session in Manhattan.
"I get a little taste of everything," says DiCostanzo, 82, who takes at least four different classes a week and maintains a dancer's elegant posture. "It keeps me moving."
Expert Tips for No-Sweat Workouts
To keep yourself moving with minimum risk of injury, follow these tips from two certified trainers who are boomers themselves:
"Watch before you do," counsels YMCA instructor DeSimone. Talk to trainers about the class schedule, and observe classes that interest you.
Don't skimp on warm-ups. "You've got to oil up the Tin Man," says DeSimone.
Talk to the teacher before you take a class. Let him or her know about any injuries or limitations. Ask how to modify movements to suit your abilities, suggests Regina Jordan, who teaches free classes at community centers in Manhattan that are run by the Health Advocates for Older People .
Listen to your body. If jumping jacks or other movements give you twinges, Jordan says, "don't do them if they don't feel comfortable."
Learn to custom-tailor your workouts. Many gyms offer a free consultation to start. You may be able to continue workouts you like if you adjust the intensity: use lighter weights, spin at a lower gear on your bike, replace jumps with side-steps, add shorter bursts of intense activity.
Vary what you do. Don't take multiple spinning or zumba classes in a row; alternate.
Practice everyday exercise. Walk to as many errands as possible, lift groceries with proper form, take the stairs when you can.
Lynn Langway
is a former senior editor of Newsweek, executive editor of Ladies' Home Journal, and journalism teacher at New York University who now writes about health and travel for various websites. Her work has appeared in the New York Times, The Nation, Money and other national publications.
Read More