This Boxing Training Helps People With Parkinson's Fight Back
Training like a boxer helps participants improve their quality of life
Classic rock blasted on the sound system at Element Gym in St. Paul, Minn., as a coach yelled "jab, jab, cross, hook!" About 20 boxers responded, punching the heavy bags in front of them. Some hit the bags squarely and with force; others worked a lot harder to land their punches at all.
These boxers weren't training to step into a ring and face an opponent — but they are definitely in the fight of their lives.
As Parkinson's disease lands blows to their balance, ability to walk, talk and just get through daily life, their training in the Rock Steady Boxing (RSB) program is helping them hold on to what they have, and in some cases, even gain back a little of what they've lost.
Rock Steady Boxing is a fitness program developed specifically for people with Parkinson's disease. Based in Indianapolis, the nonprofit now has affiliated programs throughout the world and in every U.S. state
It was founded in 2006 by friends Scott Newman and Vince Perez. Newman, a former county prosecutor, was diagnosed with early onset Parkinson's at age 40. Perez, a Golden Gloves boxer, had the idea to use boxing training to help Newman maintain as much function as he could.
Program Based on Parkinson's Research
Approximately 1 million people in the U.S. have Parkinson's disease, and about 60,000 people are diagnosed with it every year, according to the Parkinson's Foundation. The risk of the disease increases with age; just 4% of people diagnosed are under 50. Men are 1 1/2 more times likely to be diagnosed than women.
A large body of research — going as far back as the 1980s — supports the idea that vigorous exercise aimed at gross motor movement, balance, core strength and rhythm can help people with Parkinson's maintain their range of motion, flexibility, gait and balance, according to the RSB website.
"We're all going through this disease together."
A study published in 2011 and conducted by physical therapy researchers at the University of Indianapolis found that after 12 weeks participating in RSB training, people with Parkinson's experienced improvements in their gait, balance and overall quality of life. It also found that those with milder Parkinson's symptoms improved at a faster rate than those with more severe symptoms.
Other research, including a 2011 review of research by Mayo Clinic neurologist J. Eric Ahlskog, has shown vigorous exercise has a protective effect on the brains of people with Parkinson's disease.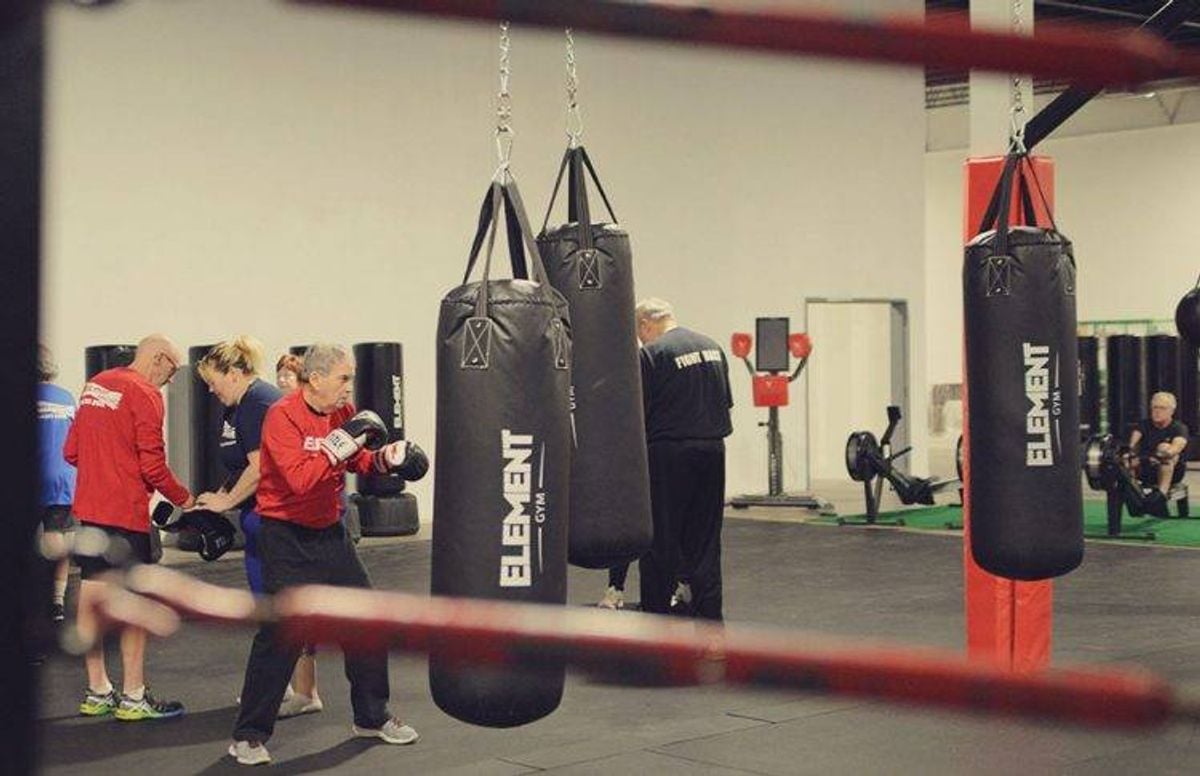 Training Designed to Battle Parkinson's Symptoms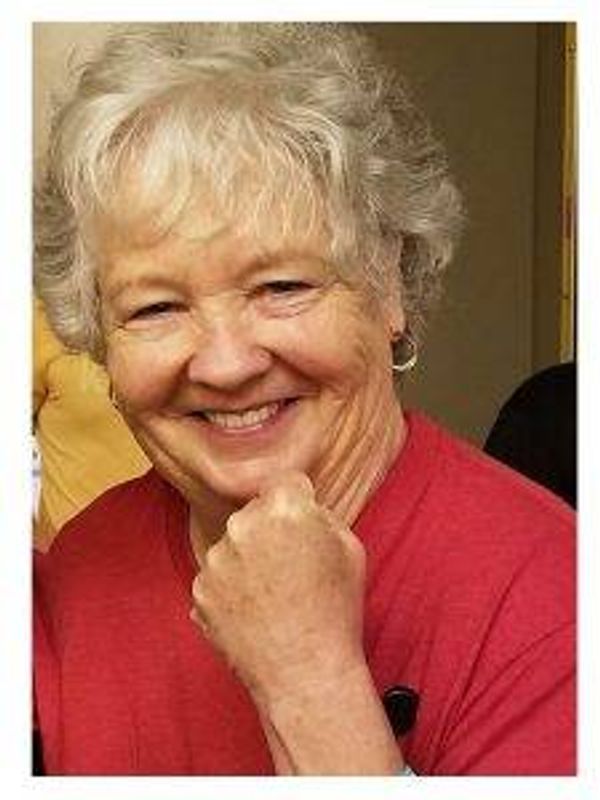 The RSB classes at Element Gym typically have 25 to 30 participants, and there are about 50 on the roster. Most are in their 60s and 70s, and most are men. Many of the participants attend two times during the week, with some making it for a Saturday class as well. There are several coaches and volunteers who instruct and help the boxers during classes.
Before a new boxer attends the first class, a coach does a physical assessment to get an idea of the person's ability to do the various training exercises and ensure safety.
RSB classes vary in cost across affiliates around the nation. Each class is $10 for the program at Element Gym.
In addition to punching the heavy bags and boxing mitts held up by fellow boxers or coaches, RSB participants do circuit training. The coaches split them up into small groups that move from one area of the gym to another, doing a variety of exercises. These include working on rowing machines and stationary bikes to build up cardiovascular fitness; walking fast or stepping side-to-side to work on gait and coordination; stretching for flexibility and lifting different types of weights for strength.
The exercise in which a coach yells out a specific order of punches helps the boxers not only with their hand-to-eye coordination, but their cognitive functioning. They also do this exercise with partners, although they never actually hit each other. RSB is a non-contact training program.
"A coach will say to the group, 'You're going to do jab, cross, hook, uppercut.' So, they have to think about that. And later, the coach might say, 'OK, we're going to do jab, cross, hook, uppercut, jab.' So, you're continually forcing the person to think," says Katie Grove, who, along with Kim Heikkila, co-directs the RSB program at Element Gym. Both are certified RSB coaches.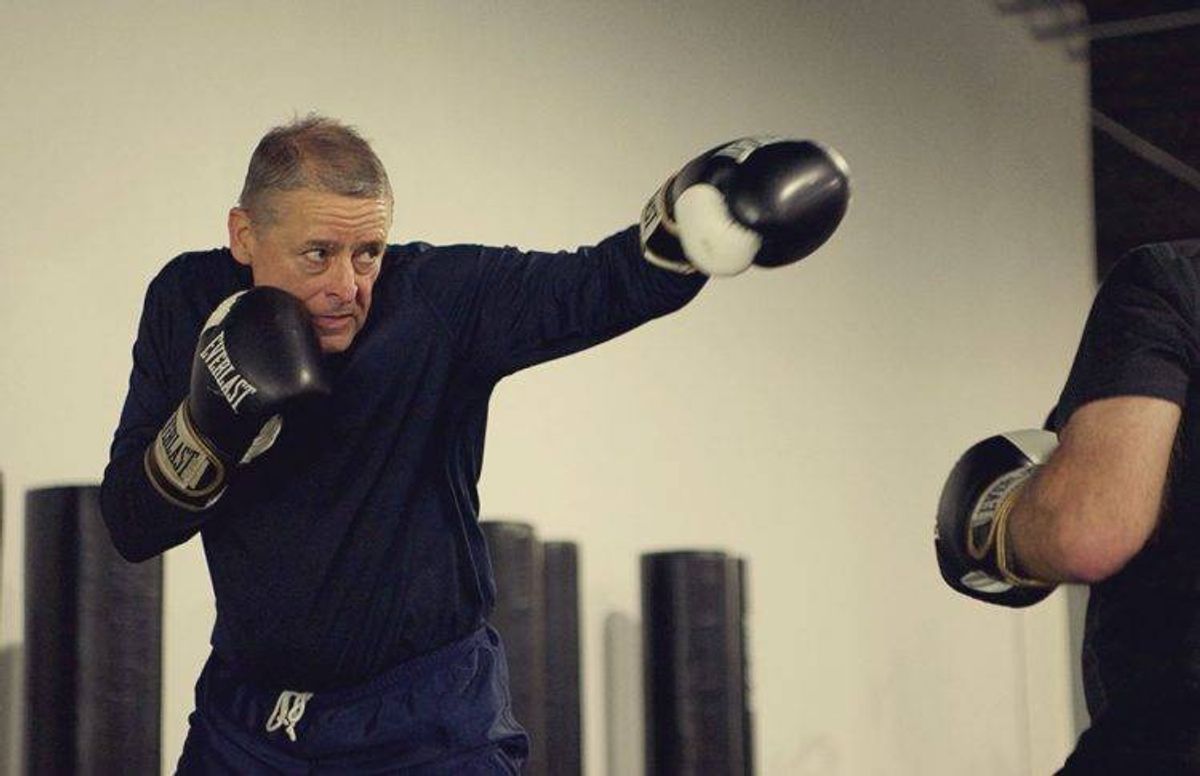 All RSB exercises, combined with punching and footwork, are meant to help the boxers slow the progression of their Parkinson's symptoms, which often includes the weakening of their voices, Grove says.
"One of the things that happens with Parkinson's people is they develop what's called a soft voice — they talk very softly. So, during any one class, we may have them counting out loud very loudly. Or, one of the games we played when we were boxing on the heavy bags, is to name all of the capitals of all the states, and people had to yell those out," she says.
RSB Is Easy to Tailor to Individuals' Needs
Many types of fitness programs —biking, Tai Chi, dance, weight training — can help people with Parkinson's lessen their symptoms and maintain their balance and mobility. Grove thinks boxing training works particularly well because it's easy to tailor to individuals.
"The thing I've heard, which I love, is 'If you've met one Parkinson's person, you've met one Parkinson's person, — meaning that symptoms may be similar, but everybody manifests the disease differently," she says. "Some people have a lot of tremors, some people don't. Some people move very slowly — which is called bradykinesia — some people don't. And everybody is at a different stage within their Parkinson's diagnosis."
For Jim Hunt, participating in Rock Steady Boxing means he can again swim in the lake at his family's cabin in northern Minnesota. Hunt, 70, a retired mechanical engineer who lives in Mahtomedi, Minn., was diagnosed with Parkinson's two years ago. He started taking RSB classes six months after his diagnosis. He attends two classes a week at Element Gym; sometimes three.
"A year and a half ago, I couldn't swim," Hunt says. "I couldn't stroke fast enough [to stay afloat]. I figured out if I wore a life jacket, then that would take care of the floating and I could paddle around. Well, this year, I could swim again. So, I really put that to this whole boxing program, to get that flexibility back."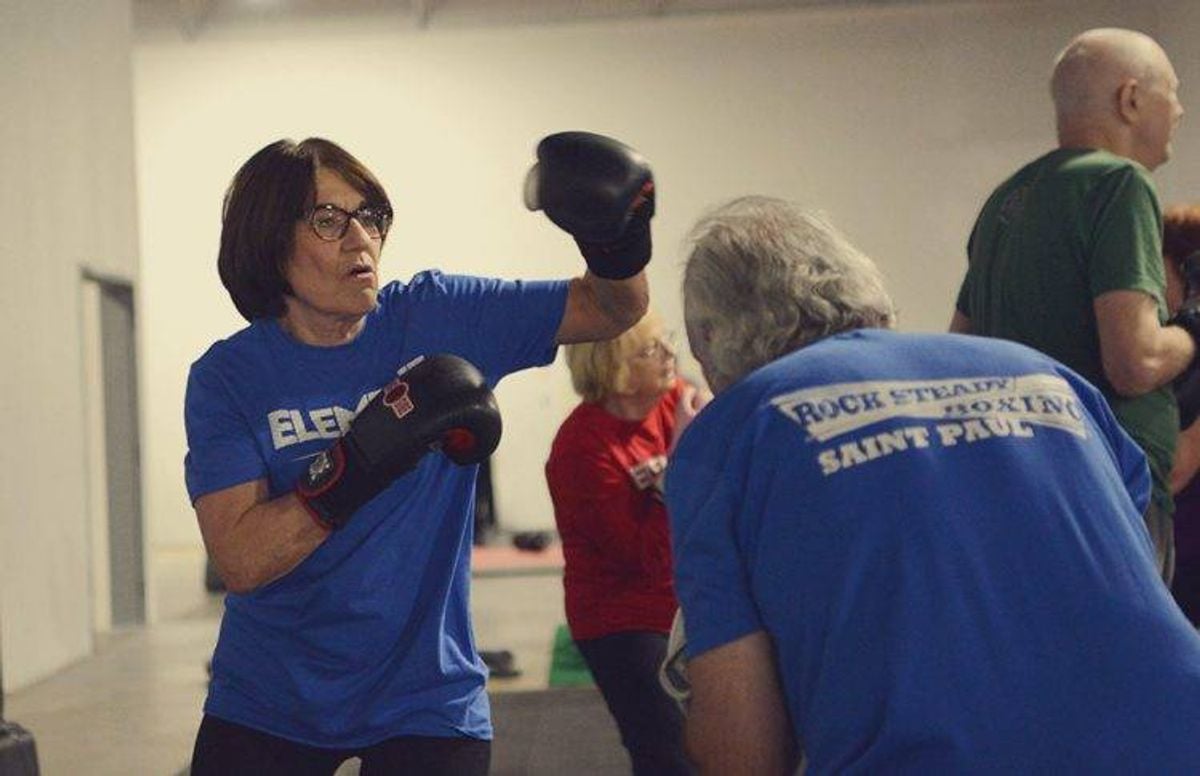 Determination Despite the Disease
There are times when Hunt doesn't necessarily feel like going to class, but he usually ends up making it there. "Some days, with this disease, you feel stiffer and movement is tougher. It kind of depends; every day is a little different," he says, adding that what motivates him to keep coming back is the fact that he has regained flexibility and can swim again.
Sheila Proehl, 73, of St. Paul, says Rock Steady Boxing has helped her maintain her physical ability level since she was diagnosed with Parkinson's in May 2016.
"It certainly isn't curing me, but I don't think I've gotten any worse over those three years. It kind of levels off the symptoms, so, I think that's a real plus," she says.
Like Hunt, Proehl doesn't always feel like going to class. "Some days, I'm just beat before I get here. Like a couple of days during the last couple of months, it was like, 'I think I'm going to quit,'" she says. But she didn't.
"I just talked to myself and said, 'You can do this; get going.' I looked around and everybody else [in the class] was, so, if they can do it, I can do it. So, I got through the classes," she says.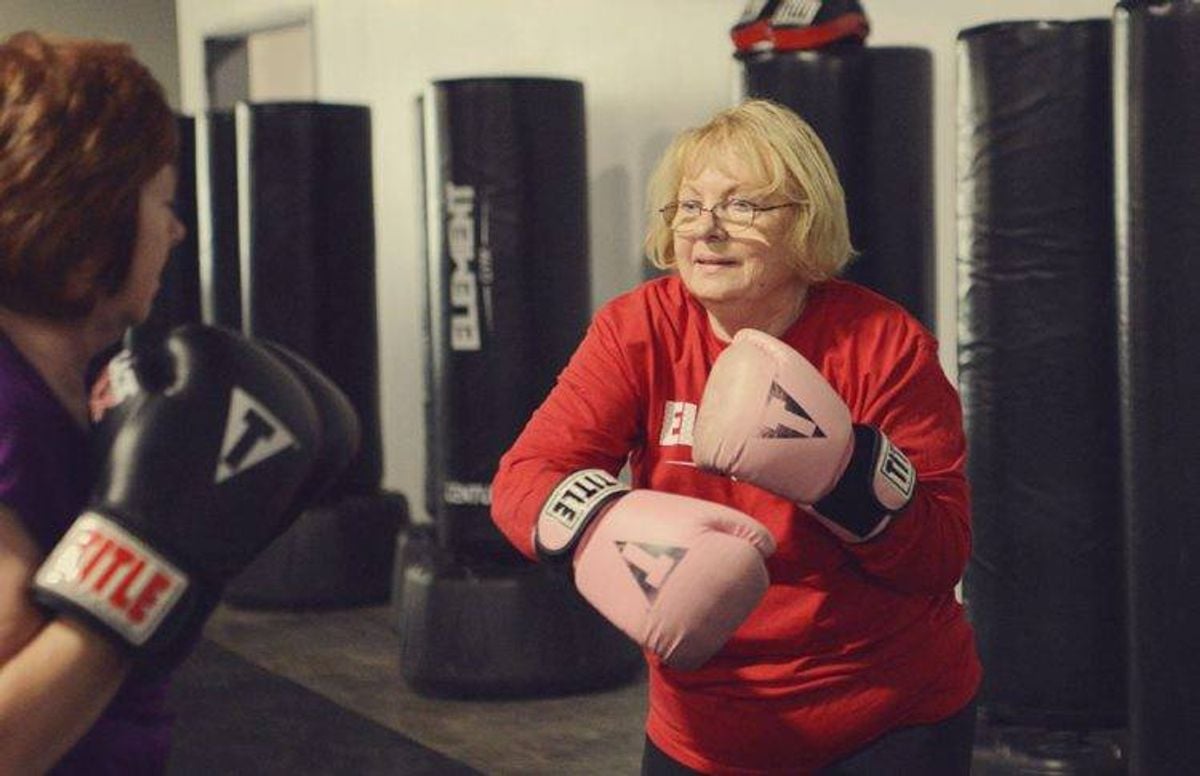 Camaraderie and Understanding
And that's another benefit of Rock Steady Boxing: the camaraderie that comes with training alongside others who also have Parkinson's.
"We're all going through this disease together," Hunt says. "And as you watch us walk around, you can see those of us who stumble around and those who can actually still run. We all know we're on this path, and it's like we're there to help each other out and be supportive."
"We really care about each other," Proehl adds. "If somebody's missing, it's, 'Have you seen so-and-so, how's he doing?,'" she says.
Another Rock Steady boxer, Jim Benson, agrees. "If you're having a hard time getting up off the floor because you're wasted, somebody will give you a hand and help pick you up. And I think there's a lot of that camaraderie. And I think that's the glue that puts it together," he says.
Benson, 84, of Minneapolis, was diagnosed with Parkinson's about 10 years ago and has been participating in Rock Steady Boxing for four years. He says the program has helped with his balance, strength and even his golf game. He plays golf twice a week, and does RSB three times a week.
He also says the program helps with his attitude: "It keeps you going. You learn that, by gosh, you can do these things."
Watch Them In Action
The Rock Steady Boxing program at Element Gym in St. Paul, Minn., also is featured in this episode of Minnesota Niche, produced by Twin Cities PBS.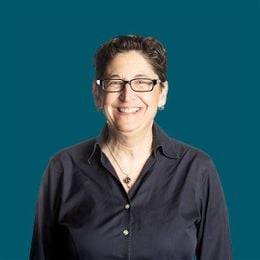 Edie Grossfield
is the former health and caregiving editor at Next Avenue, where she reported on the information people need to make sound decisions about caregiving, their health and the health of their loved ones.
Read More