Bringing Back the House Call
What's driving the reemergence of medical care in the home?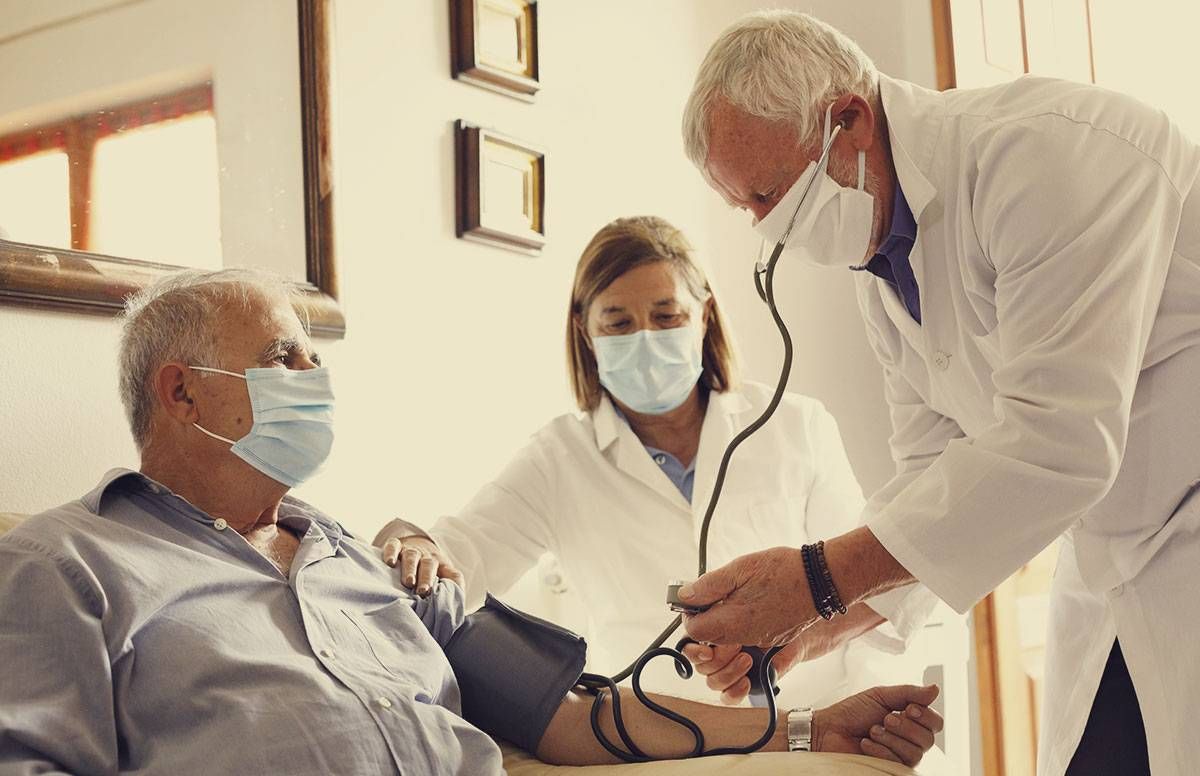 COVID-19 NOTE: While the need for in-home medical care existed well before the current COVID-19 pandemic, there is now a spotlight on the importance of care delivery that caters to the unique safety, access and convenience needs of older adults, especially adults with multiple chronic conditions who are at highest risk of serious illness or death from contracting the virus.
House calls are back, bringing the friendly medical provider with the black bag – and much more – to your front door. The idea of a house call feels nostalgic and harkens back to a simpler time. However, today's house call is powered by data, analytics, in-home technology and multidisciplinary care teams.
If you've never had a doctor bring medical care to you at home, you may want to consider this service, especially if you are managing chronic conditions. As you evaluate this option, it may help to understand the reasons house calls are regaining popularity.
The average family physician sees around 83 patients per week and has over 2,000 patients for whom they provide care. Many clinic-based providers don't have enough time to spend with patients – especially those with multiple chronic conditions. Oftentimes, medical providers can only address your most urgent issues and refer you to specialists for specific conditions. This can lead to an inability to discuss all your concerns with a single provider, and feeling like your care is fragmented.
In-home medical care can help you manage your conditions through preventive and urgent care. In addition, this enhanced level of care can reduce medical costs, improve care quality and ease your access to care and resources. Bringing medical care into the home gives patients more time with their health care providers, typically 45–60 minutes at each in-home visit. Medical concerns can be fully addressed, and care is coordinated with your office-based primary care physician and specialists.
The unmet needs of patients with chronic conditions
Currently 68% of older adults in the U.S. have at least two chronic conditions. For the 11 million Americans who have five or more chronic conditions, mobility issues and difficulty visiting physician offices indirectly contribute to the cost of their care. Due to lack of preventive care, elderly patients with complex conditions often seek care from ambulatory services such as urgent care or emergency departments. These urgent visits can lead to unnecessary hospitalizations and skilled nursing facility stays.
Complex Medical Needs
Medical care should encompass physical, behavioral and social health to help determine care needs. Complex patients require a wide range of health care, including preventive care, primary care, urgent services, pre-operative visits and post-discharge follow-up. Sometimes the level of care required is difficult to achieve in a clinic setting.
Compounded by Depression
For example, undetected depression is a serious issue for older patients. In the U.S., 14% of those 65 and older seek treatment for depression. According to the Centers for Disease Control and Prevention (CDC), 20% of people age 55 and older have some type of mental health concern such as anxiety, severe cognitive impairment and mood disorders. Many older adults with serious illness report facing significant cognitive and mental-health challenges, including forgetfulness (71%), sadness and depression (56%), feeling like a burden on others (51%) and loneliness (48%).
Poor mental health can complicate treatment of other chronic diseases. Those with depression visit the emergency room more frequently, have higher outpatient medical costs and spend a longer time in the hospital. Depression is often under-recognized in older adults, and yet if properly diagnosed, depression can be improved through treatment around 80% of the time.
Underlying Social Needs
In-home care teams with various specialized roles can optimize health care for complex patients. Social work is one role that is critical for complex health care, especially for minorities and those of lower socioeconomic status. Nonmedical social needs that impact health often go unmet without social work support, including care coordination, mental health counseling, and navigating complex organizational systems for care. Patients often struggle with physical, social and financial issues that can be addressed through social work services. Caregivers and patients require bereavement counseling, support groups, housing assistance and legal aid, as well as assistance with Medicaid applications and help in planning health care wishes.
In-home medical care is on the rise
In-home medical care that includes regular and comprehensive preventive medicine, as well as mental health, pharmacy and social work services, revolutionizes safe care delivery for complex populations. Health care costs can be reduced through preemptive efforts to lower unnecessary hospitalizations and readmissions, emergency room visits, avoidable complications and medication errors through in-home, whole-patient care.
The number of Americans with chronic conditions is predicted to be 37% higher in 2030 than it was in 2000. To meet the growing patient need, in-home medical services are rapidly expanding in the U.S., with more growth likely in the immediate future.
House calls have changed into comprehensive, in-home medical programs that can address patient needs for access, safety and care coordination.  By providing the right level of care in the setting most comfortable for the patient, the health care system can improve care quality and patient outcomes, while reducing the total cost of care.

Since 2014, Landmark Health and its affiliated medical groups (Landmark) have delivered comprehensive in-home medical care to older adults, 24/7 – 365 days a year. Specialized in complex chronic care, Landmark's physician-led multidisciplinary teams work with patients' existing health care networks to bring medical, behavioral, and palliative care, along with social services, to individuals where they reside. As one of the nation's largest value-based health care companies, more than 100,000 people across 14 states and 46 metropolitan communities can access Landmark's care at no cost. Most critically, Landmark is bending the cost curve in health care by reducing avoidable ER visits and hospital admissions while extending lives of patients. www.landmarkhealth.org