Eat to Cheat Dementia: A Dietitian's Advice
What you eat helps you avoid it or live better with it, she says
Australian dietitian Ngaire Hobbins has just published two crowdfunded books on the role of diet in easing the onset and effects of old age and dementia — Eat to Cheat Dementia and Eat to Cheat Aging. Hobbins studied research from all over the world to come up with easy-to-understand, practical strategies to help people in their late 60s and beyond adapt their diets and lifestyle to promote vitality and independence.
Next Avenue caught up with Hobbins during a recent visit to the United States for her presentation at the Aging in America conference in Washington, D.C. Highlights:
Next Avenue: How did the books come about?
Ngaire Hobbins: I was working with a geriatrics team, and the doctor I worked with — who was quite a character — was saying, 'If we'd seen this guy five years ago, we wouldn't be dealing with this, we wouldn't be putting him in a nursing home, it's ridiculous! We should write books!' And eventually he said, 'I don't have time, you're writing a book.' And I thought, 'No way!'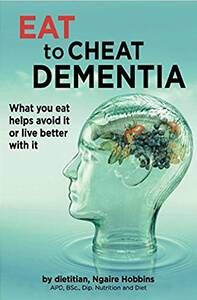 I had to make sure that the science backed up what we saw in clinical practice, so I spent a year and a half researching the science, and it absolutely backed it up. I was skilled at translating scientific information into consumer language, and I wanted to make sure that this is for the everyday person. When I started with the Eat to Cheat Aging book, it was about finding ways to live well past your late 60s. I ended up with a position at the University of Tasmania in their dementia facility.
What frustrates me in dementia hugely is that nutrition is just forgotten about, but what you eat is the one thing you can do something about. Nearly 50 percent of people, by the time they are diagnosed with dementia, have already lost weight, and losing weight when you're older is dangerous. If you don't do something about it, that will continue and continue rapidly, and then your body starts to struggle and you're in a very difficult situation.
I see too often people who have ended up in a care facility because they've physically crumbled — they've got thin and malnourished. I know they are hungry when they sit at the table, but as a result of dementia, the connection between 'I'm hungry' and 'I need to stick a fork in that and put it in my mouth' doesn't work. You've got people sitting looking at the food, still hungry, and they don't get to eat it. So the second book (Eat to Cheat Dementia) goes through the science of what we know about dementia, and there is nothing that can stop dementia that we know of so far, but there are a lot of things you can do to help.
There are lots of researchers doing lots of research so my role is really the translation of that research. They're all doing great work in their own field, but it's the same with any research — there has to be enough of it so it all coalesces together to provide something that's accessible to people. Now, it's difficult for them to decipher. There are people who could benefit from the scientific research, but it's hard to understand.

The books over here [in the U.S.] tend to look at an individual diet plan, but they don't look at the whole span of dementia and what you need to do as far as strategies for eating. Both of my books look at the continuum from people who are fit and well and healthy or newly diagnosed, in the early stages, to people who have become very frail. So there's information in there to help them get a better quality of life and to maintain whatever their independence is as much as possible.
And there's information of course on palliation [making patients more comfortable, often because their diseases are incurable], because that's part of dementia particularly, and there comes a time when there's absolutely no benefit in forcing food into people, in having your grandmother of 97 eat salmon every day. She might not want that. She might just want ice cream. Really? Does it matter?
At 97 she's probably earned it.
Exactly. It doesn't matter.
Who's doing really interesting work internationally on dementia?
There's a lot of great work being done into coconut oil, spices and so on, but I think it's the mix of antioxidants that's the most powerful for most people. There's a chef that I work with who's doing some really interesting work with foams that help people with swallowing difficulties, which is very common in dementia. He has been in the U.K. and the U.S. working on projects with facilities and with chefs to give them the tools.
So what's next for you?
I'd love to do a cookbook, but I don't want to be the one to do it. I'd love someone to put together a book that gives people real recipes — Cook to Cheat Aging! Find me someone!
Paul Duncan
was formerly Editorial Director of Next Avenue. He has been a writer, editor and consultant for newspapers and news media in the United States, Europe, Africa, Asia and Australia, and has a background in entrepreneurship and international business development.
Read More