Now That I Care For Her, I Feel For Her
"Our relationship will always be an imperfect one, but it rests on the twin pedestals of her trust and my caring."
Editor's note: This story is part of Taking Care, an ongoing series on the diverse lives of America's family caregivers, with support from The John A. Hartford Foundation.
"The TV doesn't work," my mother called out loudly.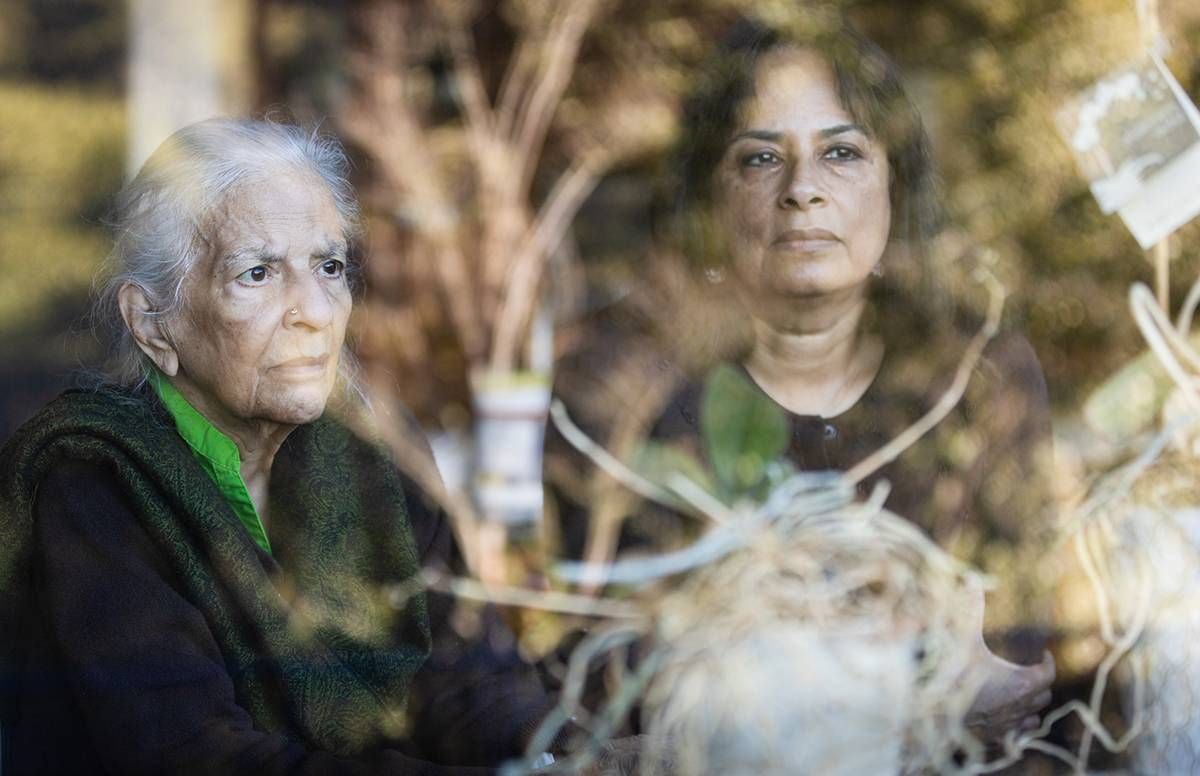 When I walked in to her room, she was standing in front of the television set with the remote in her hands. She raised her gaze to mine and her eyes were slightly moist. "I pressed the buttons like you told me, but it didn't work," she said.
I took the remote from her, pressed 7-6-5, hit enter. The screen changed.
"I've been trying to change that channel for the last fifteen minutes," my mother said plaintively.
My mother's gaze still always searches for me. In a roomful of people, she often notices only me.
In this year of shelter-in-place, my mother and I have had to refurbish and remodel our relationship — bouncing between helplessness, despair and buoyancy. Since late spring, each new day has forced on my mother and me a reckoning of how care is given and how care is taken, without a specific lesson for its resolution.
As a child, I never really had a deep or consistent connection with my mother. Most of my formative years were spent in a Catholic boarding school. Besides the impediments of language that developed, my mother and I had different interests, habits, tastes and beliefs. We had little to say to each other, other than the perfunctory. She was my mother; my love for her was wholly steeped in that relationship.
From India to California
When my father passed away, I packed up my mother's life in India and escorted her into mine in California. I was shocked to discover that she hadn't quite mastered the technique of crossing a busy Indian street, withdrawing money from her bank, ordering a new cooking gas cylinder or calling for a taxi. Yet, she read voraciously and displayed an irrepressible, gamine intelligence.
"Are you worried about living in America, Amma?" I asked her on the flight. "You're there," my mother responded, without a trace of anxiety.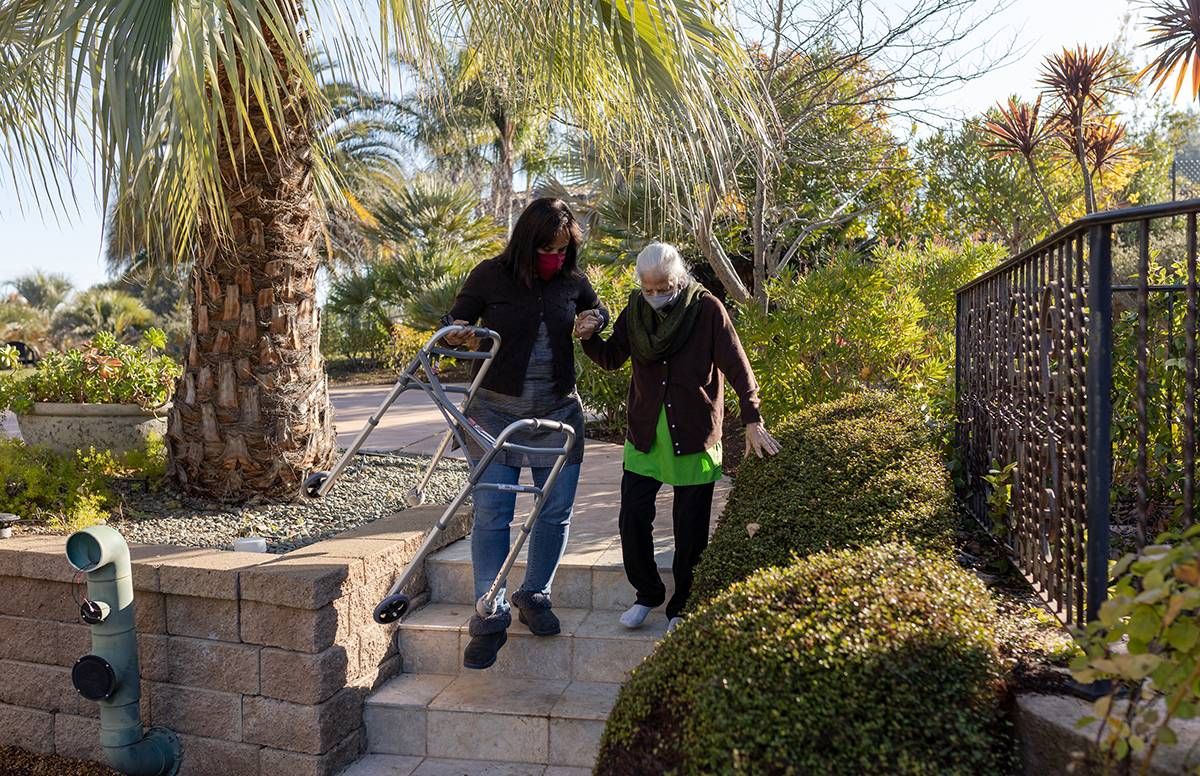 In California, my mother began negotiating her new space the best way she could: through rote memorization. She learned to use a microwave by pressing the same buttons in the same sequence. She learned to operate a dishwasher and the shower in the same manner. She even got her citizenship this way — by memorizing all the questions and answers in the study booklet.
She took over the responsibility of feeding Mishti (our big, rambunctious goldendoodle) and watering the two orchids that were gifted to us over the years. Every morning, ritually, my mother would pour two cups of water into Mishti's bowl and an equal amount of water over the orchids. The orchids and the dog bloomed with her attention.
Time Went On, Needs Changed
The years passed. My mother's hearing deteriorated, and she refused to wear hearing aids, or anything "artificial" to compensate. Then her eyesight grew blurry and she lost peripheral vision. She had several small falls, and then, almost exactly a year ago, a catastrophic one on the hard stone floor, sustaining multiple pelvic fractures. She was hospitalized for several weeks. When she came back home, she gripped the handles of her new walker tightly in her hands.
I became my mother's caregiver, helping her with her showers, guiding her in figuring out her pills, organizing and preparing her meals, turning on her television, taking her for drives and downloading her favorite magazines onto her iPad.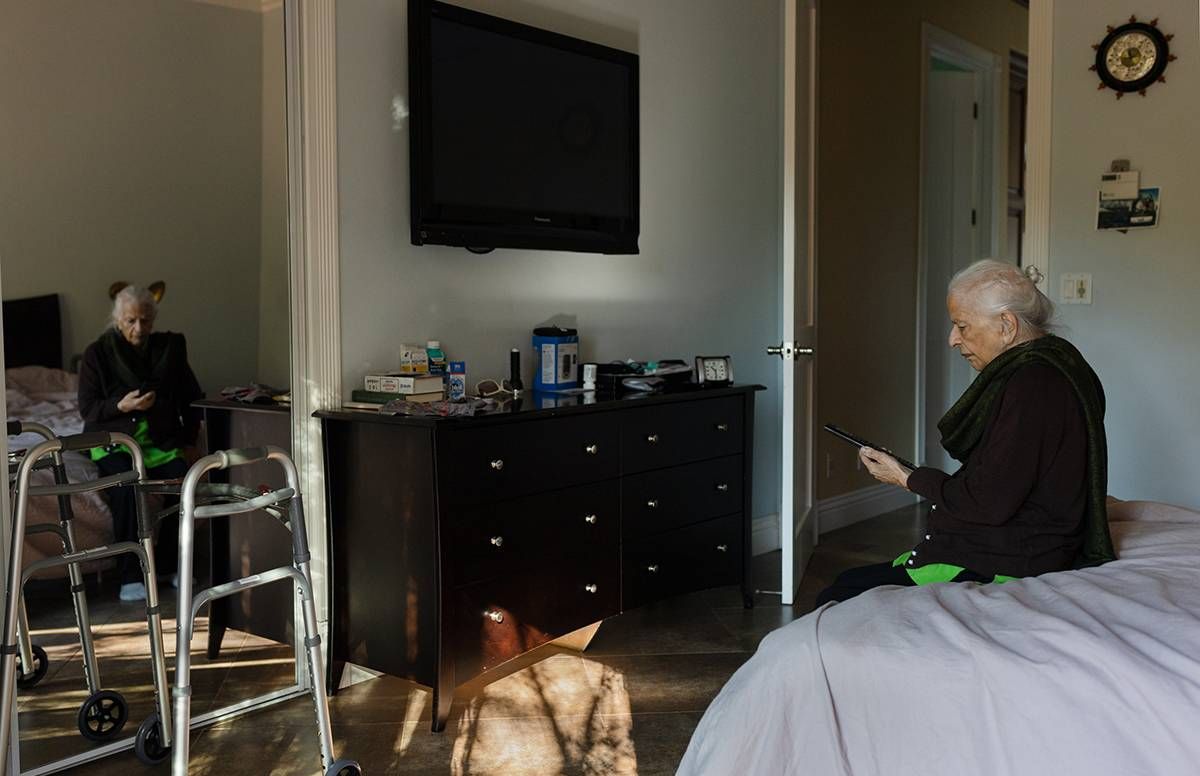 I taught her the very same things I had taught her once before, a decade ago, but this time, the lessons did not stick. The challenge of handling household tasks that she had once effortlessly mastered became insurmountable.
My mother stopped feeding the dog. And for the first time in many years, the orchids looked thirsty.
I worried that the months of continuous quarantine would be isolating. They were. And her reliance on external stimulation gradually dwindled.
Every day around noon, my brother calls our mother from Philadelphia. With her poor hearing, she is often eager to put the phone down as soon as she picks it up. Reading, too, has become intermittent. It takes too much effort to focus, my mother told me.
"There's no other human being on this earth who will ever have our backs like Amma does," my brother said, consoling me when I was in a low mood. "It's an unwavering trust in us," he said, and I was reminded of her words on that flight from India.
'A Brand New Understanding'
I hired a caregiver for a few hours a week to help her and keep her company, but my mother's gaze still always searches for me. In a roomful of people, she often notices only me.
My mother's dependency is often overwhelming. I feel like I am always on alert, day and night, listening for her to call out my name.
Mishti passed away in late August, and my mother's distress wrapped around my devastation at the totality of his absence.
With each new day, the gyre of her reliance on me seems to widen. "What should I eat for dinner?" "Can you turn the knob on the humidifier?" "Which day is it today?" "Should I sleep now or later?" "Will my stomach ache go away?" "Are you going out?" "When will you be back?"
My mother's frailty and vulnerability have disarranged her life, and mine. Yet this very disarrangement has forged a brand new understanding upon me; upon us. Our relationship will always be an imperfect one, but it rests on the twin pedestals of her trust and my caring.
Now if I can only convince her to water the orchids again.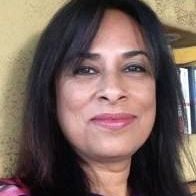 Jaya Padmanabhan
is a journalist and consulting editor at Ethnic Media Services. She was a former editor of India Currents. She was a recipient of the 2019 Journalists in Aging fellowship from the Gerontological Association of America and the Journalists Network on Generations. @jayapadmanabhan
Read More