Career Advice to a Conflicted College Student
A Millennial on the brink of entering the job market asks whether it's best to pursue his passion in an uncertain field or go a safer route
This week, a 22-year-old college student posted an intriguing question about his career dilemma on the website of the Legacy Project, Cornell University Professor Karl Pillemer's collection of advice from "America's elders."
 
It's one that many Millennials are asking – maybe your child among them – and I think the answer is worth exploring.
 
Should He Pursue His Passion?
 
Here's what he asked:
 
I am curious as to one of the lessons in your book, 30 Lessons for Living: choosing a career for intrinsic rather than financial rewards. I totally agree. However, I am in a dilemma. I am thinking of pursuing a field which many people around me (family, some friends) consider to be "not worth it" due to job outsourcing of industrial jobs, instability of job market (for example, layoffs in the industry I would be working in), and rather low pay. Simply Googling the field I'm considering will bring up many discouraging, negative posts about how it is not worth it and is a bad decision for both academia and industry!
 
My reasons for pursuing that field are simply that I love it very much. The passion is there. Do you believe that the experts would still persuade me to follow such a path given the risks? Or would they say that one can develop new passions?
 
Let me tell you what he's heard so far from members of the Legacy Project (typically Americans 70 and older), as well as the advice I lassoed from three experts: Next Avenue Work and Volunteering blogger, Nancy Collamer, and my sons, Aaron (age 24) and Will (age 22). Then, I'll add my own opinion.
 
(MORE: 5 Career Lessons from the Wisest Americans)
Mixed Views From Legacy Project Members
 
The four Legacy Project members who responded were divided on his question (I've condensed their answers):
 
Lenalee, the first to answer, is in what I'd call the "don't follow your passion, get realistic" camp. She wrote:
 
Some fields are not worth pursuing at a university if the career path doesn't pay a reasonable living wage or offer enough possibilities of employment. … A passion can be satisfied via other means – as an avocation. Prime examples of such fields of "passion" would be painting, music or other arts. Graduates in these fields face years of regrouping and/or further education at some point – most must settle for jobs outside their passion. …
 
My advice is to obtain training in an acceptable field that will pay the bills and then to pursue your passion in other ways.
 
Robert P. Abate, 72, of Yonkers, N.Y., took the opposing view, writing:
 
I would say if you are free of responsibilities and financial burdens, that you give it a shot. Follow your dream because now is perhaps not just the best but the only time you can "afford" to do so. It is possible to develop a new passion but, if you're already lucky enough to have one, why not pursue it?
 
There are few things more unsettling and self-defeating than a lifetime of wondering, regretting and second-guessing if one made a mistake rather than taking the bull by the horns and finding out. … I can speak from a fair degree of personal experience.
 
Marcy B. and Matt were in the middle, expressing what I'd call the "follow your passion, but …" view.
 
Marcy said:
Perhaps considering related fields of work might help. I painted as a hobby and enjoyed reading about home design. In my very late working career, I was assigned the task of drawing houses on a computer program. Somehow, it all came together and I really enjoyed it.
 
Matt, who's in his mid-50s, said:
 
You are wise to ask questions and you should be concerned about compensation in a field you are looking to work in. It's easier to change careers when you can "afford to." But it should not be the deciding factor.
 
At the same time, I would also advise you to follow your passion, but caution you not to be lost in that passion. It's nice to eat and have a roof over your head and work in a chosen field, not just look for work in it. …
 
Whatever you do at 22 or beyond: Be passionate about it, but also be sure it will enable you to do whatever is going to be next in your life.
 
(MORE: 11 Essential Money Tips for New College Grads)
What Next Avenue's Work and Volunteering Blogger Thinks
 
Collamer, who recently wrote a Next Avenue blog offering career advice to her daughter, Juliana, upon graduating from George Washington University, also takes the "follow your passion, but …" position.
 
"If growth in your dream job is limited," this career coach says, "it will be very difficult to sustain yourself, both financially and emotionally, over the long term."
 
But, she adds, "fortunately, choosing between intrinsic and extrinsic rewards in your career need not be an all or nothing proposition – many different careers offer the chance to earn a living and do good at the same time."
 
Collamer advises college students and new grads grappling with this decision to "put your energy toward identifying what you love to do, find meaningful and do well — and then research ways to use those interests in fields that offer a brighter future."
 
(MORE: The Career Tip to Follow Your Passion: Is It Bunk?)
What My Millennial Sons Think
 
My 24-year-old, Aaron, takes a nuanced approach. He graduated from Northwestern University in 2011 as a theater major and is pursuing a career as an actor/screenwriter/comedian.
 
"I think it really depends on the career he's considering. Is it journalism or blacksmithing?" Aaron says. "I exaggerate, but the point is, it's not that some fields are dying, it's that they're changing. In journalism, for example, gone are the days where you can aspire to have a decades-long career working at an actual newspaper. But blogging – and good blogging – is the new journalism."
 
Aaron adds: "Chances are, there will always be something like what it is he wants to do. He'd just have to be willing to adjust to the times. Also, he is young. Even if the field he wants to enter shuts down completely, it's not like his entire life will be thrown out of whack because of it. I say, take the risk now and do what makes you happy."
 
My 22-year-old, Will, is adamantly a passion-first guy. He graduated from the University of Southern California in 2012 as a film production major and aims to be a director/screenwriter.
 
"If an entry-level job in the field he loves exists, and if it will pay him enough to make ends meet, then what does he have to lose by giving it a shot?" he asks. "Perhaps there won't be much vertical movement at his company or perhaps in five or 10 years that company won't even exist, but at the moment he knows what will make him happy. Not following through with that will only fill him with regrets."
 
Plus, he adds, "Who knows – maybe what that dying industry needs is more Millennials taking interest in it and finding ways to keep it relevant."
 
My View on Pursuing Your Passion When You're Young
 
There is no right or wrong answer to this student's question. But as someone who pursued my passion for journalism when the odds of getting hired (and the pay) were low, I side with Aaron and Will. I think Nancy's point is also valid, though.
 
Young people lucky enough to have a passion should pursue it, even if that means a less than lucrative starting salary and a lot of pounding on doors to get hired.
 
Their first job certainly won't be their last. As Jacquelyn Smith just noted in her Forbes blog, the average tenure of Millennial employees is one and a half years, according to the U.S. Bureau of Labor Statistics.
 
The Huffington Post article "Generation Y Workplace: Millennials Who Quit Jobs to Get Ahead" proclaims a certifiable trend of young adults switching from job to job to job within a few years, if not months. "I've built a portfolio career because I don't perceive the employer as loyal anymore," says Rebecca Thorman, who has had five jobs since graduating in 2005.
 
I think Nancy Collamer said it best, in her blog post to Juliana and the current crop of grads.
 
"Trust in your future," she wrote. "Keep building your skills, surround yourself with smart people and don't be afraid to take some career risks along the way. You're going to be just fine."
Come to think of it, that's also excellent advice for those of us in our 40s, 50s and 60s as we continue looking for ways to follow our passions, broaden our talents and – in some cases –  reinvent our careers.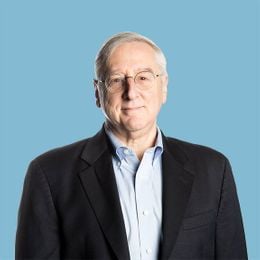 Richard Eisenberg
is the Senior Web Editor of the Money & Security and Work & Purpose channels of Next Avenue and Managing Editor for the site. He is the author of How to Avoid a Mid-Life Financial Crisis and has been a personal finance editor at Money, Yahoo, Good Housekeeping, and CBS MoneyWatch.
Read More