Catching Up with Danny Hutton of Three Dog Night
Hutton remembers the early days, talks about the group's first new album in decades and why he loves touring
You may know Danny Hutton, 79, as the founder of Three Dog Night. The group, which Hutton has been playing in for fifty years, achieved more top 10 hits, and sold not only more records, but more concert tickets, during the years of 1969 - 1974, than any other band at that time.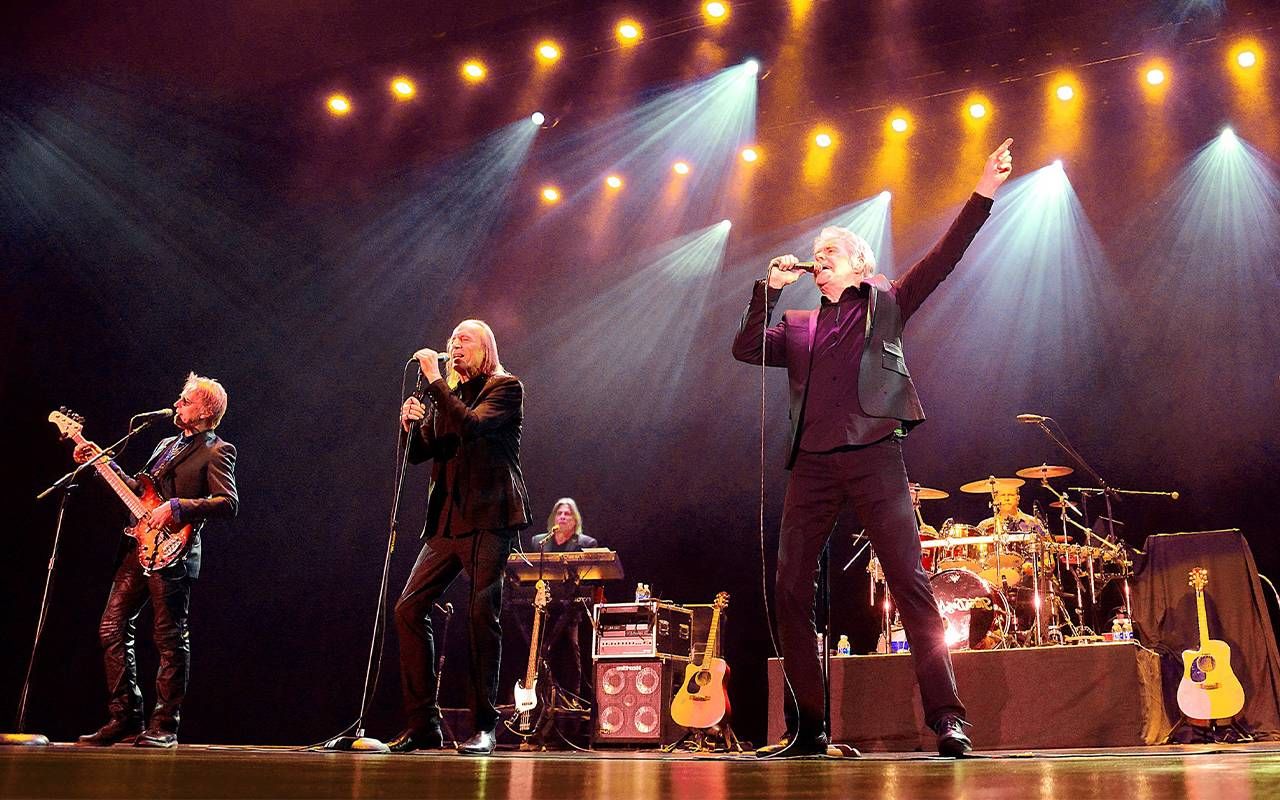 Known for such hits as "Mama Told Me (Not to Come)," "Joy to the World," "Black and White," "Shambala," "One," "An Old-Fashioned Love Song," "Never Been to Spain" and many more, Three Dog Night began in 1968 with Hutton, Cory Wells and Chuck Negron. Until this initial lineup broke up in '74, the band, in six years, because international superstars.
But did you know Hutton had a solo career before that?
Neither did we.
Faint or Fake It
After he graduated from high school, Hutton, who is originally from Ireland and came to the U.S. when he was a young child, worked at Walt Disney Studios. "I was just loading and unloading records out of the back of a truck for Buena Vista Records," Hutton recalls. "That was my start in the business."
"I was just loading and unloading records out of the back of a truck for Buena Vista Records. That was my start in the business."
But that part didn't last long. Hutton received a call from record producer Kim Fowley who told him that Hanna-Barbera Records wanted to start a rock and roll record company. They had him play guitar. Then they gave him a list. "It said, 'Hippity Hoppity Kangaroo,'" says Hutton. Fowley told him to write a song with those words in it. He did.
"Fifteen minutes later, I played it for them, and they said they were going to hire me," Hutton says, laughing.
This became his job. He would write a song that the record company wanted, play all the instruments on the recording ["Badly," says Hutton], sing lead vocal and three-part harmony in the background. A band's name would go on the record; the company would then have a band ready in a city like Washington, D.C. to play it. Well, they really didn't play it. The record would be played, and the band would come out and lip sync to it.
"I did that all the time. I wasn't one of those guys riding around in the back of a van playing clubs and doing four sets a night. I was the studio rat. My job was to write, produce, and give them the product," explains Hutton.
In 1965, a song he wrote, though, was so good that the record company wanted to release it as a single. And they wanted him to go out on tour. Hutton was terrified.
"I knew nothing about performing live."
"I knew nothing about performing live," he says. But they had him booked on "American Bandstand" with "The Lovin' Spoonful" who would be singing the hit "Do You Believe in Magic?" Hutton would be performing his hit "Roses and Rainbows." Hutton somehow made it through.
Then they told him they were sending him on tour with Sonny and Cher when their hit "I Got You, Babe" was big.
"I walked out on stage in front of 5,000 people and thought, 'Well, I'm either going to faint or fake my way through this," Hutton says. Luckily, he didn't faint.
Moving On
But he did move on. At the time, three-part harmonies were a radical step in music. It just wasn't being done. "Nobody did it. I used to be so frustrated. I'd see Motown, and everybody in these Motown groups could sing their asses off. They'd have one guy up front singing lead, and three or four guys dancing in the background, off mic," says Hutton. He wanted to see all the guys singing together.
So that's what he did with Three Dog Night. Chuck Negron, Hutton says, was great at singing ballads; Cory Wells nailed the blues. As for Hutton, he sang rock and roll the best. The guys connected with producers Richie Podolor and Bill Cooper, who were fresh off working with Steppenwolf's huge hit "Born to be Wild."
"They could get down and rock," says Hutton. "We did the first album in four days."
The Origin of the Band's Name
Three Dog Night got their unusual name from Australian hunters who would huddle close with their dogs to get warm on cold nights in the outback. The coldest were referred to as a "three dog night."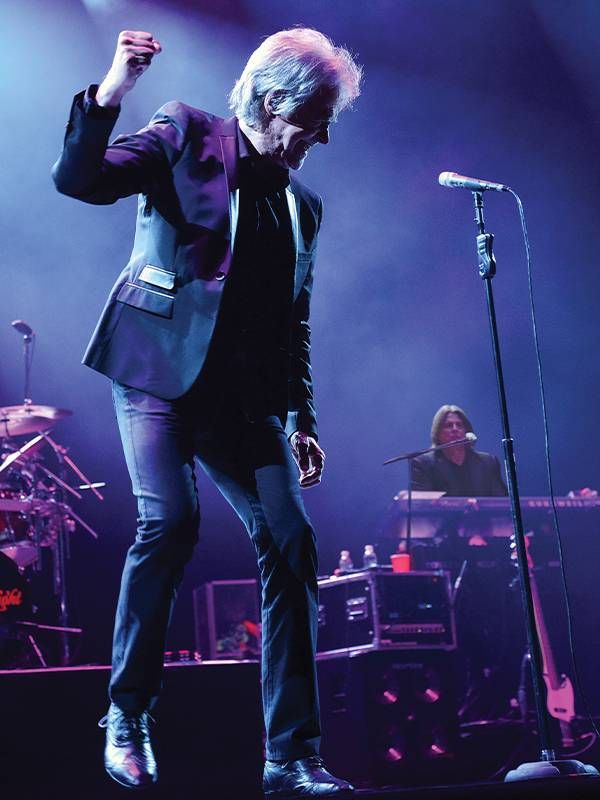 The group recorded songs by songwriters who were not yet known: Paul Williams, Randy Newman, Leo Sayer, Laura Nyro and many others. Hutton says that this was sometimes used against them because critics and others would refer to them as a "cover band."
"We didn't 'cover' songs. We resurrected songs," explains Hutton. They would find songs that they liked, but that hadn't made it big. They would rearrange lyrics sometimes, take parts out, change the outro chorus to the opening — and do a lot of other things that made it their own.
Hutton gives an example. He was in England when he heard the original version of the song "Black and White." He thought to himself, "Wow. That's going to be a huge hit!" But it wasn't.
"I said, 'I got to resurrect this sucker,'" says Hutton. The initial song had about 30 verses. Three Dog Night's version was much shorter. Hutton love the chorus, and they made a lot of changes to it.
"Black and White" became just one of the group's number 1 hit songs. And their lineup and chemistry worked. Until it didn't.
The initial incarnation of Three Dog Night broke up around 1976. "You know the Seven Year Itch?" asks Hutton. "Most groups have their inner struggles."
The Latest Version of Three Dog Night
In 1981, the band got back together, went into rehearsal and discovered they "still had it." Hutton says, "We got together, and it was wonderful. Then [Chuck] started having problems [with drugs] …There was a point where we were really in a hole because we'd signed to do all these gigs, and then we had to cancel them. It was a tough, tough period."
"I think I've gotten better. I can sing higher now than when I was 24. That's crazy."
The group almost got together again around 1990, but Hutton says that lawyers got involved and "the whole well was poisoned. It's like a bad divorce."
Although the original lineup wouldn't play together again, Wells would play with Hutton in the group, until his death in 2015. The latest lineup has been together for a long time, Hutton says, with most guys having been in the band for 25 or 30 years. In addition to Hutton, Three Dog Night features Paul Kingery, Pat Bautz, David Morgan, Howard Laravea and Timothy Hutton, Danny's son.
Today, Kingery often sings the ballads, Morgan does the blues, and Danny Hutton — he still does the rock, but also sings some ballads. "I think I've gotten better. I can singer higher now than when I was 24. That's crazy," he says.
The band also has a new album coming out. Called "The Road Ahead," Hutton says "There's a lot of vocal stuff in there I learned from my mentor [and best friend] Brian Wilson of the Beach Boys. We got funk and junk," he says while laughing. He says it should be released sometime this year.
Hutton still loves life on the road. Since 1986, Three Dog Night has played more than 2,500 shows —including in two Super Bowls. Each year, they play close to 100 shows.
"We get to play everywhere. One show, we're in a smaller place, then we're in a beautiful theater that holds 2,000, then in an amphitheater that holds 8,000. Maybe we'll do a symphony gig outdoors. It's wonderful. It changes all the time," says Hutton.
Three Dog Night is currently on tour. For more info, go to Three Dog Night.