What's Causing My Hand Pain and Tingling?
Remedies are available for a variety of conditions, including overuse injuries
There are a number of diseases that can cause pain and tingling in the hands: osteoarthritis, carpal tunnel syndrome and tendonitis are among them. And then there are injuries such as fractures, dislocations and lacerations.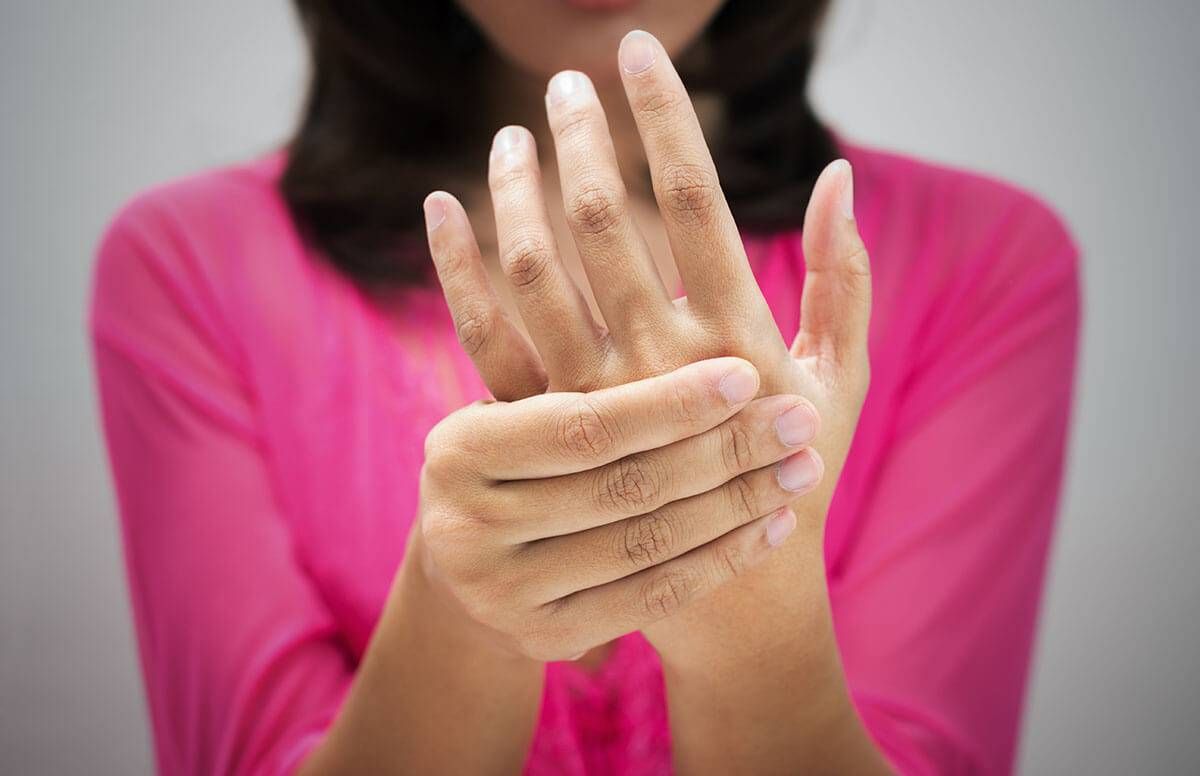 Barbara Kain, 65, of Three Oaks, Mich., is all too familiar with hand pain. She suffers from a less common condition, De Quervain's tenosynovitis, a painful inflammation of the tendons that extend to the wrist. Kain also has carpal tunnel syndrome, which causes numbness, tingling and weakness in fingers and hands.
A school bus driver before she became head of transportation for a public school district in Southwest Michigan, Kain is certain that her work as a driver — repetitiously steering a wheel and throwing open the bus door — and occasional use of a computer led to her diagnosis of carpal tunnel in both hands. She's less certain of the cause of her De Quervain's tenosynovitis, which developed in both hands several years after her carpal tunnel pain.
For both conditions, she had surgery on each hand. The surgeries and post-surgical therapy went well, although she says she's been experiencing pain lately in her left hand, which inhibits some of her favorite activities, such as gardening, sewing and refurbishing furniture.
"The pain discourages me from doing things, but you don't let it stop you. You just work through the discomfort," says Kain, now a tourist counselor for the Michigan Department of Transportation's New Buffalo Welcome Center.
Many Types of Hand Pain
Dr. S. Steven Yang, orthopedic surgeon at the NYU Langone Medical Center in New York City, says the majority of his practice is treating people who have suffered hand injuries like broken bones and cuts. The smaller portion of his hand and upper extremities practice is patients with more chronic diseases of the hands such as osteoarthritis, tendonitis and carpal tunnel.
People over 50, he says, often point to the use of electronic devices like computers and smartphones as the source of their hand pain. "It's not that the device caused it, it's because they are getting older. The underlying symptoms are aggravated by the repetitious use of their hands when they use a computer or a smartphone," Yang says.
Osteoarthritis, the wear and tear of cartilage in the joints, is a common malady, affecting about 30 million adults in the U.S.
"Unfortunately, there is no cure for osteoarthritis, but we have many strategies to make the symptoms better," he says. "For example, if we're treating basal joint arthritis of the thumb, patients are typically asked to wear a splint called a thumb spica, which can often reduce the inflammation of the joint, therefore the pain."
Other treatments for osteoarthritis of the hands include arthritis medicines or the injection of corticosteroids into a joint. "And finally, there are surgeries if the symptoms are severe and persistent in spite of non-surgical treatment; we sometimes do an operation that is quite effective at alleviating the pain," Yang says.
Surgery as a Last Resort
The most common surgery, he says, is a basal joint arthroplasty of the thumb. "That typically involves reconstruction by excising the arthritic bone and reconstructing the joint by using tendon graft tissue."
After the surgery, the patient's hand is immobilized in a cast. When the cast comes off, the patient undergoes treatment from a hand therapist. "After a couple of months of therapy, the patient has significantly improved use of the hand. But most importantly, they have less pain," Yang says.
Stacy Hite, a certified hand therapist and member of the Academy of Hand and Upper Extremity Physical Therapy of the American Physical Therapy Association, says relieving or eliminating hand pain is critical. "Our hands are our gateway to independence. It's how we take care of ourselves. They have an enormous impact on our lives. That's why there is a whole specialty for hand surgeons and hand therapists," Hite says.
The Price for Overuse of the Hands
Hands can be particularly vulnerable to pain because "we use them so much in our work and everyday life. We see a lot of overuse problems because people push their hands too far when they are tired," she says.
A hand therapist at the University of Virginia-HealthSouth Sports Medicine and Hand Therapy, Hite says she sees a mix of patients. Some are not candidates for hand surgery; some have recently undergone surgery.
"When we see people after surgery, it's actually a little easier because we know where that pain is from. For the ones who are not going to have surgery, you have to do a little detective work to determine the cause of their pain."
Osteoarthritis of the fingers, hands and wrist is the most common diagnosis she sees for people over 50. Large numbers also suffer from carpal tunnel and tendonitis from overuse, she says.
For those who would prefer to avoid hand surgeons and hand therapists, Hite recommends people be especially conscious of ergonomics at home or in the workplace and to keep moving.
"As you get older, you tend to limit your range of motion," she says. "Keep moving because motion is lotion to your joints. But be sure to listen to your body and don't push your hands and body through a lot of pain because that just irritates tissues."
Hand therapy, she adds, is an opportunity to "control the pain or even get rid of it. Just because your fingers or wrists or hands have osteoarthritis or because they look bad, doesn't mean they have to hurt."