Dishing with Celebrity Chef Jacques Pépin
The PBS star on comfort food, giving back and bridging the generation gap
For renowned chef Jacques Pépin, family, friends and food make up the trifecta of a life well lived. For the past 50 years, Pépin — who is also an accomplished artist — has created and preserved the menus for every milestone or celebration he and his wife, Gloria, have hosted.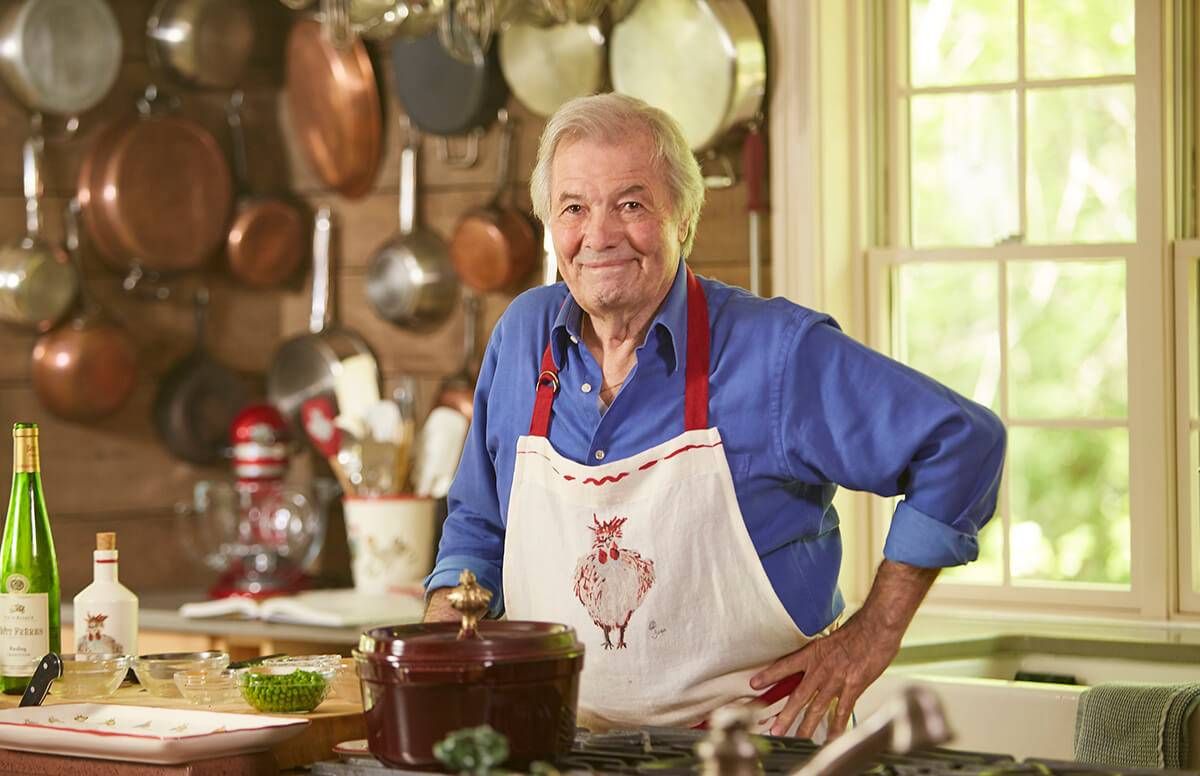 "Whenever people come to the house, we write down the menu and people sign the other page — with funny things or whatever they want," explained Pépin, who lives in Connecticut. "I have 12 big books, and I can look back and see what my daughter Claudine ate for her third birthday, what my mother and two brothers ate for theirs, as well as food I've made for many other people who are gone now. These menus represent almost our whole lives."
Since learning to cook as a child growing up in Bourg-en-Bresse, near Lyon, France, Pépin has long shared his knowledge and passion for good food. He has packaged 100 illustrated menu templates into a book slated for release this fall (Menus: A Book for Your Meals and Memories), so home cooks can create their own meal memories.
Now 82, Pépin long ago mastered the secret recipe to a successful culinary career: constant reinvention, an unwavering commitment to excellence and an uncanny ability to connect people through food. Once described as "the Tom Jones of cooking" thanks to his suave charm, Pépin has inspired thousands of home cooks. He has written 29 cookbooks and hosted 14 popular TV shows — most aired on PBS.
The recipient of 16 James Beard Foundation Awards, including the Lifetime Achievement Award in 2005, Pépin was also awarded France's highest distinction, the Legion of Honor medal, in 2004.
Early Days in the Kitchen With Jacques Pepin
Pépin learned his craft alongside his mother Jeannette, a chef and restaurateur.
"Life was much simpler at that time; we had no television, no radio, no telephone, even," recalled Pépin. "I was never going to be a lawyer or a doctor; either I'd do what my father did — he was a cabinetmaker — or I would cook, like my mother."
Pépin chose the latter, working after school in the family restaurant, Le Pélican. He left school at 13 for an apprenticeship at the Grand Hôtel de L'Europe. At 17, Pépin moved to Paris, where he trained under Lucien Diat at the Plaza Athénée before moving on to Maxim's and then Fouquet's. In the French Navy, he worked as a chef and later became a personal chef to three heads of state, including Charles de Gaulle.
"I had a good career in France, but I wanted to come to America — the golden place," said Pépin, who moved to New York in 1959 to work at Le Pavillon, an iconic French restaurant. "I thought I would stay a year or two and go back. But that's not what happened."
Instead, while working as a ski instructor on weekends in upstate New York, Pépin met his future wife, Gloria, who was a ski patroller.
A Rising Star
What followed over the next few decades would make any chef's head spin. After turning down an offer to serve as White House chef for the Kennedys, Pépin joined Howard Johnson's, becoming director of research in the test kitchen while also getting his bachelor degree, then a masters in 18th-century French literature at Columbia University.
He co-authored his first cookbook,The Other Half of the Egg, with Helen McCully in 1967, the same year his daughter Claudine was born, and subsequently opened La Potagerie, a midtown Manhattan soup bistro. His next books, La Technique and La Méthode, which featured visual, step-by-step basic food preparation, were considered revolutionary, and quickly became must-reads for burgeoning chefs and home cooks alike.
While on the road to promote his books, Pépin's engaging personality led to yet another path: PBS TV star. Collaborating with Julia Child, Pépin became a household name. Television proved the perfect medium for his teaching style.
"If I wrote a page and a half explaining how to carve a rose from a stick of butter — scrape your knife on top of it, set it in position to curl it, keep your knife perpendicular — most would say, 'What the heck is he talking about?'" said Pépin. "But watch the video, and in one minute, you'd say, 'Oh yes, that's it.' It's the best way to show people how to peel a tomato or do any technique."
In between visits to the TV studio, where he often cooked with his daughter Claudine on-screen, Pépin donned even more hats. He took over food operations for the World Trade Center before becoming dean of special programs at the French Culinary Institute. In 2015, Pépin received American Public Television's Lifetime Achievement Award, along with the inaugural Julia Child Award.
Bridging the Generation Gap
Even today, Pépin keeps seeking new challenges. His latest partnership is with his teenage granddaughter, Shorey Wesen, who appeared with him on television. Their recently published book, A Grandfather's Lessons: In the Kitchen with Shorey, features recipes, stories and both Pépin's and Shorey's illustrations.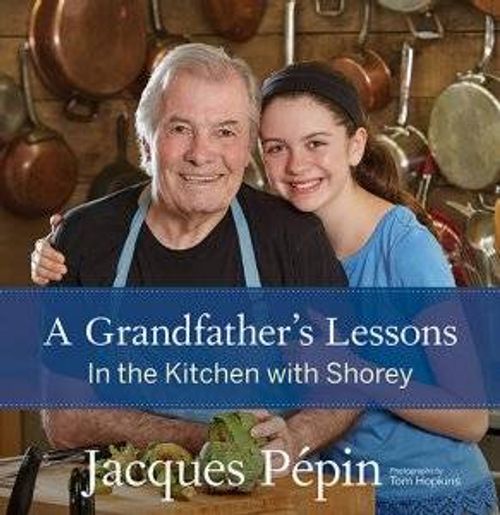 "When Claudine was 18 months old, I'd hold her in my arms and make her stir the pot so she could say she made soup with Daddy," recalled Pépin. "Claudine married a chef, so Shorey grew up cooking, too. Shorey and I have always had fun in the kitchen; cooking together is a common ground — going to the garden, foraging, shopping at the market — it's all part of our family tradition."
Pépin has also discovered that food is the ultimate bridge builder between generations.
"Being over 80, what do you talk about with a teenager? I'm very fast when I have a knife in my hands, but when Shorey has her iPad, she's much faster than I am. So cooking and being together like that kind of establishes a kind of canvas where we feel comfortable," he explained. "And then we can have a conversation. Cooking, and then sitting around the table enjoying the food, is so priceless."
The Next Generation
Pépin's cooking has evolved over time, and although he's obviously known as a French chef, he describes himself very differently.
"When my mother used to visit me here, I'd cook something and she'd say, 'This is really good, but it's not French at all', and that's true," said Pépin. "You can open one of my books and see a black bean soup with banana and cilantro, because my wife's father was Cuban. And you'll see Southern fried chicken, a New England lobster roll and sushi. So, I am probably the quintessential American chef."
As such, Pépin has long supported culinary education. At the inaugural benefit gala to launch the Jacques Pépin Foundation in January, Pépin and his chef friends raised more than $400,000 to support programs for disadvantaged adults through community kitchens. Formed in 2016 by Pépin, his daughter and son-in-law Rollie Wesen, the Foundation aims to teach cooking techniques to the next generation of chefs.
"I wanted to share my knowledge with different food communities and to help veterans and disenfranchised people coming out of jail, for example, so they can reclaim their lives," he explained. "Maybe they'll learn how to cook and open a little eating place one day."
Asked about the secret to his long career, which shows no signs of slowing down, Pépin does not hesitate.
"Wine! A lot of wine," he laughed.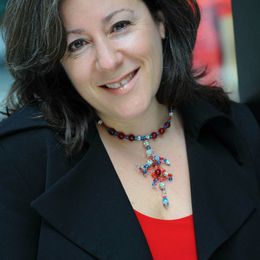 Wendy Helfenbaum
is a Montreal-based journalist and TV producer who writes about careers, travel, wellness, home and garden, and parenting. Her work has appeared in Woman's Day, Costco Connection, Canadian Living, Parenting.com and many more.
Read More