The Challenges of Caring for an Adult Child With Disabilities
'PBS NewsHour Weekend' looks at steps to support these families
Hundreds of thousands of people with intellectual and developmental disabilities in America are living and receiving care at home. But their aging caregivers, many of whom are parents or siblings, are worried about who will continue to care for their loved ones when they are gone.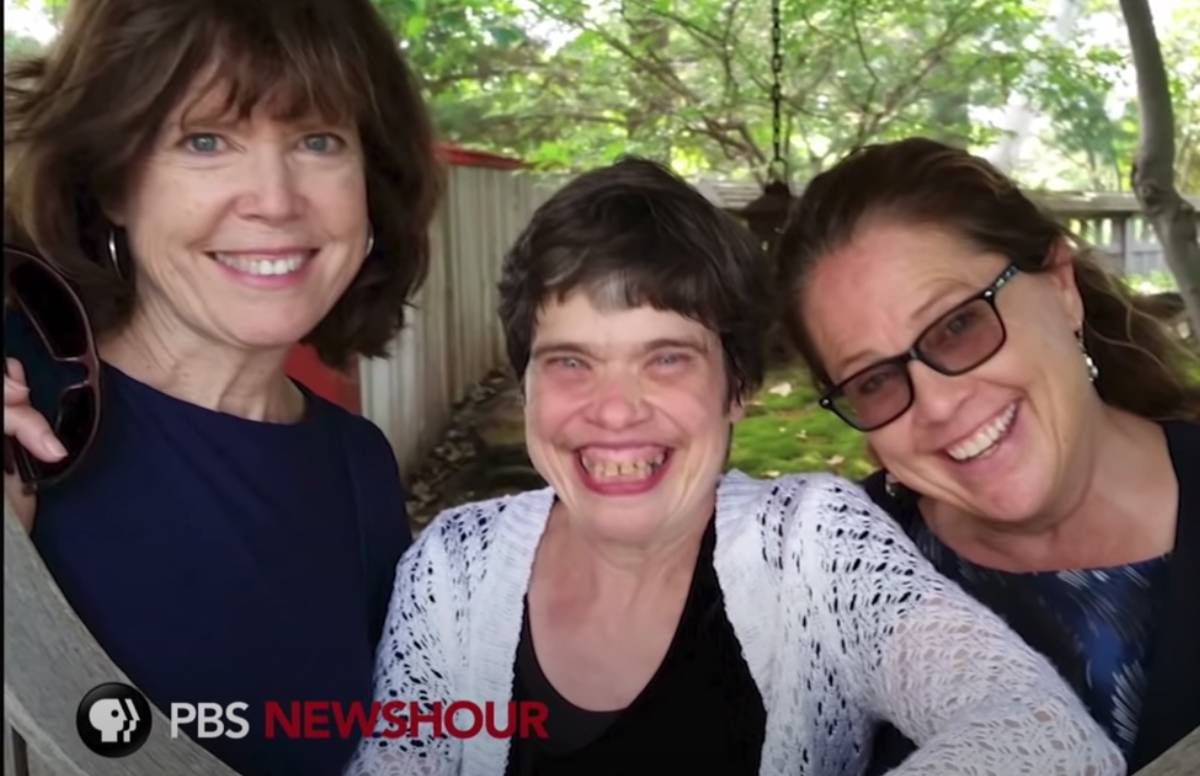 PBS NewsHour Weekend's Christopher Booker traveled to Rock County, Wisc. to see what one community is doing to prepare and to report on steps being taken to support families as part of the series, "Rethinking Lifespan." The transcript and video are below; parts were reported before the COVID-19 pandemic restrictions were in effect.
Caregiving for Their Child for 51 Years
Christopher Booker: It was just a few months after Virginia Socwell gave birth to her second son, Kent, that his health took a turn.
Within a few days he was back in the hospital undergoing surgery to remove part of his bowel. But he lost consciousness several times during the surgery which led to brain damage .
Ron Socwell: We always thought he was going to recover, because he was actually looking pretty good. But it was a long time before we said, 'Well, he's just not gonna get a lot better anymore.'
But a question looms over their routine: Who will do this after they're gone?
Christopher Booker: The damage was permanent. Kent can't walk unassisted and has very limited verbal skills. And for the past fifty-one years it's been his parents, Ron and Virginia, caring for him in rural Wisconsin.
Did you think you would still be in this caregiving position at your age?
Virginia Socwell: Absolutely not. I didn't think I'd be taking care–
Ron Socwell: Well, I didn't know. You know, who else was gonna do it? I always said you know, seventies, that's about it. You get to be eighty, it's over. Well, then you get to be eighty. And you say, 'Well, maybe ninety —'
Virginia Socwell: Ninety.
Ron Socwell: — 'It'll be over.'
Christopher Booker: Both 85, the Socwells are not alone among people their age caring for someone with an intellectual or developmental disability.
Preparing for the Day When They Can No Longer Do It
In fact, there are estimates that between eight hundred thousand and one million Americans over sixty are providing such care for a loved one. And many are not prepared for the day they can no longer do it.
Lisa Pugh: And so it's important to get ahead of that crisis and help families to think about what happens next when I can't provide that care.
Christopher Booker: Lisa Pugh is the head of the Wisconsin chapter of a nonprofit called the Arc, a disability advocacy organization. As the mother of a daughter with intellectual and developmental disabilities, she could immediately relate to the Socwells.
Lisa Pugh: Meeting people like Virginia and Ron really is a gift to me in that it's kind of a window into my own future, into our family's future. And it helps me to kinda tackle my own fears and think about the sorta things that my husband and I want for our daughter, and how we can take those incremental steps.
Christopher Booker: Pugh notes that as people live longer, including those with intellectual and developmental disabilities, there is increased pressure on family caregivers, who often are not paid.
The Lack of Availability of Government Support
There are state and federal programs available, the majority of which are funded through Medicaid. But the need for support often outweighs the availability of services.
As a result, across the country close to six hundred thousand people are on waiting lists for community and home-based services like skilled nursing care or physical therapy, according to the health nonprofit Kaiser Family Foundation. But Lisa Pugh says Wisconsin has been working to change that.
Lisa Pugh: Wisconsin has done a pretty revolutionary thing in that we don't have the same long waiting lists as there are in other states for the programs. We've done a good job investing in the sorts of infrastructure that families need in order to access supports.
Christopher Booker: In the late 1990s, the state opened Aging and Disability Resource Centers to give people access to information within their community. It has since expanded long term care services.
Wisconsin also changed the way it allocates money. In 2008, some families began to manage their state funds directly, giving them greater say in what type of services they receive.
According to the Wisconsin Department of Health Services this has helped reduce wait times, which they say, will be eliminated by next year.
But even with these changes, challenges remain.
Lisa Pugh: So, while you might be able to walk in the door and take a screen and they say, 'Yes, you are functionally and financially eligible for long term services and supports,' your challenge is going to be finding the workers to fill those shifts.
The Limits of Medicaid
Christopher Booker: For the Socwells, Medicaid pays for Kent's day services and an aide who prior to the COVID-19 pandemic would take Kent swimming and do other activities with him.
Now, during the current health crisis, those activities are done behind a mask or shield at the Socwell home.
But it's Kent's parents who do the bulk of the work. They bathe him, dress him, and feed him daily.
But a question looms over their routine: Who will do this after they're gone?
Where would you place where you folks are now in terms of preparation?
Virginia Socwell: I would say the very beginning.
Lisa Pugh: Yeah. Uh.
Virginia Socwell: We've been looking. We've been thinking. We've been thinking a lot about it. But I guess we don't know where to go.
If the Parents Die Without a Plan in Place
Christopher Booker: If the Socwells die without a plan in place, the decision for Kent's ongoing care will either end up with his older brother or it may end up with the state. That means a social worker would step in and he would then be placed in emergency housing as he waited for a long-term solution that may never come.
Stefanie Primm: So, he would be moved from his home, from the home he's lived in for however many years.
Christopher Booker: Stefanie Primm is the executive director of a Wisconsin disability service provider, LOV Inc.
Stefanie Primm: He would be grieving his parents. And then he would be put into a setting that was brand new to him with potentially roommates with other disabilities that were brand new to him, caregivers he had never met before. It's a very, very traumatic experience for these individuals.
Christopher Booker: Are there things that the state or the federal government could do to help within this process?
Stefanie Primm: A lot of the funding in the service system is directed at the individual with the disability, which is where it should be directed. But it neglects the needs of the caregiver and the support for the caregiver to do things that are creative that are outside the box.
Getting Families to Start Planning for Future Caregiving
Christopher Booker: Late last year, the Arc Wisconsin and LOV Inc started getting families in Rock County together to talk and plan. That means setting up a financial trust or securing long term housing for a disabled son or daughter.
Virginia Socwell was in attendance at one of the meetings. So were a couple of ninety-two-year-olds, Betty and Frank Daniels. They and one of their eldest daughters were there to talk about another child, fifty-six-year old Patty.
Betty Daniels: Patty was a beautiful baby. When we brought her home from the hospital it seemed like everything would be ok when we get her home.
Christopher Booker: But it wasn't. The infant had trouble feeding, the result of respiratory problems. And then she developed seizures.
By the time Patty turned two, she was diagnosed with an intellectual disability.
But with a family of eleven brothers and sisters, the Daniels say Patty has led a full life.
And by several measures, the Daniels are much further along with their preparation for Patty's continuing care after they pass away.
They have a financial trust for her, and guardians in place who are aware of her needs. And she has long term housing. Since her early twenties, Patty has been living in a group home, which is paid for by Medicaid and Social Security disability benefits.
One Couple's Caregiving Philosophy
Betty Daniels: Our philosophy was that we never wanted the rest of our children to have to take care of Patty. We didn't feel it was fair to them or right for Patty. She needed a place of her own. And that's where we were; we really thought the group home was a perfect solution.
Christopher Booker: But despite their early preparation, they haven't stopped worrying.
Betty Daniels: We've tried to look ahead and get as many of those things taken care of as we can. But there's always a struggle.
Christopher Booker: LOV Inc and the Arc are there to help with that struggle. They've created what they call "toolkits" to help parents and caregivers prepare:
These kits serve as a central place to record important life details like bank information, doctors or designated guardians. They can even provide prompts about how to talk about planning for the future.
What a State Task Force Could Do to Help
Meanwhile Wisconsin's governor, Tony Evers, has created the state's first-ever task force on caregiving, hoping to recruit more workers like nursing assistants and expand support for unpaid family members.
Lisa Pugh of the Arc Wisconsin is on that task force and the solutions it comes up with could have an impact on her own family and her daughter's future.
Lisa Pugh: Any family wants their loved one to be accepted and part of a community. And that she'll have her own life.
Christopher Booker: You're certainly putting a hell of an effort to make sure that happens.
Lisa Pugh: Yeah. And I'm glad I've got a lotta years ahead of me to plan for it, too.
Christopher Booker: And for the Socwells: What do you worry most about when you're thinking about caring for Kent?
Virginia Socwell: Us dying. I pray every morning I'm alive to change his diapers. Really, I do. I'm just happy that I can still do that.
Connie Kargbo
has been working in the media field since 2007 producing content for television, radio and the web. As a field producer at PBS NewsHour Weekend, she is involved in all aspects of the news production process.
Read More
Christopher Booker
is a correspondent and producer for PBS NewsHour Weekend covering music, culture, our changing economy and news of the cool and weird. He also teaches at Columbia University's School of International and Public Affairs, following his work with Northwestern's Medill School of Journalism in Chicago and Doha, Qatar.
Read More