Christina DaCosta Provides a Means for LGBTQ Elders to Connect
The innovative SAGEConnect gives hundreds a friendly, weekly call in the pandemic
When her workplace shut down its operations in March due to the pandemic, Christina DaCosta knew she had to do something to help the many LGBTQ older people who would be exceedingly isolated as a result.
DaCosta works as the senior director of communications at SAGE: the world's largest and oldest organization dedicated to improving the lives of LGBTQ older people. Its main branch is in New York City, where DaCosta is, but SAGE has 30 other affiliates around the country that offer services and programs LGBTQ older people rely on for support and connection.
"These programs are essential for people to connect."
"We were thinking, 'How can we help as quickly as possible?'" DaCosta reflects.
What she came up with was SAGEConnect – a telephonic program that LGBTQ elders and volunteers can sign up for to make or receive a friendly check-in call, at least once a week for at least six weeks.
Next Avenue: How did you know that constituents of SAGE — LGBTQ elders — had this need for connection that you wanted to help address?

Christina DaCosta: SAGE was actually founded in 1978 by gerontology students who were queer themselves and saw the need in their community to connect with older LGBTQ people. From the very beginning, that sense of isolation and connecting people together was the core focus of SAGE.
One of our main programs that's still in existence is called the Friendly Visitor Program. It's sort of like SAGEConnect, except it's in person. We train people to go into people's homes and be their visitor, and it could be delivering them a meal, just hanging out, playing cards, talking.

LGBTQ older people are twice as likely to be single and live alone. They're four times less likely to have children and — due to a lifetime of discrimination — are less likely to have access to caregiving support than their heterosexual peers might have. And so that just compounds that factor of loneliness and isolation for this population.

Older people in general, but especially LGBTQ older people, were hit so much harder [in the pandemic] than the rest of the population both in terms of susceptibility and mortality rates, that it became life or death for them to stay physically distanced from people. These programs like SAGEConnect and other telephonic and virtual programs across the country are essential for people to connect. The telephone aspect makes it really easy for people to use for people who aren't in Wi-Fi zones and may have problems, or may not have laptops.
SAGEConnect users receive thirty-minute phone calls for six weeks with a volunteer. What are people encouraged to talk about?

If you become a SAGEConnect caller, we have trainings and actually do a background check. The topics people talk about really vary. Some of them are just life experience and offering life advice both ways. We've had folks who talk about book recommendations, Netflix binge-watching, stories about growing up in New York or New Jersey, Alabama, Georgia... anywhere you can imagine these folks are connecting.
"They offer so much joy and fierceness that I want the younger generations to see and to be inspired by."
One of the best things about SAGEConnect is it's just a conversation. It can be as heavy as people want to make it, and it can be lighthearted as well. When it gets heavy, as sometimes these conversations can be — especially during the height of the pandemic — we offer tools to our callers to come check back in with us. We have a staff member who can assist if there's a need for help.

I bet that a benefit of SAGEConnect is building intergenerational connections across the nation among LGBTQ people. What can you say to that?

[Before working there], I had never heard of SAGE. There are lots of folks in the community that had never heard of SAGE either. And [learning about SAGE] was one of those 'aha' moments, like, 'Oh wow, LGBTQ older people. Yes, of course they exist.'

It's not only the shared history and knowledge, it's that they are phenomenal human beings across the board. And it's not only the stories of history. It's the stories that they're making now that are just awe-inspiring.
The fact that [people in] this community lived through the AIDS crisis and are dealing with another pandemic and are still fighting and they're resilient. Our tagline is 'We refuse to be invisible,' and they refuse to be invisible. They offer so much joy and fierceness that I want the younger generations to see and to be inspired by and also say, 'That's what I want to be when I grow up.' Because if you're lucky, you're going to get old too. It's such a privilege to age.

Besides SAGEConnect, what work are you most proud of in your tenure at the organization?

I'd say this past [LGBTQ Pride celebration] and dealing with the pandemic and really highlighting the Black Lives Matter movement and elder Black voices at SAGE who are a large part of our constituency and our leaders and spokespeople in the organization.
We had a virtual Pride called Pride in Place. We really wanted to make sure we weren't jumping in with a 'yay, Pride!' but more the fact that Pride was a protest. Stonewall was a riot. Elevating that fact was really important to us.
Two Questions for Our Influencers
If you could change one thing about aging in America, what would it be? 
I would like the 'standard' aging narrative to change so that LGBTQ, Black and brown elders, and non-native English speakers, amongst other aging communities, get the care and visibility they deserve to age with dignity and respect. The pandemic has widened the chasm in the disparities faced by those who are not white, cisgender and heteronormative.
How has the COVID-19 pandemic changed your perspective on aging?
Isolation is a massive issue in aging — especially for LGBTQ elders who don't have children or biological family to help. The pandemic has amplified how devastating isolation can be, and I am sheltering with family. That said, the resiliency of elders and their ability to adapt has been an inspiration.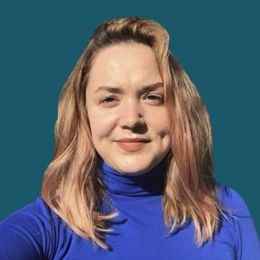 Grace Birnstengel
was an editor, reporter and writer for Next Avenue. She focused on in-depth storytelling and the intersections of identity and aging.
Read More