Come for the Thermal Springs, Stay for the Art and Botanical Gardens
An insider's guide to Hot Springs, Arkansas
Named for its naturally flowing thermal spring waters, Hot Springs, Arkansas, a town that celebrates its storied past and keeps its eye on the future, is a worthy trip no matter the generation.
Located about an hour from Little Rock, Arkansas, and nestled in the Ouachita Mountains at the center of Hot Springs National Park, Hot Springs has all the appeal of a worthy natural destination blended with one-of-a-kind experiences, like thermal bath soaks, historic museums, botanical gardens, hiking trails, fine dining and more.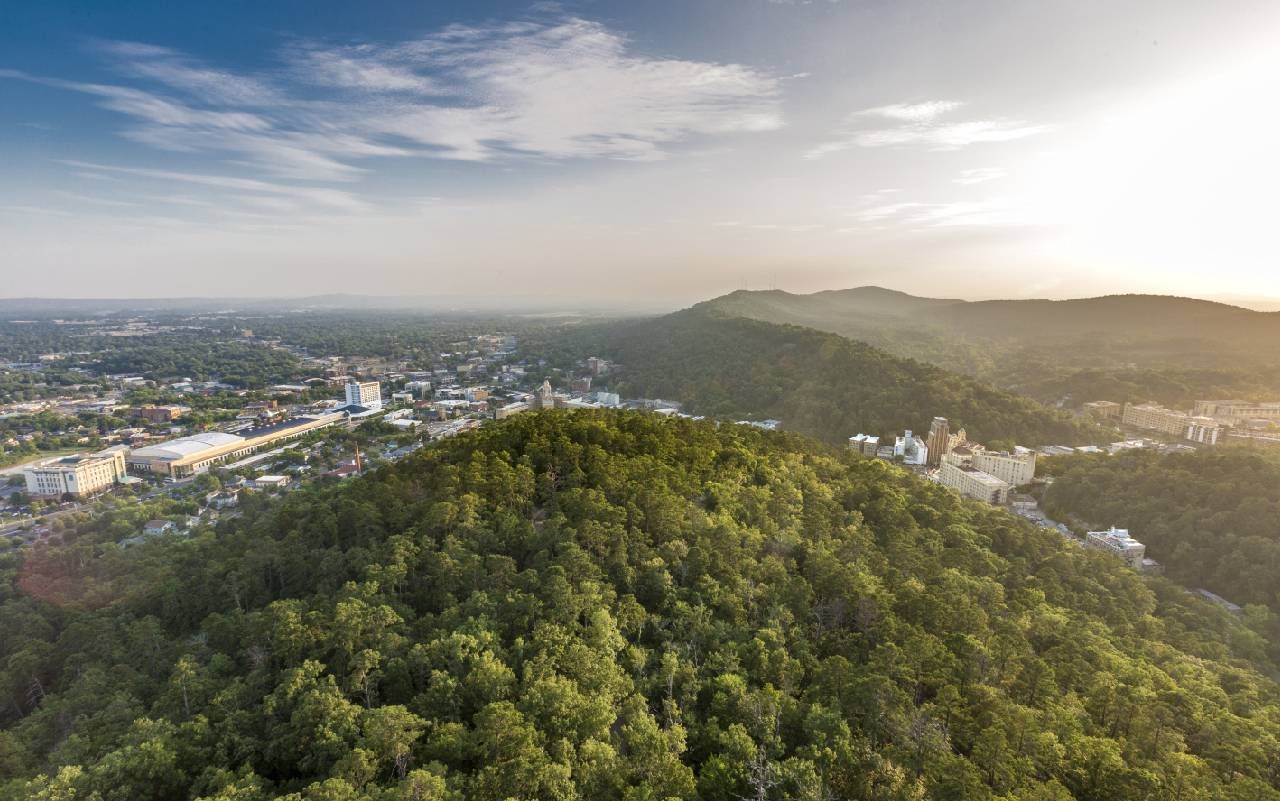 Stylish Digs
Staying in Hot Springs can take many forms, from historic bed and breakfasts to contemporary lakeside digs.
For a fun intergenerational trip, book a stay at the Best Court Cottages, a drive-up style motel with roots in the 1930s. If the accommodations conjure a bygone era, the menu at Best Cafe and Bar, the on-site restaurant, is quite the counter. Run by Arkansas native and executive chef Joshua Garland, who boomeranged back to Hot Springs following a decade of far-flung national and global travels, the cafe is celebrated for its decadent breakfasts, including crème brûlée French toast and savory confit duck hash topped with poached egg.
Hot Springs may be known for its thermal mineral waters and national park, but rich and varied history, contemporary art, outdoor activities and more are worthy draws.
For a luxurious bed-and-breakfast experience, The Reserve at Hot Springs sits atop several acres, just minutes from the popular Oaklawn Racing Casino Resort. Built in 1890, the stately former private residence of W.C. Brown, now a national heritage landmark, was remodeled in 1919 to its current Neoclassical style. Stroll around the well-landscaped grounds or reconnect with family and friends around the fire pit.
Book a contemporary room at Lookout Point Lakeside Inn for a secluded, waterfront experience. Birds flock to the lush, manicured backyard, where complimentary kayaks or canoes are available at the private pier.
What to Do
Hot Springs may be known for its thermal mineral waters and national park, but rich and varied history, contemporary art, outdoor activities, craft beer and more are worthy draws, too. The main attractions, including the three-story Fordyce Bathhouse and park visitors' center, can be found along Central Avenue downtown, but quick jaunts farther afield reveal serene botanical gardens, top-notch dining, live art presentations and more.
Experience a Traditional Thermal Bath
Between 1892 and 1923, eight properties along Bathhouse Row drew visitors to the springs for their rejuvenating and healing properties. Today, only one is still in operation and open to the public. Sign up for a soak at Buckstaff Bathhouse, which opened in 1912 and offers a traditional experience, during which bath attendants take you on a station-by-station journey through the process, from whirlpool soak to steam and full-body massage.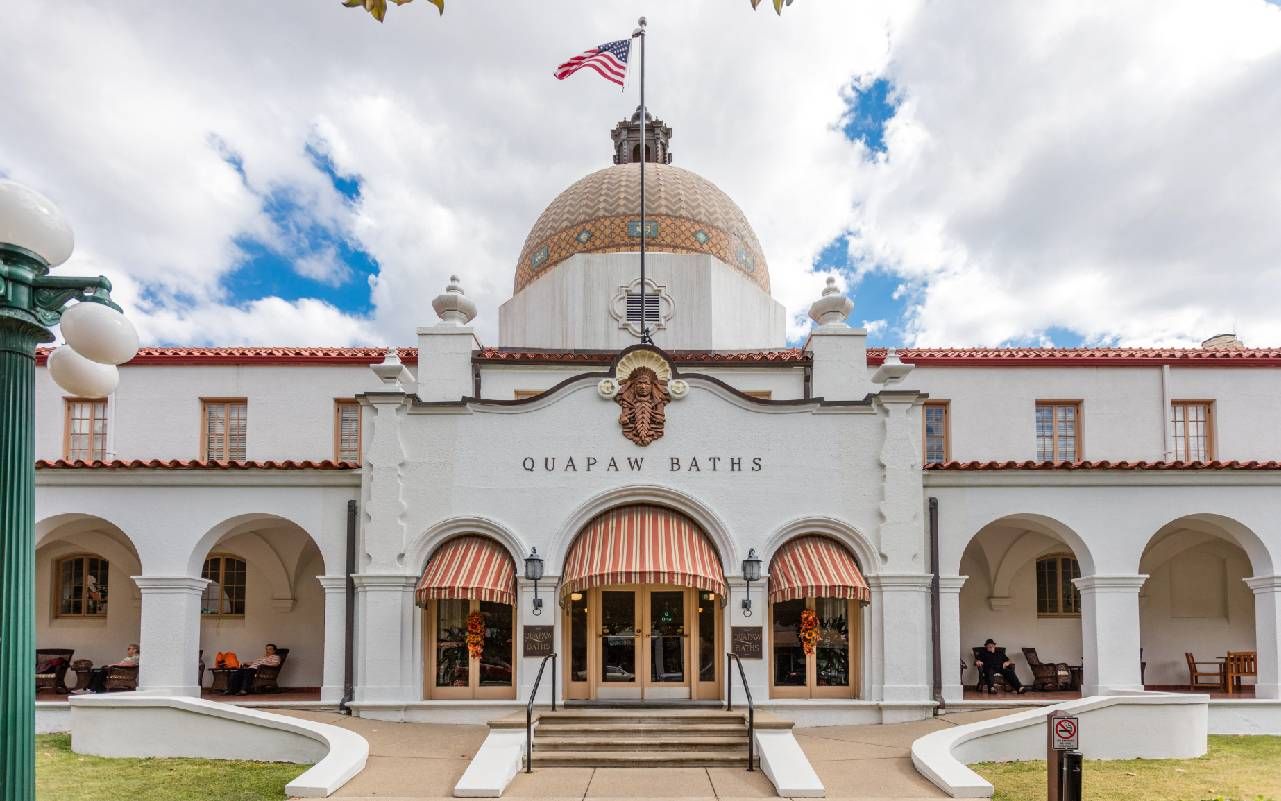 Throw Back a Cold One
While downtown, head over to the Superior Bathhouse Brewery, the only brewery in the country housed inside a national park. Built in 1916, and operating as one of Bath Row's original bathhouses until 1983, the structure sat vacant for over 30 years until beer lover Rose Schweikhart had a big idea. In 2013, the brewer, who cultivated her love of beer while touring as a tuba player in Europe, signed a lease from the Department of the Interior and has been serving up some of Hot Springs favorite brews and bites ever since.
Sample one of the 18 beers on tap, all brewed with the region's celebrated thermal mineral water, or try a flight — your choice of four samples, like Arkansour, Heaven or Helles, or Spicy Ride jalapeño ale. Ciders, wines and a variety of hearty menu items are available for non-beer drinkers.
Hot Springs has played host to the nation's top teams, including Chicago Cubs, Pittsburgh Pirates and Boston Red Sox.
Sample Impressive Fare
Mealtime in Hot Springs may breed indecision. For an elevated or romantic experience, make the drive from downtown to J&S Italian Villa. While its location may not look like much — it's tucked in a nondescript strip mall — it's what happens inside that matters. Here, the chefs serve up savory Italian fare, like short rib pappardelle and veal osso buco, alongside seafood-heavy, coastal Italian-inspired items. 
For a quicker bite that's no less satisfying, make a stop at Deluca's Pizzeria and share a brick-oven pie. After dinner, head over to The Ohio Club — a buzzy joint that claims to be Arkansas's oldest bar — for a signature cocktail and live blues and jazz.
Dig Into History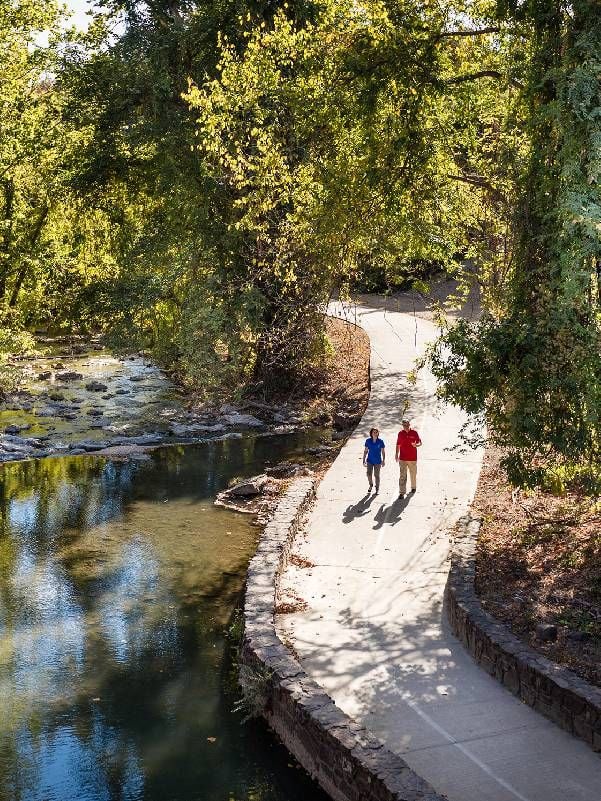 As the birthplace of spring training, Hot Springs has played host to the nation's top teams, including Chicago Cubs, Pittsburgh Pirates, Brooklyn Nationals, Chicago White Stockings, and Boston Red Sox. Along the Hot Springs Baseball Trail, learn about the town's important contributions to America's favorite pastime.
At The Gangster Museum of America, walk through several themed rooms displaying video clips and original artifacts from the infamous mobsters affiliated with the town, including Al Capone and Frank Costello. (The museum's director, Robert Raines, wrote a book on the subject.)
Watch Local Art Take Form
Glass-blowing brothers Charles and Michael Riley fire up beautifully crafted creations from their studio just southwest of downtown. The California-born duo grew up visiting their grandparents in Hot Springs, and in 2006, opened Riley Art Glass Studio. Today, the formally trained artists invite visitors to stop in and watch their well-oiled choreography as they blend an age-old process with modern technique.
Get Outside
For active travelers, walking, hiking, and mountain biking are all draws in Hot Springs. Gain access to several trails from downtown's historic district. The Pullman Trail connects to over 30 miles of cycling trails at Northwoods Trails. And given the area's three lakes, fishing and boating is also worth a look.
Stroll Through Botanical Gardens
Nearby Garvan Woodland Gardens is definitely worth the short drive. The official botanical gardens of the University of Arkansas, the gardens offer an accessible path that winds through over 200 acres of waterfalls, ponds and lush greenery, snuggled beside the serene waters of Lake Hamilton. Be sure to climb up into the Evans treehouse, an architecturally stunning structure built among the towering pines.
Virginia Brown
is a freelance writer based in Little Rock, Ark. Curious by nature, she digs into a range of topics, including travel, arts and culture, business, food, home and design, and more. Her stories appear in Atlas Obscura, The Washington Post, AFAR, BBC News Magazine, Departures, Apartment Therapy, AAA Traveler, and others. She is an also regular contributor to Best Western International's Travel Zone. Find her at vbwrites.com.






Read More