Coping With Grief Through My Walking Shoes
A regular exercise like walking can help when loss feels heavy
I could not wait to leash up my dogs and head out the door for our daily two-mile walks. I'd enthusiastically bolt out of the air conditioning into the 95-degree heat and humidity of an Arkansas summer and head for our country road deep in the rural Ozark Mountains.
My mother, whom I considered my best friend, had passed away a few months prior. My husband and I, along with the dogs, had recently moved from the suburbs in our hometown of Kansas City, Kansas, as I thought the drastic change of scenery from city to forest would help me move forward.
As it turns out, it was both the combination of scenery and exercise that helped me in my grief. I've never been athletic, but I've always enjoyed taking the dogs for a walk. However, this was different. I even expanded these two-mile walks to twice a day. The more drenched in sweat, the better I felt. It was almost as if I was feeling the grief pouring from my body.
For a few months, sweating while marveling at the sights and sounds of the woods was the only time I didn't feel numb and lost.
An Antidote to Grief?
According to a review conducted by the University of Toronto, there have been at least 25 studies dating back to the 1980s that show exercise makes us mentally feel better, but how does it help grief? Grief, by all definitions, includes sadness and sometimes depression, clinical experts say.
"Nothing is going to make your grief go away, but exercise can certainly help," said Bruce W. Cameron, a licensed counselor in private practice and executive coach in Dallas. "It can also help people sleep better; sleeplessness and people requesting sleep aids during grief is common."
Carla Marie Manly, a clinical psychologist in Santa Rosa, Calif., explains that on a neurological level, exercise increases our feel-good neurochemicals such as serotonin, dopamine and endorphins.
"This factor alone supports healing," Manly said. "In addition, exercise performed out-of-doors allows for an elevation in positive neurochemicals given the positive influence of the sun on the body's neurochemistry."
'The Mourner's Path' for Coping With Grief
Nancy Sharp, author of Both Sides Now: A True Story of Love, Loss and Bold Living was only 37 with 2-year old twins when her husband, Brett, 39, died of brain cancer. Brett was diagnosed seven years prior, which put a lot of stress on Nancy, who was his caregiver.
The family lived in New York City and as an urban dweller, Sharp walked to a lot of destinations. But said she never practiced what she calls "mindful walking" until one of her husband's social workers suggested exercise as a way to care for herself.
Sharp began walking through a park, seeking green space, and on most days found herself trekking as many as 20 blocks. Even before her husband died, Sharp said she came to realize she was walking what she calls the mourner's path.
"Walking is gentle and open-ended, it relaxed and calmed me," said Sharp. "It helped me get out of my head and de-stress."
Sharp walked alone most of the time, but sometimes shared her walks with a neighbor who also helped her cope spiritually in their conversations about life and loss.
Sharp continued walking after Brett died and knew exercise and being outdoors in nature was a lifestyle she wanted to continue for the rest of her life. Two years after her husband's death, she chose to move to Denver. "It's such an open, beautiful place," said Sharp, now 51. "I love the lifestyle here and I can look at the mountains while I walk. What could be better?"
City vs. the Woods
According to a Stanford University study, participants who went on a walk in nature showed reported "lower levels of rumination and showed reduced neural activity in an area of the brain linked to risk for mental illness compared with those who walked through an urban environment." And several Japanese studies conducted in the 2000s reinforced a 1982 study that showed walks through the forest, known in Japan as "forest bathing," had significant positive physical effects on the participants. Those included lowered blood pressure and cortisol levels.
Cameron cautions that while exercise can help a person in grief, you should take it slowly. "You're already fatigued mentally, so you don't want to fatigue yourself physically," he said. Cameron suggests choosing any repetitive "hypnotic motion" type exercise such as walking, light bicycling, elliptical or stair machines.
However, walking in nature is best, if possible, he said, as it triggers existential thinking.
"Further, walking or running symbolically allows the sense of moving forward," said Manly. "This in itself can allow for healing."
Next Avenue Editors Also Recommend: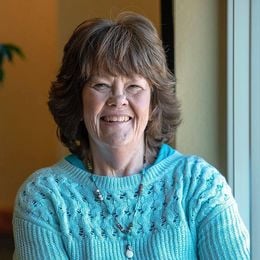 Kerri Fivecoat-Campbell
is a full time freelance writer and author living in the Ozark Mountains. She is the founder and administrator for the public Facebook page, Years of Light: Living Large in Widowhood and a private Facebook group, Finding Myself After Losing My Spouse, dedicated to helping widows/widowers move forward.
Read More