Creativity Abounds in North Carolina and South Carolina
In a variety of classes, gifted artisans teach traditional and contemporary skills
In the Tar Heel State (North Carolina) and the Palmetto State (South Carolina), you can learn batik, needle felting, beekeeping, rug hooking, square dancing, fabric flower making, metalwork, tie dye, solar plate printing, pottery, jewelry making, beadwork, scrimshaw, blacksmithing, candle making, figure drawing, enameling, ukulele, quilting, wood carving, shoemaking — and much more.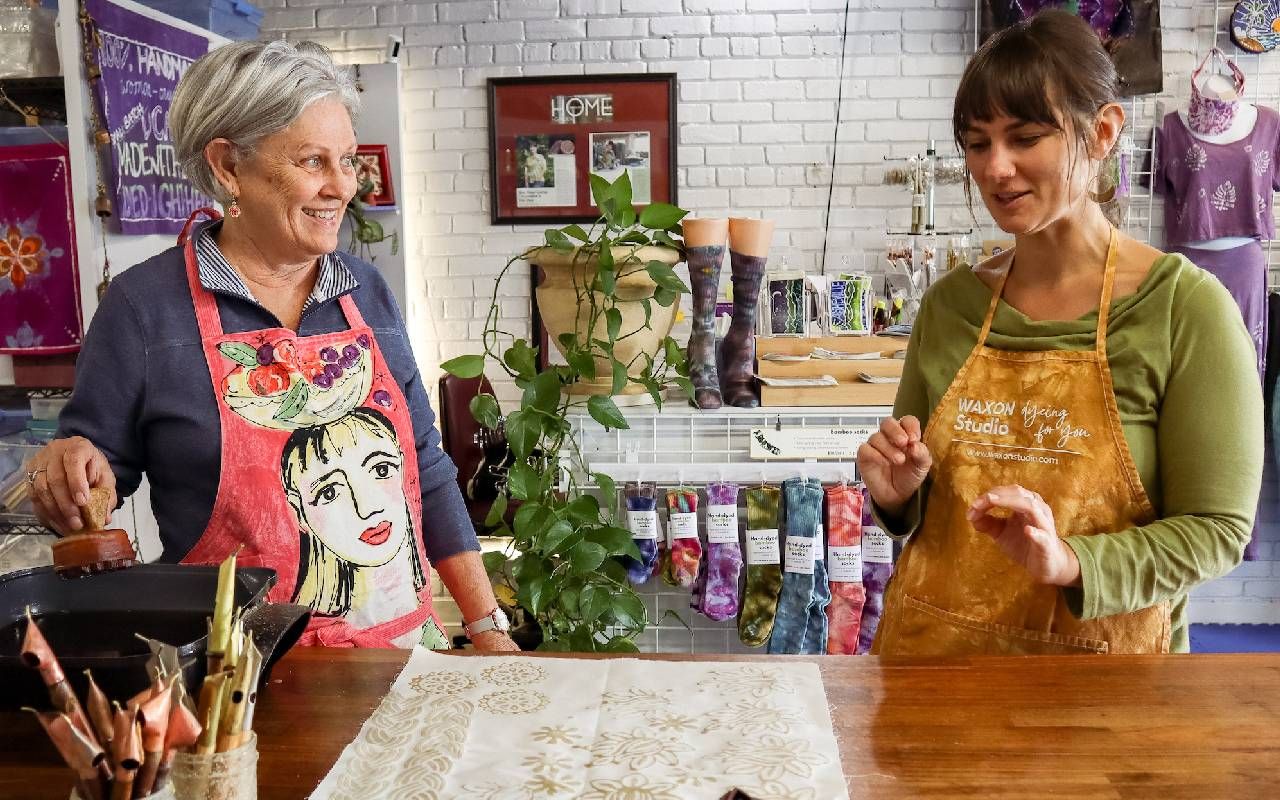 Opportunities to engage in the arts in North Carolina are so compelling that Sharon Tollin, who lives in the Tampa Bay, Florida area, has invited five friends to meet her at WAXON Batik and Dye Studio in Asheville to celebrate her birthday. Linda Chapley, a resident of southwest Florida, just bought a house in Brasstown, two hours southwest of Asheville, to be closer to the John C. Campbell Folk School, which offers more than 50 classes.
"The thought of being creative for a week in scenic western North Carolina really appealed to me."
In South Carolina, Charleston is home to several arts centers and studios, and that's where  Corey Alston — a fifth-generation sweetgrass basket weaver whose work is on display at a Smithsonian museum — often is on hand to educate visitors about the Low Country's Gullah culture, traditions established in the early 1800s by enslaved people brought from Africa.
"Foraging and Fermentation" was the first class Chapley took at the Folk School, situated in the Appalachian Mountains. When she became an empty nester in March of 2022, Chapley looked online to see what might be available.
"I'd been dreaming over the catalog for years," said Chapley, who is in her early 60s. "The thought of being creative for a week in scenic western North Carolina really appealed to me."
Historic Folk School Promises a 'Pivot'
Founded in 1925, the Folk School sprawls across a 270-acre campus, with 17 studios, five housing options and a dining hall. Week-long and weekend classes are available, with some online options.
Olive's Porch, the school's affiliate about 10 minutes away in Murphy, holds shorter workshops. "Our classes are ideal for individuals who are post-retirement, getting over a career change or anyone who needs a pivot that will open up a whole new world," said a school spokesperson.
After Chapley's first class ended, she signed up for another, eventually attending sessions in ukulele, pottery, watercolor, banjo, Scottish cooking, Inkle loom weaving and mountain dulcimer. "I'd expected to be gone a week, maybe two, but with work study opportunities, hosting and eventually assisting at classes, I spent most of the rest of 2022 there and on through January," she said.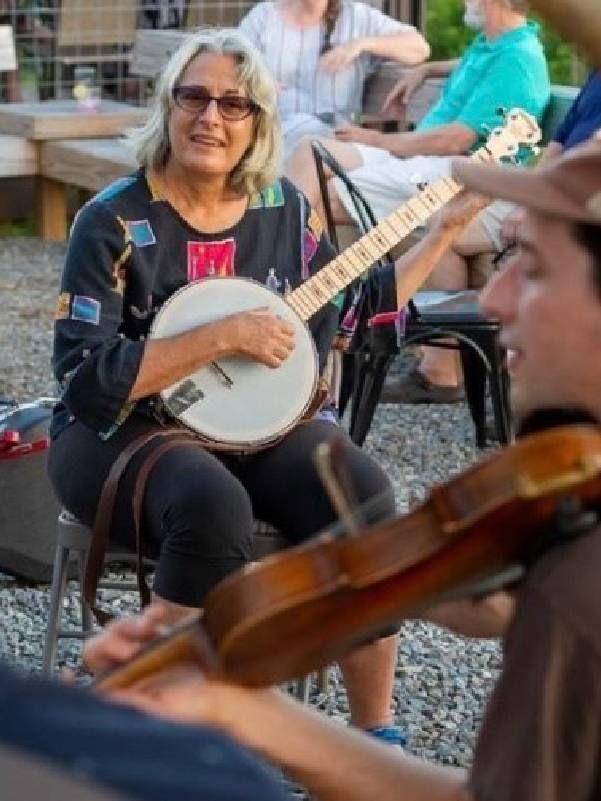 Now, Chapley considers the people she met in Brasstown as her tribe. "The Folk School helps you find who you want to be, or who you always thought you'd wanted to be," she said. "Now that I've bought a house there, my adventure will continue."
Celia Larson's adventure with the school centers around dancing, something she started there with her husband and teenaged daughter a few years after the family moved to Murphy in1986. A widow now, Larson, a retired nurse, still dances. Her daughter Hannah, 30, is part of two of the school's performance groups, and will be married at the Folk School this summer.
Larson considers members of the dance teams as her extended family. "Beginners who attend the dances are attracted to our energy and our sense of community, and they can see we really enjoy helping people learn," she said.
Worried that you may be too old? "I'm in the Dames Rocket Northwest Clog Morris group, which involves very high-powered dancing in wooden clogs," Larson said. "I will be 68 this year, and I wake up sore every day — but I can still do it!"
Batiking, Dyeing and Weaving in North Carolina
Jessica Kaufman, who occasionally teaches at the Folk School, owns WAXON Batik and Dye Studio in Asheville. She teaches batik, tie dye, shibori and ice dyeing (which she calls "more sophisticated and nuanced than tie dyeing") as in-person classes, and Kaufman, 42, makes some instruction available online. 
WAXON is where Tollin hopes to gather with five artistic-minded friends — some of whom she's known for over four decades — on her 66th birthday later this year. "We used to focus on beadmaking, fabric dyeing and painting, taking turns teaching each other what we'd learned," said Tollin.
A retired nurse practitioner, she has taken classes with Kaufman previously, and admires her as a teacher. "Jessica is very talented," she said, "and she's also really good at communicating with and supporting students."
Kaufman enjoys being part of the thriving arts and crafts scene in Asheville and is happy to pass along her skills. "This is good for your brain and also your spirit — people leave the classes all upbeat," she said. Acknowledging that all day, she is surrounded in her studio by beauty, Kaufman noted, "That's the life I've designed for myself."  
"The art of weaving sweetgrass baskets has been preserved for over 300 years, and I am proud to keep the skill set alive."
Just 30 minutes south of Asheville, the Heritage Weaver and Fiber Artists in Hendersonville teaches classes in weaving, rug hooking, embroidery and Norwegian style knitting. In Raleigh, about four hours northeast of Hendersonville, the Pullen Arts Center specializes in "skill-building classes led by professional teaching artists" for individuals of all ages and abilities. The Greenville Center for Creative Arts, about 84 miles east of Raleigh, offers short workshops (intaglio printmaking, cross hatch shading and urban sketching) and long-term classes (oil painting, figure drawing, watercolor).
South Carolina Boasts Culinary Arts and Gullah Culture
At Redux Contemporary Art Center in Charleston, South Carolina, classes for all ages are available in painting, photography, drawing, printmaking, stained glass and more. Attend a 90-minute workshop at Candlefish and you take home the scented candles you made. Both Undiscovered Charleston and Bulldog Tours highlight Charleston's considerable culinary arts through walking tours.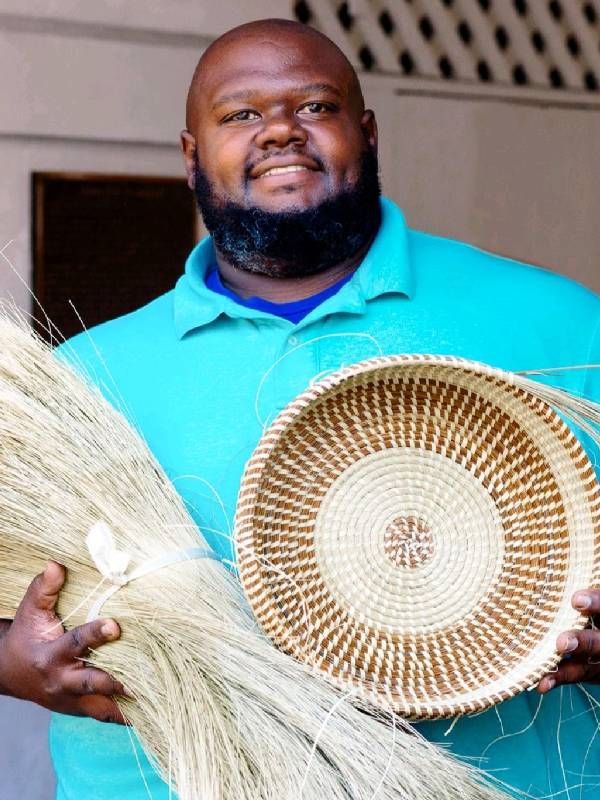 Sweetgrass baskets — the official state handicraft since 2006 — originally were brought to the lower Atlantic coast by enslaved Africans, who used them in rice cultivation on plantations. Alston, the educator and ambassador for the Low Country's Gullah culture, teaches about the history of sweetgrass baskets — but not how to make one.
"My art form is taught from parent to child, one generation to the next," said Alston, 41. "The art of weaving sweetgrass baskets has been preserved for over 300 years, and I am proud to keep the skill set alive."
Among the many baskets that Alston has made in the past 20-plus years is a custom basket on display in the Renwick Gallery of the Smithsonian's American Art Museum in Washington, D.C. Titled "From Traditional to Contemporary," the basket measures 33 inches tall by 33 inches wide. On March 3, Alston spoke about his work at a symposium held at the museum about the exhibit "This Present Moment: Crafting a Better World."
In Charleston, you can see Alston's baskets and others at the historic, four-block-long Charleston City Market. On July 22, he'll be at the 18th Annual Sweetgrass Festival at Memorial Waterfront Park in Mount Pleasant, a town about 15 minutes northeast of Charleston that is known for the baskets. And Alston makes presentations about the Gullah history, lifestyle, language, crafts and cuisine at corporate gatherings, family reunions and special events.
His goal? "I want to help people better understand the Gullah culture."
Patricia Corrigan
is a professional journalist, with decades of experience as a reporter and columnist at a metropolitan daily newspaper, and also a book author. She has written for Next Avenue since February 2015. Read more from Patricia at latetothehaight.blogspot.com.
Read More