How Daughters Who Are Caregivers Have It Rough at Work
A new Home Instead survey finds serious work/caregiving stress
I knew that holding down a job and being a caregiver to your parent on the side is tough. But I don't think I knew how serious the strain can be for women, especially, until I saw the new Daughters in the Workplace survey from Home Instead Senior Care, the largest senior care organization in the world. (Two thirds of caregivers are female.) The report is being released at the Society for Human Resource Management (SHRM) conference in New Orleans today.
A few disturbing findings from the survey of 1,001 working women aged 45 to 60 who are not self-employed and are caregivers for at least one parent and/or in-law in the United States and Canada:
91 percent of the women surveyed have had to take some action to accommodate being both a caregiver and an employee
50 percent sometimes feel like they have to choose between being a good employee and being a good daughter
25 percent say that at their employer, there is a stigma attached with taking time off to care for a parent or parent-in-law
23 percent say their supervisor is unsympathetic when it comes to their balancing work and caregiver responsibilities
13 percent have been passed over for a promotion or raise, or have been penalized at work due to caregiving
9 percent say their jobs are currently at risk due to their caregiving responsibilities
Caregiving daughters in the workplace spend an average of 13.8 hours a week caregiving and have been caregivers for six years, on average
The average caregiver daughter uses 29 percent of her paid time off to meet her caregiving responsibilities
The survey's upshot: "Some respondents felt they had to make a choice between their career and caregiving," said Paul Hogan, Home Instead's co-founder and chairman.
Dilemma for Some Caregivers: Choosing Between Mom and Job
It's a choice that Maggie McClane, of Belleville, Ill., had to make.
Until her dad died in December 2013, McClane, 55, took time out of the day from her paralegal job as needed to help her mother, Frances, who has Alzheimer's, is almost completely blind and at a high risk for falls, due to vertigo. "It was apparent to me that I was going to need to do it more and more," says McClane, who also taught as an adjunct faculty member at Webster University at the time. Her employer, McClane says, "was somewhat supportive, but I could see that down the line, it would cause problems over time."
When McClane's father died, "that's when I decided Mom needs round-the-clock care." So McClane quit her job to move into her mother's home and be her 24/7 caregiver (she has since brought in Home Instead to fill in when she needs a break). "It was a difficult decision, but I think this is the best thing for mom," says McClane.
At some point, McClane says, she'll need to return to work. "I'm not drawing a salary, so I'm not putting away money for retirement." But, she adds, "The way I look at it: I'm doing what I need to be doing now. The rest will take care of itself later. My mom was a wonderful mother all my life and this is what she deserves."
The Numbers May Be Optimistic
Things may even be worse for working daughters who are caregivers than the Home Instead numbers suggest.
"So much of caregiving goes underreported because of the stigma," Hogan noted. "It's fun to talk about children at work, but it's not fun to talk about our declining parents."
So surveys like this one won't have fully accurate results for the 34.2 million Americans providing unpaid family caregiving to adults 50 and older until the stigma associated with caregiving is gone, Hogan added.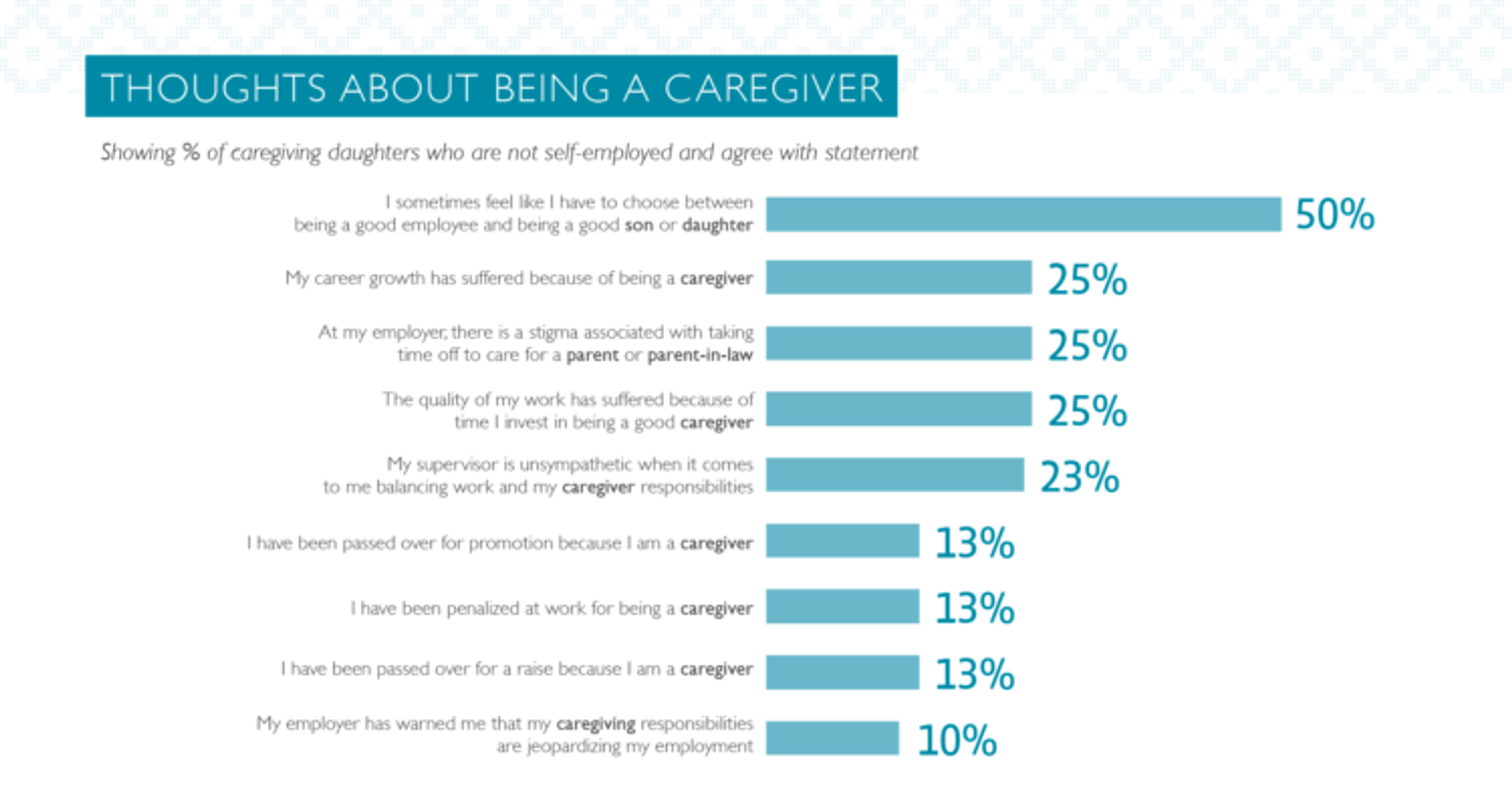 Self-Employed Family Caregivers Feel It, Too
Leaving your job to be your own boss doesn't resolve all the work/caregiving dilemmas, the Home Instead survey found.
Of the self-employed surveyed, 44 percent said they've turned down work due to caregiving; 61 percent said caregiving caused them to scale back their hours.
Sacrifices Despite Support
One of the survey's findings seemed paradoxical to me: Home Instead's report said that "working female caregivers of older adults are continuing to make sacrifices at home and in the workplace in spite of feeling more support from employers."
Hogan explained it to me this way: "Even with the greater recognition, if employers don't back that up with tools and resources, they not be alleviating any of the strain. Employers tend to go deep into child care and drug and alcohol abuse and financial planning in their EAPs [Employee Assistance Programs], but are thin when it comes to senior care."
What Would Help Family Caregivers
What could employers do to lessen the strain on family caregivers — female and male employees?
McClane thinks flexible work hours could be useful — 57 percent of employers now offer flextime, according to SHRM's new 2017 Employee Benefits Report) — though she concedes this benefit is not always possible. "Flexible hours would have been tremendously helpful for me," she says. "But I can understand that I needed to be available when the attorneys I worked were. Being there at odd hours wouldn't be helpful to them."
In Home Instead's survey, 84 percent of caregiving daughters said flexible scheduling policies would help  juggle work/life balance. And 79 percent said an explicit policy making it permissible to use personal or sick time to care for a parent would help, too.
In the new SHRM Employee Benefits Report, only 7 percent of employers surveyed said they offer "emergency flexibility" and just 10 percent offer elder care leave above the federal requirements of the Family and Medical Leave Act, down from 14 percent in 2013. But the percentage of employers offering an elder care referral service has risen from 8 percent in 2013 to 13 percent in 2017.
Hogan hopes more family caregivers will feel empowered to ask their employers for what they need to do their jobs and to assist their loved ones. "We want to raise awareness and education for working daughters so they can talk about their experiences the way working mothers do," said Jisella Dolan, chief advocacy officer at Home Instead.
The company's Daughters in the Workplace site has a variety of resources and articles so caregivers know what kinds of things could help them.
Perhaps one day Congress will pass something like the bipartisan Recognize, Assist, Include, Support and Engage (RAISE) Family Caregivers Act, endorsed by AARP. It would, among other things, have workplace policies and supports to help family caregivers remain in the workforce.
Over time, as more boomers reach their 70s and beyond, he said, employers will need to be more supportive. Managers will find growing numbers of the boomers' grown children demanding better policies to deal with their elder care issues. "Aging is not the problem," says Hogan. "It's our failure to adapt that's our problem."
McClane adds: "Employers are going to have to find more innovative ways to deal with caregiving. They're going to have to pick their poison. Most of us are going to be put in this position at some time or another. So the sooner the employers deal with it, the better for their employees and for their parents."
Next Avenue Editors Also Recommend: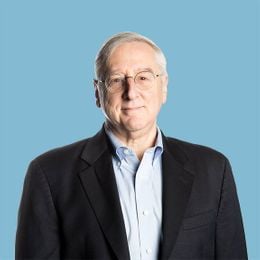 Richard Eisenberg
is the former Senior Web Editor of the Money & Security and Work & Purpose channels of Next Avenue and former Managing Editor for the site. He is the author of "How to Avoid a Mid-Life Financial Crisis" and has been a personal finance editor at Money, Yahoo, Good Housekeeping, and CBS MoneyWatch.
Read More