Detecting Dementia: Whose Job Is It, Anyway?
The case for adding dementia detection to the primary care wheelhouse
At your annual wellness visit, your doctor checks your blood pressure and weight, maybe orders bloodwork or a colonoscopy. How about a cognitive screening?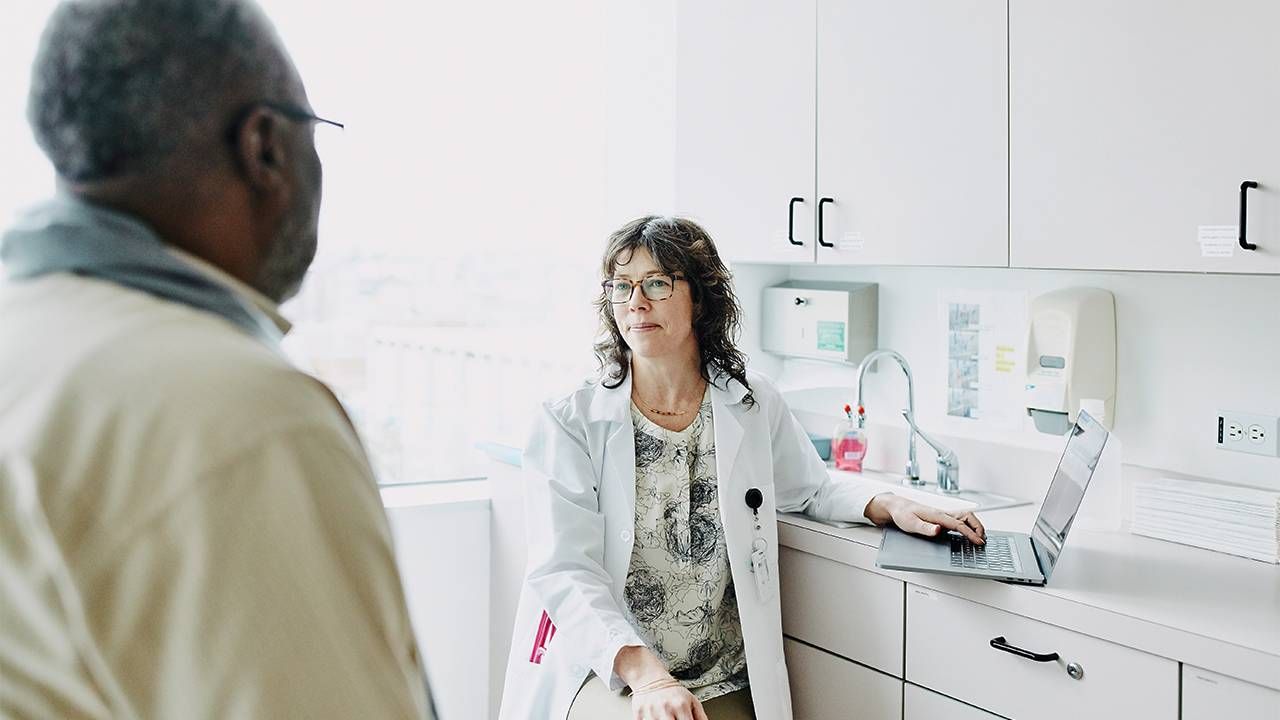 The Food and Drug Administration's recent approval of the first Alzheimer's treatment in decades is expected to heighten interest in earlier detection of cognitive decline — already an increasing concern in health care.
Aducanumab, marketed as Aduhelm, is approved for all patients, but clinical trials targeted those with mild cognitive impairment or early-stage Alzheimer's.
"Just by starting cognitive assessments at regular doctor visits, you establish a baseline that can be compared year over year."
As many as 40% to 60% of probable dementia cases are underdiagnosed, research shows. And the number of Americans who have Alzheimer's disease or another dementia is expected to double in the next 20 years, to more than 13 million.
"Assessment is the first step," says Diane Ty, director of the Alliance to Improve Dementia Care at the Milken Institute Center for the Future of Aging.
The Alliance's new report, Building Workforce Capacity to Improve Detection and Diagnosis of Dementia, calls for primary care clinics and staff to take the lead in detecting and diagnosing Alzheimer's and other forms of dementia.
The Reasons to Involve Primary Care Physicians
Why primary care providers and why now?
Brain changes begin at least 10 to 20 years before memory loss and other symptoms appear. Tracking brain health can trigger early interventions, experts say, especially management of risk factors to slow cognitive decline, like metabolic conditions and hearing loss.
What's more, many dementia-like symptoms stem from reversible conditions like sleep apnea or vitamin deficiencies, which could be flagged and treated. If cognitive decline due to probable dementia is present, early detection can put in motion decisions about future care and quality of life, as well as participation in clinical trials (most of which need earlier-stage volunteers). 
Medical specialists do this work, but are hard to find because there is a shortage of geriatricians (medical doctors specializing in aging). For neurologists (brain specialists), the wait for new patient appointments is among the longest in medicine.
Patients and their families, meanwhile, can be slow to bring symptoms to any doctor's attention — due to stigma, fear or a lack of understanding about related conditions.
This explains the growing emphasis on primary care as a proactive setting for early detection of dementia.
"Just by starting cognitive assessments at regular doctor visits, you establish a baseline that can be compared year over year. That detects differences early," Ty says. "Now, you only go in when you have memory challenges."
Envisioning A Better System for Cognitive Assessments
Although a cognitive evaluation has been a required part of Medicare annual wellness visits since 2011, the Alzheimer's Association found that in 2019, fewer than half of primary doctors surveyed said they were routinely doing it. Only 16% of older patients surveyed said they received regular cognitive assessments.
In theory, screenings are right up primary physicians' alley, but the challenges to putting this into practice are very real, says Dr. Ada Stewart, president of the American Academy of Family Physicians.
"Simple cognitive assessments take less than five minutes. Doctors may think they take longer."
"The U.S. health care system is broken. The family physician is often the doctor who most comprehensively knows the patient's health history and is able to observe changes and responses to treatment over time," she says. "But they need more support to effectively screen, diagnose and treat patients with dementia."
The Milken Institute report proposes workarounds and changes to eliminate the following barriers to cognitive care:
Barrier: Not enough time with patients
The average primary care visit is 17.4 minutes, giving physicians little time to add another screening tool to their patients' appointments. But the report says cognitive testing can be quick.
"Simple cognitive assessments take less than five minutes. Doctors may think they take longer," says Nora Super, senior director of the Milken Institute's Center for the Future of Aging.
A possible fix, says the report: task shifting. Nurses, physician assistants and other clinical care team members could conduct cognitive screenings, freeing physician time. Digital tools, such as tablets loaded with assessments and given in the waiting room, could help, Ty adds.
Another possible timesaver, inspired by the COVID-19 pandemic: A May 2021 meta-analysis, reported in the "Journal of the American Geriatrics Society," found that videoconference cognitive assessments demonstrated "good reliability and accuracy" to diagnose dementia or mild cognitive impairment.
Barrier: Billing and reimbursement
A related issue: Doctors often complain that there's no separate Medicare coding for cognitive assessments, including diagnosis.
Indiana's Ascension St. Vincent Medical Group and 25 primary clinics in six states run by the Dartmouth Centers for Health and Aging use trained nurses to conduct Medicare Annual Wellness Visits. Research has found them to be a cost-effective way to cover dementia screenings while catching (and billing for) other diseases as well, using existing billable codes.
The Milken report recommends standardizing the tool used in the Medicare Annual Wellness Visit. Legislation to do this and provide other provider incentives, the bipartisan Concentrating on High-Value Alzheimer's Needs to Get to an End (CHANGE) Act, has been introduced in Congress.
Diagnostic evaluation follow-ups, however, remain "complex, costly, and capacity constrained as there is no single test for dementia," and still often require referrals to dementia specialists, the report notes.
Barrier:  Lack of provider training and resources
In 2020, the Alzheimer's Association reported that nearly one-third of primary care physicians "never" or "only sometimes" reported being comfortable answering patient questions about dementia. Only 78% reported having any training in dementia diagnoses and care, and of those, 65% described the amount as "very little."
"There are things you can do in terms of lifestyle modifications if your baseline is changing — this could be the motivator people need to make changes."
The Gerontological Society of America is one group stepping in to provide such support.
Last fall, it released a KAER (Kickstart, Assess, Evaluate, Refer) Toolkit, designed to support primary care teams in implementing a comprehensive approach to initiating conversations about brain health, detecting and diagnosing dementia and providing individuals with community-based supports.
It includes practical approaches, educational resources and validated clinical tools that teams can integrate into their clinical workflow.
Additional resources, like the AAFP Cognitive Care Kit (for physicians and patients) are increasingly being developed. (The National Institute on Aging keeps a list.) The Milken Institute report urges involving entire clinic staff, not just physicians.
Barrier: Lukewarm federal endorsement for routine cognitive screening
In 2020, the U.S. Preventative Services Task Force found that the current evidence on cognitive screening was insufficient to assess the benefits of routine screening for asymptomatic older adults. This may give some primary care physicians pause in initiating screenings in all patients.
"But it didn't say it's not recommending them, just that there isn't sufficient evidence to assess the balance of harms and benefits," Ty says.
She and Super say early diagnosis helps patients make lifestyle changes, access treatments and plan for the future — benefits which outweigh the potential harms of getting a dementia diagnosis.
The task force, meanwhile, noted that some studies have found "higher stress, greater depression and lower quality of life in persons aware of a diagnosis of cognitive impairment." 
Barrier: Fear and reluctance
Indeed, physicians often fear that a concerning assessment will create unnecessary mental health strains, especially in light of a lack of good treatments.
That's not the case, according to Nicole Fowler, associate director of the Regenstrief Institute's Center for Aging Research at Indiana University. A 2020 randomized clinical trial conducted by the center's researchers found no harm to patients from screening for Alzheimer's or other dementias, as measured by increased anxiety or depression. 
"Dementia screening provides awareness for the patient and their family, allowing them to take action — including advance care planning," said Fowler in a press release that discussed the study results.
"Though we found many patients declined to follow up a positive screening, the knowledge obtained from a screening at least allows them to enter a watchful waiting period or choose to be engaged," she added.
Although dementia stigma persists, 82% of older adults surveyed by the Alzheimer's Association in 2019 said they think it's important for their primary doctor to check their memory and thinking.
Drivers of Change
"We all know there are many demands on primary-care providers, but feel strongly that this is such an important part of health," Ty says. "And there are things you can do in terms of lifestyle modifications if your baseline is changing. This could be the motivator people need to make changes."
"A lot of people think cognitive changes are a normal part of aging," Super adds. "The fact that there are risk factors you can modify is new, emerging science. The [Milken Institute] report emphasizes that there's really a need for public awareness about the importance of brain health and the benefits of early detection."