How One Community Made Itself Better for Aging in Place
At Morningside Gardens, progressive, collaborative design supports older residents
Live in your own home, on your own terms, in your own community. That's what most people imagine their later years will be like, says Paul Nikolaidis. But not all homes or communities are designed to support that goal. Nikolaidis was, until recently, a development officer and social worker for Morningside Retirement Health Services and the adjacent Morningside Gardens Co-op Apartments in New York. (He now works for a private foundation.) His job gave him a front-row seat to see how design and community-based services can come together to improve people's chances of aging in place.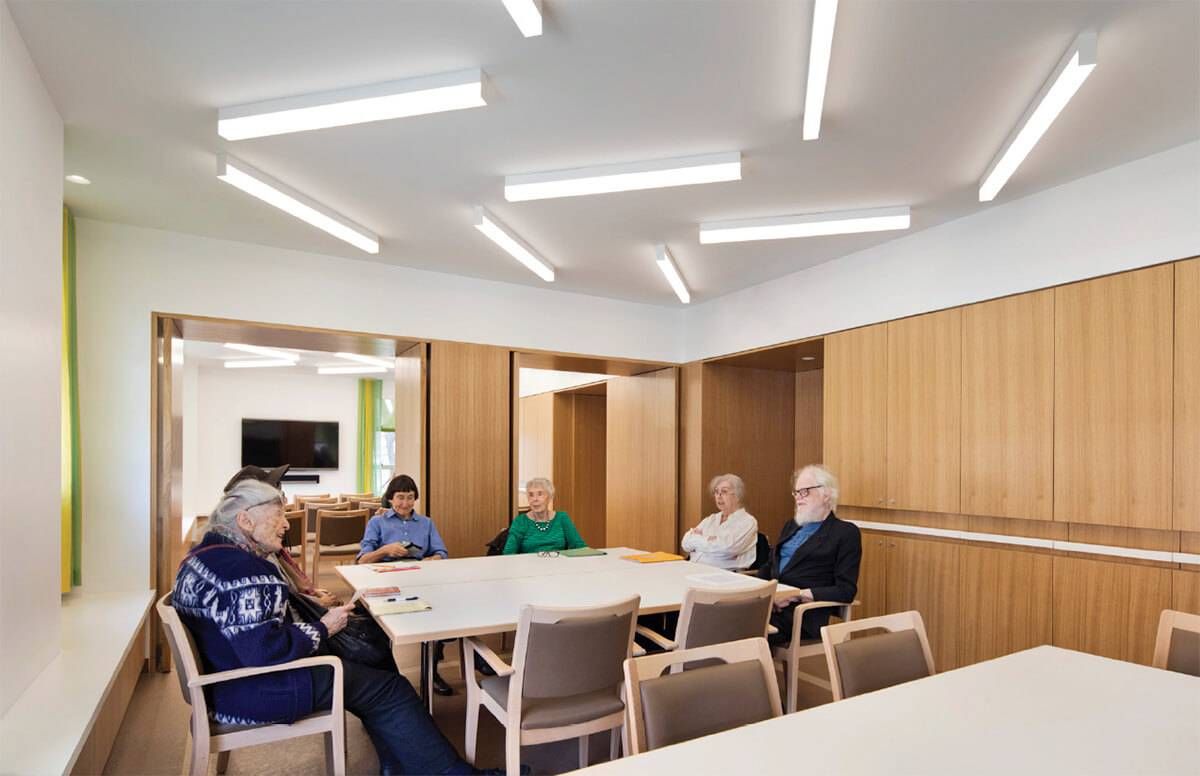 Last April, Morningside Gardens, on Manhattan's Upper West Side, opened an expanded and redesigned community center, a project overseen by Nikolaidis that brought together three vital elements:
Physical design that fosters ability and avoids creating a feeling of disability in residents
Support services, including health-related services, that are available onsite
Social programs to counter isolation and its harmful effects on physical and mental health
An Early Supporter of Aging in Place
Morningside has a history of being progressive when it comes to supporting older adults. Located in Morningside Heights, a residential neighborhood that is home to Columbia University and a number of churches, the Morningside Gardens Co-op includes nearly 1,000 apartments in six high-rises. The co-op is home to people of all ages, but more than half (54 percent) of the apartments are owned by someone older than 60.
That's an important percentage because it makes Morningside Gardens a "NORC," a naturally occurring retirement community, in the eyes of the State of New York. A NORC is an entity that, while not originally built for older adults, is home to a significant number of older residents.
NORCs emerged in the 1990s in New York State, as policymakers at state and local levels recognized "the changing demographics in the United States," says Nora Moran, senior policy analyst for New York-based United Neighborhood Houses, a membership association of community centers. "The U.S. population was going to get older . . . and there really wasn't a system in place to help these people age in their own homes." NORCs looked like a promising conduit for providing support services.
Morningside Gardens had already moved in that direction before the NORC designation came along. The co-op, which opened in 1957, formed its Morningside Retirement Health Services program in 1966, says Ron Bruno, the program's executive director. "The concept, even back then, was similar to the NORC approach, which is that a community provides services [onsite] for its older members, some through volunteers, some by professionals. By providing those services [where they live], people are able to age in place," notes Bruno.
They Didn't Want a Typical 'Senior Facility'
As with health services, community space already existed at Morningside Gardens before the new space opened this year. What set change in motion was that a few years ago, the co-op was able to acquire an adjacent apartment. Added to the existing space, it would greatly expand the community center to a total of 2,700 square feet.
Because Morningside Retirement Health Services is one of New York's recognized NORC programs, it qualified for state and local funds. Those public dollars helped pay for what eventually would be a million-dollar renovation and construction project at Morningside.
"They didn't want the typical formula," says Matthias Hollwich, cofounder of Hollwich Kushner, the Manhattan architectural firm that Morningside's planning committee of residents and staff chose to do the design work. "They didn't want a typical 'senior facility,' yet, at the same time, they recognized that they did have to plan for particular needs for people who are older — such as making it ADA [Americans with Disabilities Act] compliant."
Hollwich specializes in designing for aging communities. He published a book on the topic in 2016, New Aging: Live Smarter Now to Live Better Forever. His firm was recognized by Fast Company as one of the most innovative companies of 2017 in part, as the magazine stated, "for making adaptive reuse sexy."
But the design process was collaborative and it was enriched, Hollwich says, by the knowledge base of Morningside's older residents: a retired fellow architect, a retired organizational psychologist and others.
"I believe any project any architect ever touches should be designed through the lens of older people because it makes or creates better buildings for everyone," Hollwich says.
Subtle Supports Make It a Space for Everyone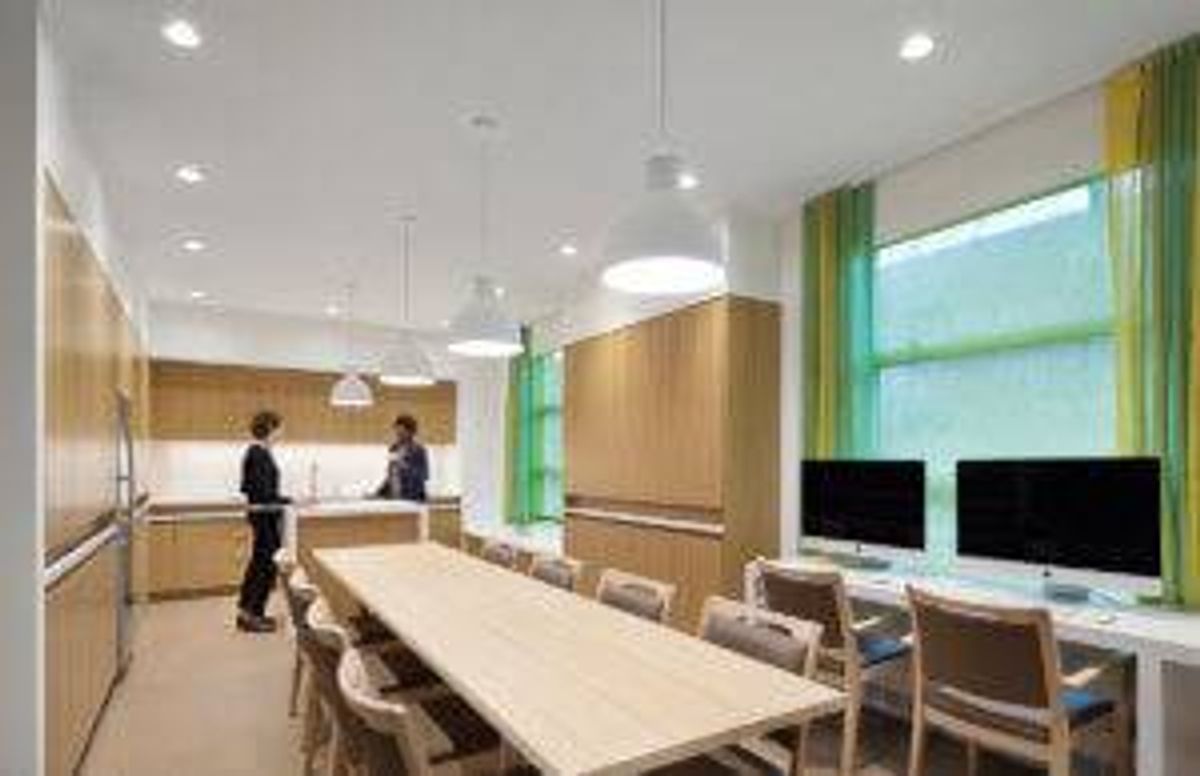 The result is a new community space for Morningside residents that "resembles a tech company's meeting space or a dorm's common room," says the design and architecture magazine Curbed. It looks like, and is, a space for any resident of any age to use.
But built into the airy, light-filled multipurpose rooms are powered doors and nonslip, cushioned flooring with no thresholds to step over. Embedded in walls and cabinets, a handrail is subtly integrated throughout the space.
Eileen Canty, the retired organizational psychologist who served on the planning committee, is in her second year as president of the Morningside Retirement Health Services board. For all of the redesign's visual and multigenerational appeal, it delivered what older residents needed, she says.
"The core issue here is aging in place," Canty says. Without the supportive environment, including the health services, that Morningside offers, many residents "would have been jettisoned long ago to other places" such as nursing homes.
All of Morningside's support services are now headquartered out of the new community center: assistance from home-health aides, help with laundry and shopping, rides to and from doctor appointments, help with paying bills and other more formal geriatric care management.
The new adaptable floor plan makes it easier to host onsite activities that include writing workshops, a printmaking group, a theater group and a film series night. Exercise programs are also plentiful: yoga and chair yoga, Zumba and stretching classes.
If the inclusive design of Morningside's new community center is one way the image of aging is changing, Bruno sees the exercise classes as another example of a new picture of aging.
"Just the idea of an older person exercising seemed far-fetched not that many years ago," he says. "[In the past], you get old, you get decrepit, you just accept it."
The place of older people in society now "reminds me of the position of women 40-plus years ago," Bruno adds. "There was a certain role that was not to be deviated from." Now, older adults are breaking out of a prescribed role and prescribed environments. "They are shedding the stereotype of old age, and breaking new ground and finding a new way of growing old," says Bruno.
Next Avenue Editors Also Recommend:
Angelo Gentile
is a Minneapolis-based freelance writer who also works in corporate communications. He has previous experience as a newspaper and magazine editor.
Read More