'Dinner with the President' Serves Up the Politics of Food
Alex Prud'homme's new book covers everything from Eisenhower's love for squirrel stew to Obama's penchant for arugula, and dishes on state dinners, diplomacy and the White House kitchen
U.S. presidents — they're just like us, at least when it comes to their quirky tastes in food.
During the Civil War, Abe Lincoln would snack on apples, cornbread, raw honey on the comb and other favorites from growing up on the Kentucky frontier, while at the onset of the Korean War, Harry S. Truman chose a comfort food meal of fried chicken and mashed potatoes for a key meeting with military leaders.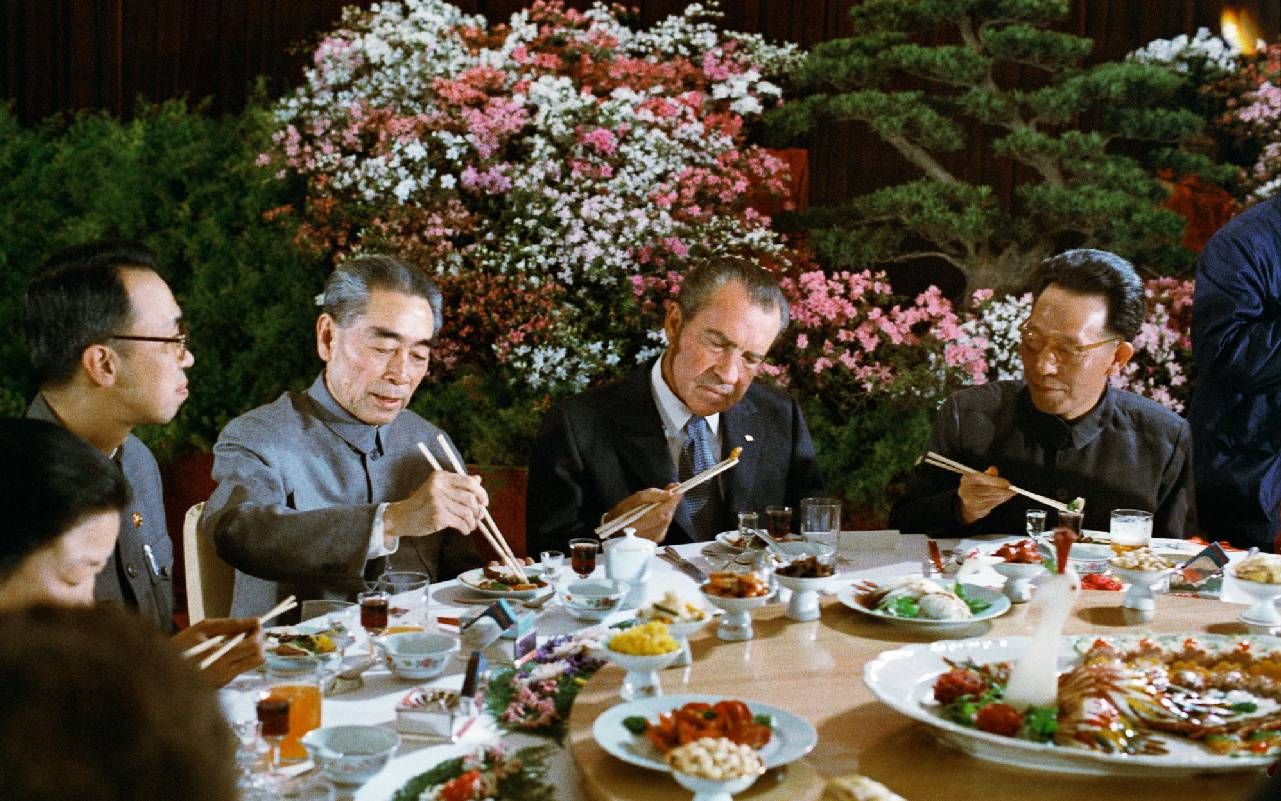 Presidents also reflect food trends of their time and influence the public's taste. In the early 20th century, one of William Howard Taft's favorite meals was the then-trendy dish of roasted possum, and Ronald Reagan famously offered jellybeans to world leaders and other visitors, helping to elevate the profile of his preferred brand — Jelly Bellys.
Beyond their love of dishes like squirrel stew (Dwight D. Eisenhower), grits (Jimmy Carter) and arugula (Barack Obama), the most politically savvy presidents understood the role of state dinners and more ordinary meals to bring together political friends and foes — and get the country's business done, according to the new book, "Dinner with the President: Food, Politics, and a History of Breaking Bread at the White House."
"There are a lot of books about the presidency and books by former White House chefs, but this is about the politics of food and the food of politics through the lens of the White House," says author Alex Prud'homme. "Their menus are little mini histories about what we were eating as a nation and where the nation was at that point."
"Richard Nixon was not a foodie. He saw food as fuel — he ate cottage cheese for lunch every single day."
For Prud'homme, the topic proved a natural fit, as he is the great-nephew of the legendary "French Chef" herself, Julia Child, who went to the White House several times and televised two state dinners, and with whom he co-wrote her best-selling memoir, "My Life in France." She is also the subject of Prud'homme's book, "The French Chef in America."
Impacted by the COVID-19 shutdown, his research took him to the Library of Congress and presidential museums and even included his own version of a state dinner. The book also offers a sampling of White House recipes, including Martha Washington's preserved cherries, Frankin D. Roosevelt's reverse martini and Lady Bird Johnson's Pedernales River chili.
Prud'homme talked to Next Avenue about what he learned from his unofficial state dinner, the commanders in chief who best leveraged the dinner table pulpit and the unseen "nerve center" of every presidency — the White House kitchen.
Next Avenue: You spent several years researching and writing the book, but you never actually got to interview a former President or First Lady. Why do you think they all turned you down?
Alex Prud'homme: I was hopeful particularly among the "foodie" presidents and at the end of the day — I was unsuccessful. It was partly COVID related — everything was shutting down as I was reaching out to people. It was also frankly political; I have an epigraph from Anthony Bourdain that nothing is more political than food.
Food is an umbrella subject that covers everything from personal diets to local politics to global diplomacy to climate change to war, gender and race — it's a hot potato. Presidents and ex-presidents still are very wary of that. I tried going through the front door, the side door and had all these connections, but I had to console myself and report around them.
But you did get to host your own version of a state dinner prepared by former White House chef John Moeller at the DACOR Bacon House, a historic residence in the nation's capital, just before the COVID shutdown. The guest list included journalists who had covered the White House and some former White House staffers. What did you glean from that experience?
I asked people if the state dinner is still valid or is it meaningless kabuki. Everybody at the table said it's really important. Some presidents get it, and some don't, and the ones that get it are generally more effective. There's something about the symbolism and the emotion of the event that really translates into global democracy and domestic politics.
I asked people is there a difference between Republican food and Democratic food. After some conversation, we all agreed not — there are plenty of foodie Republicans and burger and fries Democrats.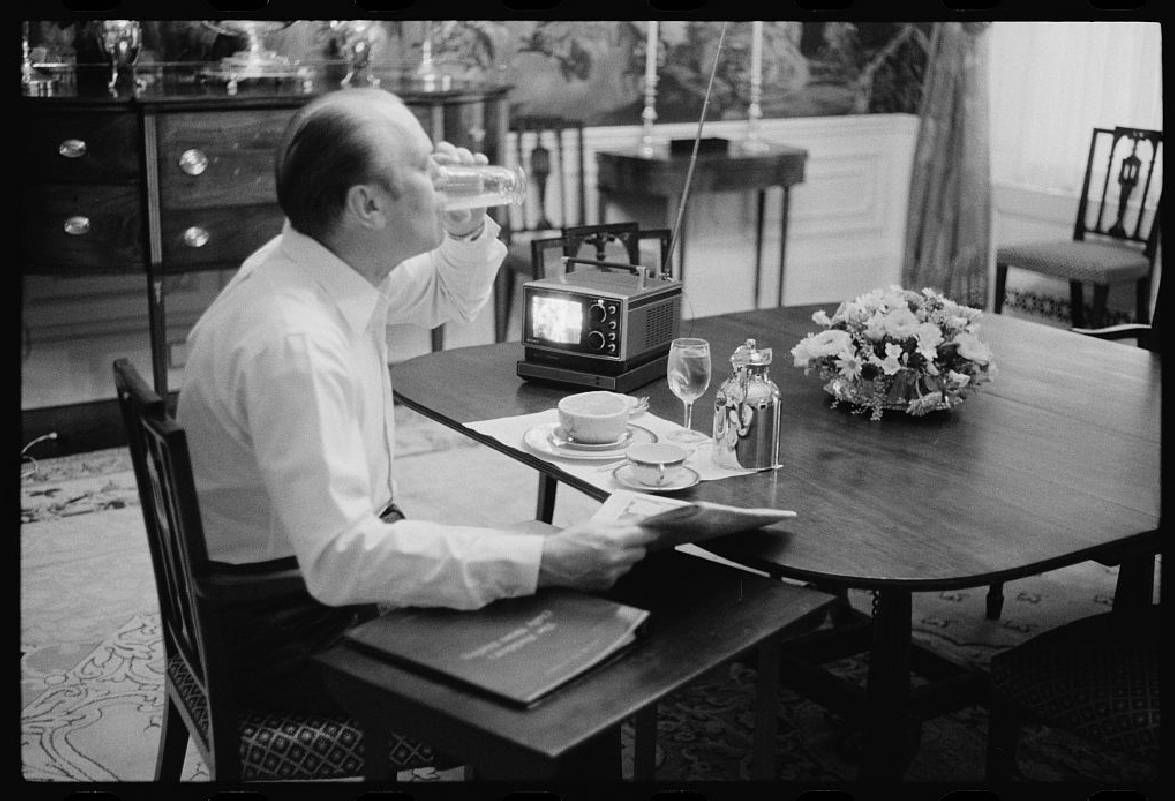 Some presidents are natural-born entertainers and others are not. Who surprised you with their ability to use food to further their agenda?
One of the presidents I came to regard in a new light was Eisenhower. I had a stereotype of him as a fusty 1950s dad, but he ended up being a more complex person than I thought.
"Eisenhower was a farm boy who was taught to cook as a boy and used his mother's recipes."
Eisenhower was a farm boy who was taught to cook as a boy and used his mother's recipes. He loved to go hunting and fishing and to fry up his trout with corn meal. He would make a two-day bean soup. He would go to the roof of the White House and grill steaks. He would hand out food he cooked to the press and to colleagues.
He used food like Thomas Jefferson did to bring the warring factions together. He got congressmen to come to the White House and had dinners to get their guard down. He also used them to take the pulse of the nation. He would invite business leaders, sports stars, celebrities and military leaders. He would pepper them with questions, a technique he used during the second World War. It was a sophisticated strategy done in his own plainspoken way. He had a folksy charm about him.
Another president who used food to further diplomacy was Richard Nixon, during his landmark trip to China in 1972. But it wasn't a sure thing that the trip would be as successful as it turned out.
Richard Nixon was not a foodie. He saw food as fuel — he ate cottage cheese for lunch every single day. He liked that it was controlled — it wasn't challenging to his palate, and he liked to keep his weight down. Then he went to China, and food was a major diplomatic tool. The cameras captured him as he was eating and drinking with the Chinese.
"The Kennedys had this incredible dinner at Mount Vernon, which had never before or since been used for that."
Before he left, he spoke to experts about what the Chinese eat and practiced for hours on end about how to use chopsticks. This is a guy who doesn't like 'exotic food' but understood the value of being seen eating with chopsticks, and it worked like a charm. It was remarkable — people in America almost took more from the images of him using chopsticks than the actual diplomacy, which opened China back up to the world.
The funny thing is that Nixon was not that coordinated. They were really worried about him with the chopsticks, and he also had a weak stomach for alcohol. He was told by Kissinger and other people, don't drink the mao-tai, which is very powerful. There he was in front of the cameras, and he wasn't going to back down. With each toast, he had a tiny sip, but he defied expectations and held his own.
By contrast, Obama had sophisticated tastes in food that helped build his identity as a globalist, despite the criticism it generated from some.
I call him the president with the global palate — he exulted in the cuisines of the world. He went to Hanoi with Anthony Bourdain and ate spicy bun cha noodles, and they drank beer like two regular dads. That was one of the most watched videos on social media. It shows you the power of food and media.
Unfortunately, the pandemic limited your ability to do in-person research, but you did get to make some stops, including to presidential homes like Hyde Park (FDR), Mount Vernon (George Washington) and Monticello (Thomas Jefferson). What were some of the key experiences that helped shape the book?
I went to the harvest festival in Monticello, Thomas Jefferson's plantation in Virginia. It's such a quirky house, and there's so much history there. He's got his famous gardens with remarkable produce — he brought seeds from around the world and even tried making wine there. In his day, the gardens were run by slaves, and he was a major slaveholder — the guy who wrote the bulk of the Declaration of Independence. That history comes alive when you're there on site and seeing the slave shacks and the fields of produce and the original kitchen, which has recently been restored.
The same thing with going to Hyde Park — FDR's home. It's a quirky place, an old English manor perched over the Hudson River. The first thing you see is a whole wall of taxidermy birds he made as a kid and a very early version of a television set, and you see the ramps for his wheelchair. You get a sense of him and his family in the bones of the house.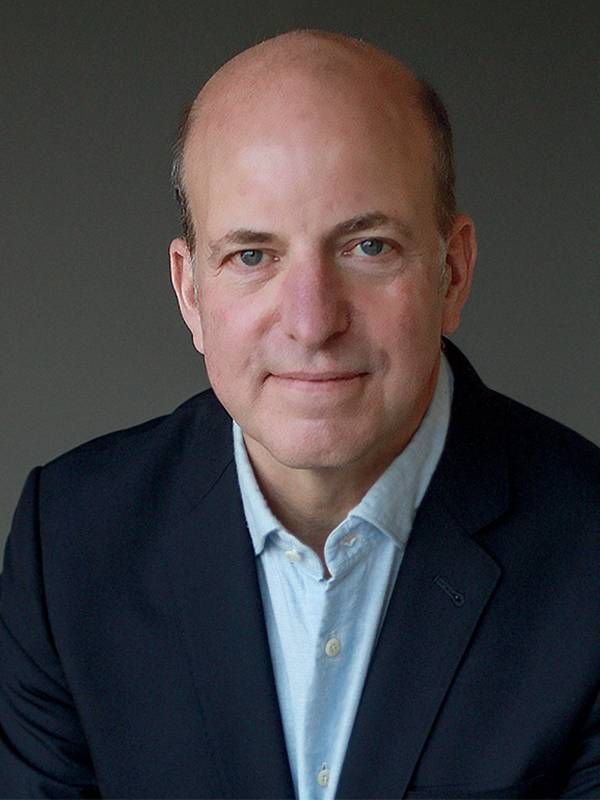 At Mount Vernon, there were not just connections to George Washington but also to John F. Kennedy, who hosted a lavish state dinner there in 1961 for General Ayub Khan, the president of Pakistan. Guests arrived on a flotilla of yachts and a PT boat and there was an Army unit in Continental Army garb reenacting a drill from 1776. How did the festivities translate into actual diplomacy?
The Kennedys had this incredible dinner at Mount Vernon, which had never before or since been used for that. It was not only a fabulous evening with an orchestra in the woods after dinner and women in gowns and the men in tuxedos. Behind the scenes, there were politics.
Before dinner, President Kennedy and General Khan took a walk. The Pakistanis were annoyed because we gave $1 billion in aid to India and they suspended CIA air drops into Tibet to spy on China. JFK promised aid to Pakistan in exchange for the Pakistanis allowing the air drops to continue, and Khan agreed.
In a dinner, there so many things going on — it's not just about the food, it's also the realpolitik. That's the point of state dinners — a political affair accompanied by a soft power event like a gorgeous dinner.
You don't cover every president, but you did include both Trump and Biden, who have very different ideas of food. The chapter titles spell out the differences (Trump: The Food Fighter, Biden: We Finish as a Family) but how do you see them?
Trump used food in a shrewd way politically by calling himself the fast-food president and highlighting that, most infamously serving his burger banquet to the Clemson football team on beautiful silver tureens. It was a big affront to traditionalists on both sides of the political aisle, and I think it was very calculated. It was kind of a stroke of genius because the images of that burger banquet went around the world instantly and became defining images of this presidency. There he is in the state dining room under the portrait of Abe Lincoln with this spread that's incredible. Once you see it, you can't unsee it.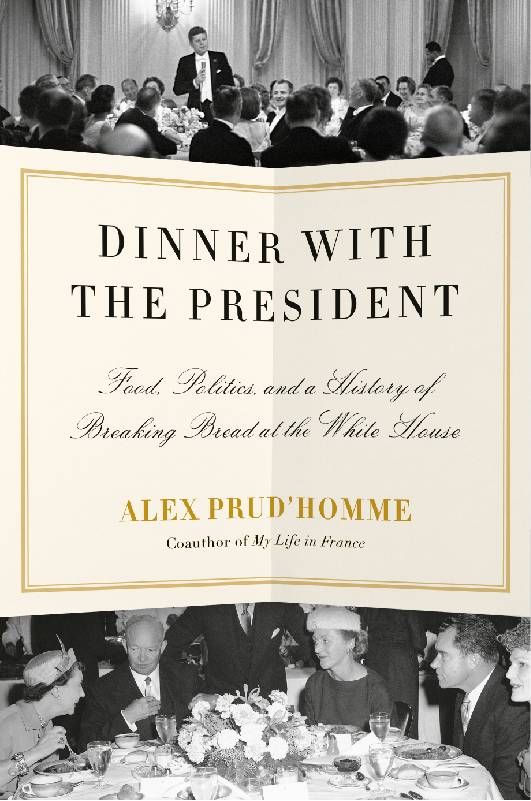 There's something about food that's a primal driver for us. The public really pays attention to what the president eats and tends to emulate him. It's hard to define — you eat the food I eat, so trust me, therefore vote for me. Trump didn't even have to say that — it was a shrewd gut move and kind of effective.
By contrast, Joe Biden himself is not much of a foodie. He's famous for loving spaghetti pomodoro and ice cream in particular — he calls ice cream his performance enhancing drug. He's everyday Joe, and those food choices represent that. It's hard to complain about pasta and ice cream.
In the end, how did your feelings about the White House and the role of food evolve?
My appreciation for the White House deepened and became far more nuanced. The White House is not simply a symbol, it's an actual home that people live in. It's also the nerve center of Western civilization. It's a military command post, and it's a head of state's home that the public can tour, and it's a decorative arts museum — it's just a remarkable place.
There are actually three kitchens, including an executive kitchen on the ground floor, and it is tiny when you picture these state dinners for 100 to 200 people. White House chefs are very accomplished cooks who don't get paid that much. They could make more in a fancy restaurant, but there's an allure in the White House — the prestige, proximity to power and the excitement.
There's something going on foodwise almost every day, whether it's George W. Bush wanting to have a ham and cheese sandwich or a state dinner or the Pope or Gorbachev or Princess Diana visiting — the kitchen is a hidden nerve center on the ground floor.
Robert DiGiacomo
is a veteran Philadelphia, Pa.-based journalist who covers food and travel, arts and entertainment and personal finance. He has written for The Washington Post, USA TODAY,  The Penn Gazette and Fodor's.
Read More