The Dirty Little Secret About Baby Boomer Debt
Many Americans in their 50s and 60s are saddled with steep credit card bills and loan payments, endangering their retirement
Recently, I wrote a Next Avenue blog post urging parents of this year's college grads to stress the importance of avoiding the bad habits that lead to massive debt. But after reading some unsettling research published this week, I now believe that Americans in their 50s and 60s are the ones who really need help — and they better act soon or they'll be putting their retirement in serious jeopardy.
The Debt Load of Older Americans
In her excellent Baltimore Sun article, "Seniors Grow Old Under Debt" (written as part of a MetLife Foundation Journalists in Aging Fellowship), Hanah Cho revealed:
The average overall debt for 55-and-older households more than doubled from 1992 to 2007, topping out at $70,370. (Source: Employee Benefit Research Institute).
Adults 65 and older are the fastest-growing group filing for bankruptcy protection. (Source: University of Michigan law professor John A. E. Pottow).
Adults 50 and older owe 17 percent of the nation's student loan debt. (Source: Federal Reserve Bank of New York).
Debtors 60 and older represent the fastest-growing segment seeking advice and assistance from the Association of Independent Consumer Credit Counseling Agencies.
Experts cited in Cho's article say health-care bills are the leading culprit for anyone in their 50s and 60s. "One illness or emergency can throw a senior into big debt," said Marceline White, executive director of the Maryland Consumer Rights Coalition.
Who Owes the Most Credit Card Debt
But here's the fact that convinced me older Americans need more help with their finances than college graduates: The age range of low- and middle-income Americans with the highest credit-card debt today is 65 and older — they owe an average of $9,283. By comparison, 18- to 24-year olds in the same wage bracket average just $2,982 in credit card debt; those age 25 to 34 are about $5,156 in the red.
These findings were disclosed in The Plastic Safety Net, a new report by Demos, a nonpartisan public policy research and advocacy organization in Washington, D.C. The group surveyed 997 low- and middle-income households carrying credit-card debt for three months or more.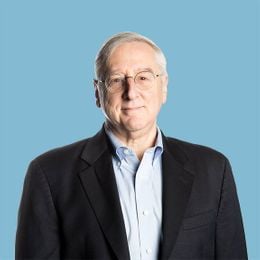 Richard Eisenberg
is the former Senior Web Editor of the Money & Security and Work & Purpose channels of Next Avenue and former Managing Editor for the site. He is the author of "How to Avoid a Mid-Life Financial Crisis" and has been a personal finance editor at Money, Yahoo, Good Housekeeping, and CBS MoneyWatch.
Read More