WATCH: Discovering the Surprises of Retirement ... and Unretirement
Four artists share personal takes on where life is taking them
Stories about retirement and unretirement are perennially popular on Next Avenue; readers are always curious about just what the transition, or "graduation," to a new phase of life will hold. Sometimes, the answer is: "Not what was expected."
In this series of videos, called "Welcome Graduates," four people who have built careers as artists and who continue in those roles — sometimes in different ways — share a bit of their own journeys of discovery about everything life still has to offer.
A Surprising Take on Graduation
As this rousing and congratulatory speech given by poet, teacher and dancer Mary Moore Easter reveals, those who are "graduating" to retirement have much more to celebrate than they may realize.
When Life Doesn't Unfold as Expected
Nancy Carlson, a celebrated children's book author, had to adapt to how life radically changed after her husband's frontotemporal dementia (FTD) diagnosis. Despite having faced a deep loss, Carlson's story has turned towards opportunities, just not the ones she expected.
Celebrating Three Phases of Retirement

Chris Osgood, a musician on the forefront of the Minneapolis punk rock scene in the late 1970s, carries two types of business cards describing the multi-faceted roles he now has time to enjoy.
Congratulations! It's Just the Beginning
Rick Shiomi, playwright and former theater director, proudly proclaims his membership in the "unretired retirees" group … and lists all its many benefits.
---
The "Welcome Graduates" series is produced by Marissa Blahnik and directed by Brennan Vance. These videos were made possible with the support of Aroha Philanthropies.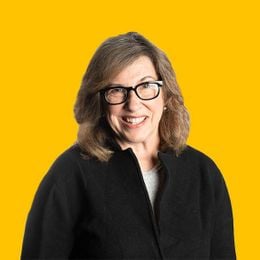 Julie Pfitzinger
is the managing editor for Next Avenue and senior editor for lifestyle coverage. Her journalism career has included feature writing for the Star-Tribune, as well as several local parenting and lifestyle publications, all in the Twin Cities area. Julie also served as managing editor for nine local community lifestyle magazines. She joined Next Avenue in October 2017. Reach her by email at [email protected]
Read More