Trash Talk About Frayed Fashion: Donating Unwanted Clothing and Textiles
Mismatched socks? Ripped shirts? Use this easy guide to learn how and where to donate these and other used clothing items.
Do you have a closet brimming with clothes that you no longer wear? Are you sorting through your parents' or grandparents' closets filled with clothing from as far back as the 1970s?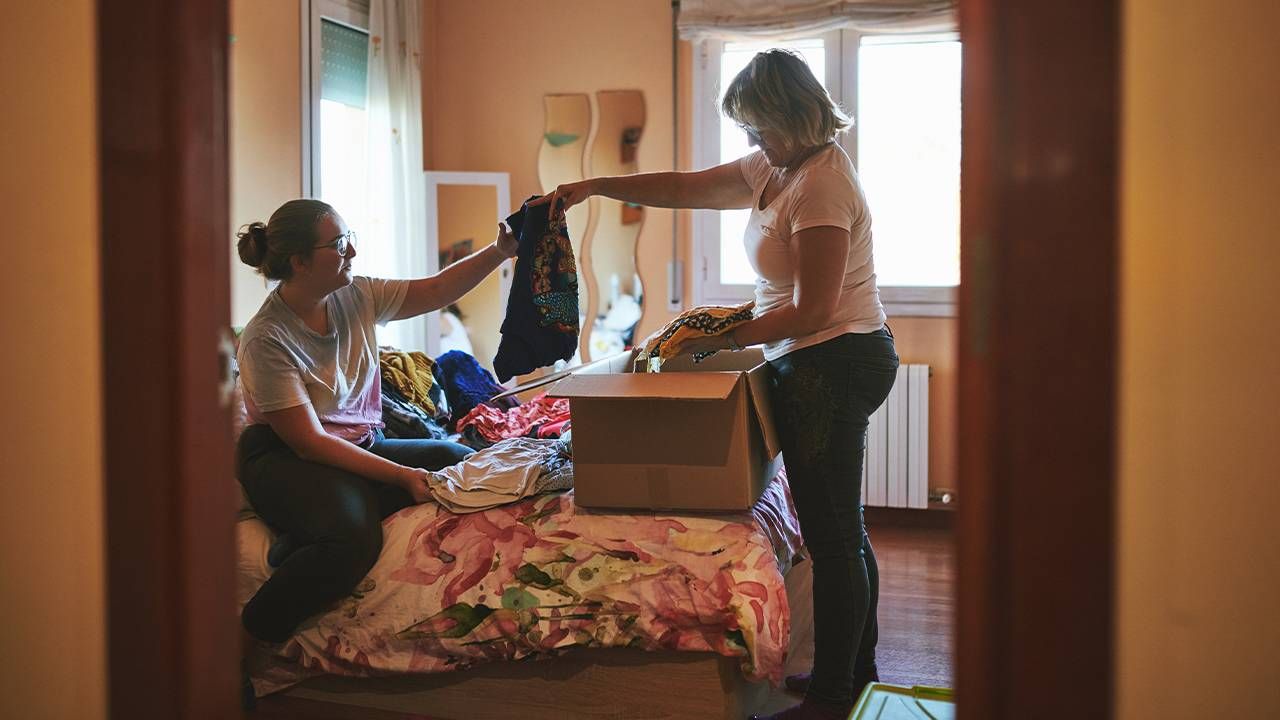 Do any of the following items occupy space in your drawers, closet or attic? What would you do with the following unwanted clothing or household textiles?
Mismatched or single socks
Tights or hosiery with runners
Stained or hole-y t-shirts
Rips or tears in pants or jeans
Out-of-fashion clothing
Unwanted clothing from your parents' closets
Old towels, rugs or sheets
It's likely that many of us can lay claim to at least one item from that list. If your planned method of disposal is to "toss it in the trash," then this article is for you.
In fact, almost 100% of all household textiles can be recycled for one purpose or another.
Justifications for pitching clothing in the trash include comments such as "This is hideous…no one will ever want to wear it. This shirt has holes. The stain didn't come out in the wash. Who knows what happened to the other sock?"
If you answered, "cut them up and make cleaning rags," then you're on the right track, but keep reading. Obviously, damaged or downright ugly items aren't likely to sell in a thrift store. But if you cut them all up for cleaning rags, they'd still be cluttering your house.
Most of us understand that good quality, gently used clothing can be donated and resold at a reduced price. What about the stained, faded, torn or otherwise unwearable items?
They, too, have value on the secondary market. The fabrics may be "ragged out," — shredded and reused for industrial wipers, carpet padding, insulation or reusable shopping bags. In fact, almost 100% of all household textiles can be recycled for one purpose or another.
Where Should I Donate?
The terms for "used merchandise retailer" (the official Census Bureau designation) are typically interchangeable: charity shop, resale shop, thrift store or second-hand store. Before you donate to any store, though, research its business practices. Is it for-profit or nonprofit? Does the store owner only accept good quality, in-season, in-fashion clothing?
What does the store do with donations it deems unsellable? Does it contract a price per pound with rag dealers to collect the items it can't sell or do store personnel toss low quality merchandise in the dumpster out back? There are plenty of reputable charities to receive and process all your donations, so be picky and ask questions.
Not all donations involve reselling items. Clothing and household textiles may be donated to a nonprofit agency for distribution to other agencies or directly to people in need. Dry cleaners may clean coats for needy children. Animal shelters often accept towels and small rugs for cages and pens. The Salvation Army donates bedspreads and comforters to homeless shelters or people living on the streets.
What Should I Donate?
The answer is: Everything. When it comes to household textiles and apparel, don't throw anything away. Let the charity decide the fate of the clothing. In addition to donating good quality items, charities need rags to sell by the pound to rag dealers. The stained, faded and hideous items from your donations end up in this category.
Donate regularly, such as quarterly. Don't worry about donating a winter coat in high summer. It doesn't matter.
What's It Worth?
Use this sample pricing guideline from Goodwill to record the fair market value of clothing donations per IRS guidelines. Only items in good or better condition may be deducted on your tax returns, but nearly all donated clothing items have value to a charity.
Feeling Charitable?
There's personal satisfaction in purging closets, but one small change has far-reaching consequences. When you donate to a charity, it triggers a chain of positive "people" events:
You declutter your home, which reduces stress.
Marginalized workers experience meaningful work sorting through your donations.
Charities fund social programs from retail sales at second-hand shops which employ stockers and clerks.
Consumers with limited means have access to good quality items at a fraction of the original price.
Rag dealers earn a living reselling the damaged textiles and apparel to recycling centers. The items may be shredded back to the fiber stage and become the basis for entirely new products.
Employees at the recycling and manufacturing plants earn a steady paycheck.
Your grandchildren have a better future because your unwanted items circumvent the landfill.
When Is the Best Time to Donate?
Donate regularly, such as quarterly. Don't worry about whether to donate a winter coat in high summer. It doesn't matter.
It's best to make closet cleaning at least a bi-annual event, so the influx of donations are constant and at manageable levels for processing centers. 
Any Special Instructions?
Whenever possible, wash, dry and neatly fold all clothing and textiles prior to donating, but don't waste money on dry cleaning expenses. Item don't need to be pressed or hanger-ready, although clothing with a nicer appearance brings in more money at the second-hand clothing store, allowing the charity to fund more programs.
If the donations are ragged out, then they'll be compacted into a bale and sold to a sorting facility.
Talk Trash and Learn More
Educate your friends and family. Explain to them: "It. Is. Not. Trash. Almost a hundred percent of all unwanted clothing and household textiles can be recycled." And you might share this fact sheet about recycled textiles and clothing.
Celia Stall-Meadows




Celia Stall-Meadows, Ed.D. has a career history in higher education teaching and research. In addition to presenting on textile and apparel recycling, she has authored publications on this topic. She now manages the researcher department at the Choctaw Nation of Oklahoma. 
Read More