Encore Careers for the Rest of Us
Here's what needs to happen so more people over 50 can do good for others while earning a living
Is it really possible for somebody in their 50s or 60s to embark on an "encore career," one that lets you earn income and make a social impact? Or do you need to be wealthy to be able to do it, since the new work would typically be at a nonprofit?
 
Those questions kept bubbling up at Encore 2013, the awe-inspiring conference I just attended in San Francisco, hosted by Encore.org, the nonprofit think tank dedicated to second acts for the greater good.
 
"Last year, we were trying to introduce the encore idea," said Marc Freedman, chief executive of Encore.org and the guy who coined the term "encore career." "Now our goal is to make it more mainstream."
 
(MORE: Baby Boomers Plan to Keep Working but in a Different Way)
 
Encore careers for the rest of us was a running theme at the conference, which assembled the movement's leaders and honored Encore.org's 2012 Purpose Prize winners, men and women in their 60s who've made an impact on a major social problem. (You can read about these remarkable people in the blog post I wrote when they were announced last December.)
 
"One of the most important questions we're facing is: Is this just something for dabbling do-gooders or is it for everyone?" said Paul Irving, an Encore.org board member and president of the Milken Institute in Santa Monica, Calif. "This must be something for everyone. It must be."
 
I came away from the conference feeling that although midlife Americans of all income levels can have encore careers, four things need to happen to make the possibility more of a reality: 
    
1. Financial advisers need to talk with their clients about a new definition of retirement. Ron Cordes, a member of the Encore.org board and the former chief executive of Genworth Wealth Management put it well: "The retirement business has been all about 'The Number.' You tell me when you want to cease being productive and I'll tell you how much money you'll need."
 
Cordes says advisers should instead discuss the encore career option with clients in their 50s and 60s, especially those whose portfolios were clobbered in 2008 and are earning little from CDs and bonds due to today's low interest rates.
 
(MORE: 4 Ways to Bridge the Financial Gap to an Encore Career)
 
"The concept of a part-time encore career that can give you meaning in the second half of your life and fill a hole left by the financial markets is a hopeful message for people in a less than hopeful situation," Cordes says.
 
Advisers can also explain to people of modest means that an encore career could offer an alternative to becoming a greeter at Walmart or a barista at Starbucks during retirement, not that there's anything wrong with those jobs.
 
2. Employers should be more like Intel. The tech giant offers all employees who are eligible to retire the chance to apply for paid Intel Encore Fellowships — six- to 12-month assignments at local nonprofits that offer $25,000 stipends and provide six months of paid COBRA health insurance. So far, 75 former employees have become Intel Encore Fellows.
 
I asked Freedman why so few companies have stepped up the way Intel has. "I don't know," he said. "Intel is stunning because it's a human resources initiative, not a philanthropic one. I think Intel sees that the Encore Fellowships can be a differentiator for them in finding talent. I have great hopes that the Intel example will be a model for a new kind of HR."
 
3. Nonprofits have to do a better job welcoming people eager to launch encore careers. You might think nonprofits would jump at the chance to hire part-time or full-time people passionate about helping them fulfill their missions. Turns out, not so much.
 
"There's a lack of awareness of the encore concept among nonprofit employees. They just don't get it," said David Garvey, who runs Encore!Hartford, a program that helps unemployed professionals move into nonprofit jobs.
 
That view was echoed by Mary Bleiberg, executive director of the Community Impact Institute at Fedcap in New York City. Fedcap's ReServe program matches professionals age 55 and older (known as ReServists) with nonprofits that need their expertise.
 
"Getting nonprofits to take ReServists has been a struggle," she said. "Sometimes the nonprofits are struggling financially and can't afford to pay encore career people. Sometimes they just don't know how to use part-time help."
 
(MORE: A Manual for Encore Careers)
 
4. More colleges should teach midlifers the necessary skills to begin encore careers. A few, especially community colleges, are already doing so. You can find a list of 40 community colleges that have developed encore career programs on the Encore.org site.
 
In addition, the Plus 50 Initiative, organized by the Association of Community Colleges, specializes in training, retraining and career development programs for students over 50. (Next Avenue published an article about the Plus 50 Initiative, listing the participating schools.)
 
Then there's Empowered Careers, a new online certificate program from UCLA aimed at helping boomers reinvent themselves by entering such careers as patient advocacy and global sustainability. "We specifically wanted to offer classes where you could get a job afterward," said Sherry Lansing, whose foundation created Empowered Careers with former California insurance commissioner Steve Poizner and Creative Artists Agency.
 
But these schools are the outliers. "There's a huge hunger to use the facilities and intellectual capacity of colleges to retrain people," Irving said. "The educational system must be a part of the encore movement."
 
The Power of the Purpose Prize
I do hope that more financial advisers, employers, nonprofits and colleges will get on the encore career bandwagon. Maybe if they see more examples of older men and women like the Purpose Prize winners – ordinary people doing extraordinary things – they will.
 
Which reminds me: Application season for the 2013 Purpose Prizes has just opened; nominations are due by April 4. If you know a worthy candidate, submit an application at the Encore.org site.
 
Winners will each receive a reward of up to $100,000; other outstanding people with encore careers will be named Purpose Prize Fellows.
 
Incidentally, if you still think you have to be wealthy to have an encore career, read the stories on Next Avenue of 2012 Purpose Prize winners like Susan Burton, a former drug addict who is now an advocate for women who are also former inmates, and Judy Cockerton, an ex-teacher and toy store owner who is transforming America's foster care system.
 
"They're examples of the type of people with encore careers who are motivated by purpose first, not paycheck first," says Marci Alboher, a vice president of Encore.org and author of The Encore Career Handbook. Maybe in the future, this kind of exceptional work won't be such an exception.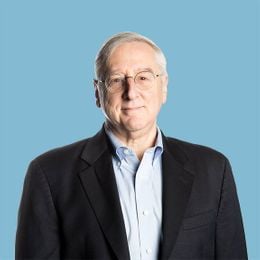 Richard Eisenberg
is the former Senior Web Editor of the Money & Security and Work & Purpose channels of Next Avenue and former Managing Editor for the site. He is the author of "How to Avoid a Mid-Life Financial Crisis" and has been a personal finance editor at Money, Yahoo, Good Housekeeping, and CBS MoneyWatch.
Read More