Environmental Activism Attracts Boomers Seeking an Impact
Concerned for future generations, they are working to stop climate change
In a conference room in the American University Washington College of Law in Washington, D.C., 100 older adults listened intently as Ellen Stofan, former chief scientist at NASA, summarized the latest research on global warming. Using vivid maps, she showed that if current trends continue, the average surface temperature on Earth would be 113 degrees Fahrenheit by 2099.
"We can't grow crops at those temperatures," she said. "The Earth will recover. It's not clear the human species will. We're at a crossroads."
Her audience, members of Elders Climate Action, needed no convincing. The national grassroots group of 3,300 came to deepen their scientific understanding and to strategize how best to communicate the climate change message to their legislators and to the people back home. Speakers included Ralph Nader and Frank Sesno, former CNN White House correspondent, who advised attendees on how to effectively influence the political system.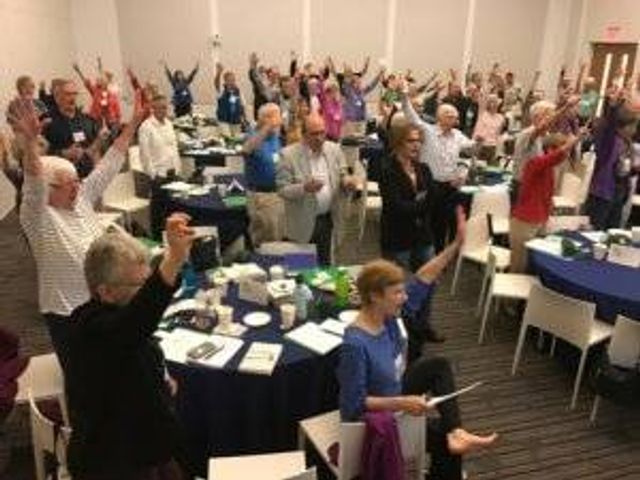 "When I quit working for a paycheck, I didn't want to be in playland," said John Sorenson, 77, of Truckee, Calif., "I wanted to do something. As elders, we have life experience, wisdom, resources and passion for life. We can change America if we work from a common vision." Sorenson founded the nonprofit Conscious Elders Network, which initiated Elders Climate Action in 2015. ("We're not claiming we're conscious — we want to be conscious," he said with a smile.)
He and others attending the event and the April 29 People's Climate March say they are motivated to leave a world that is safe and healthy for their grandchildren, without the threat of rising sea levels and extreme weather events. Elders, they believe, have a special role to play.
"We can speak to other elders on the basis of shared concern and conviction. We can talk in a way that younger people can't," said Paul Severance of Indianapolis, co-chair of Elders Climate Action, in his address to the gathering. "As we get close to 80, as I am, we're concerned about our legacy. Will we be the generation that clearly knew what was coming and didn't do anything about it? Or will we be truly the greatest generation?"
Ruth Story, from Gulfport, Miss., said emissions from a coal-fired power plant brought on high levels of childhood asthma in her community and prompted her environmental activism.
"Our children are sick, so it's imperative we do something," she said. Between that and the BP oil spill in the Gulf of Mexico in 2010, Story was motivated to start a grassroots group called Economic, Environment, Education, Climate Health Organization (EEECHO). Story said she'd like to see "the whole White House surrounded by older people getting arrested."
"Older people who know how to tweet," her friend, Mattie Jordan, also of Gulfport, chimed in.
Connecting with Other Generations
Despite harsh stereotypes of boomers, sometimes perpetuated by the mass media, recent research shows the majority of older adults are worried about climate change and the future of the planet, and many are trying to do something about it.
"Over the last three years, there's been increased interest at the intersection of aging and climate change," said Michael Smyer, professor of psychology at Bucknell University and founder of Graying Green, a project aimed at engaging older people in climate change.
In a special issue of the journal Public Policy and Aging devoted to climate change, published by the Gerontological Society of America, Smyer and other researchers cited data showing that older adults are more vulnerable to the ill effects of climate change, such as extreme weather events. The majority of those who died in Hurricanes Katrina and Sandy, for example, were over 65. Nearly two-thirds of Americans overall are concerned about climate change, and a strong majority support limiting greenhouse gas emissions, including 60 percent of those 50 and older.
"The sheer numbers of older people make their ability to act hugely important," said Cornell University gerontologist Karl Pillemer. "As boomers age, this vast resource of people whose energy and time could be devoted to environmental conservation and sustainability is really enormous."
Older people can share memories with younger generations who never knew a time when they could drink from a stream. "Older people we talked to often say, 'I'm not a tree hugger,' but they really care about the preservation of open land and the cleanliness of water," said Pillemer. "They remember hunting with their father and grandfather. The wisdom and experience of older people can be uniquely valuable in communicating what life was like in a more pristine environment."
But Pillemer's research also found that people over 65 are much less likely to volunteer on environmental efforts than younger people, and that environmental groups were partly to blame. "We found almost invariably that local environmental organizations were not focusing on older volunteers," he said. "There was no attempt to reach out to them, and no provisions of thinking about people of different levels of activity." Meetings were scheduled in the evenings, when many older people don't drive.
Pillemer's team developed a model program for local organizations and agencies called Retirees in Service to the Environment (RISE). Participants attend science-based educational sessions, receive leadership training and engage in a group environmental stewardship activity, which also provides an opportunity for social connections that many people lack when they retire. Some 150 people in 12 communities in New York State and Florida have participated, contributing up to 2,500 volunteer hours. Groups can request a free online training manual on the RISE website.
How to Engage the 'Worried Middle'
Smyer is working to engage what he calls the "worried middle" — those who are neither taking to the streets nor in denial about global warming. "I'm focusing on older people becoming more valued, visible and effective on climate change," he said.
In his research as a Civic Innovation Fellow at Stanford University's School of Design, Smyer has developed simple strategies to spur action on climate change. For example, he asks people to imagine a favorite place, then to draw what it would look like after climate change and finally to think about some action they could take to avert that scenario. "This helps people focus on what they are doing now and what are their next steps," he said.
In another study, consultant Susanne Moser of Santa Cruz installed a scene viewing apparatus along a path in Marin County, Calif. When curious passersby looked through the viewer at the ocean, they saw the scene before them as it would look under current and future flooding, anticipated with sea level rise caused by climate change.
The apparatus included a simple survey to gauge the watcher's concern before and after viewing the rising sea and whether their desire to take action had shifted. Some 3,700 people participated over 14 weeks. "The greatest proportion who made an active shift was the older generation," noted Moser. "It's a very different story than what you usually hear, that older people don't care about climate change."
Next Avenue Editors Also Recommend: