Why Exercising For Just A Minute Could Save Your Life
Think you have no time to get in shape? Try these 5 tips to bring bursts of exercise into your day.
A 2020 study from Australian researchers finds that vigorous intermittent lifestyle physical activity (VILPA) — exercising in an intense burst for 1 minute, 3-11 times a day — cut study subjects' risk of cardiovascular death by an impressive 65% and death from cancer by 49%.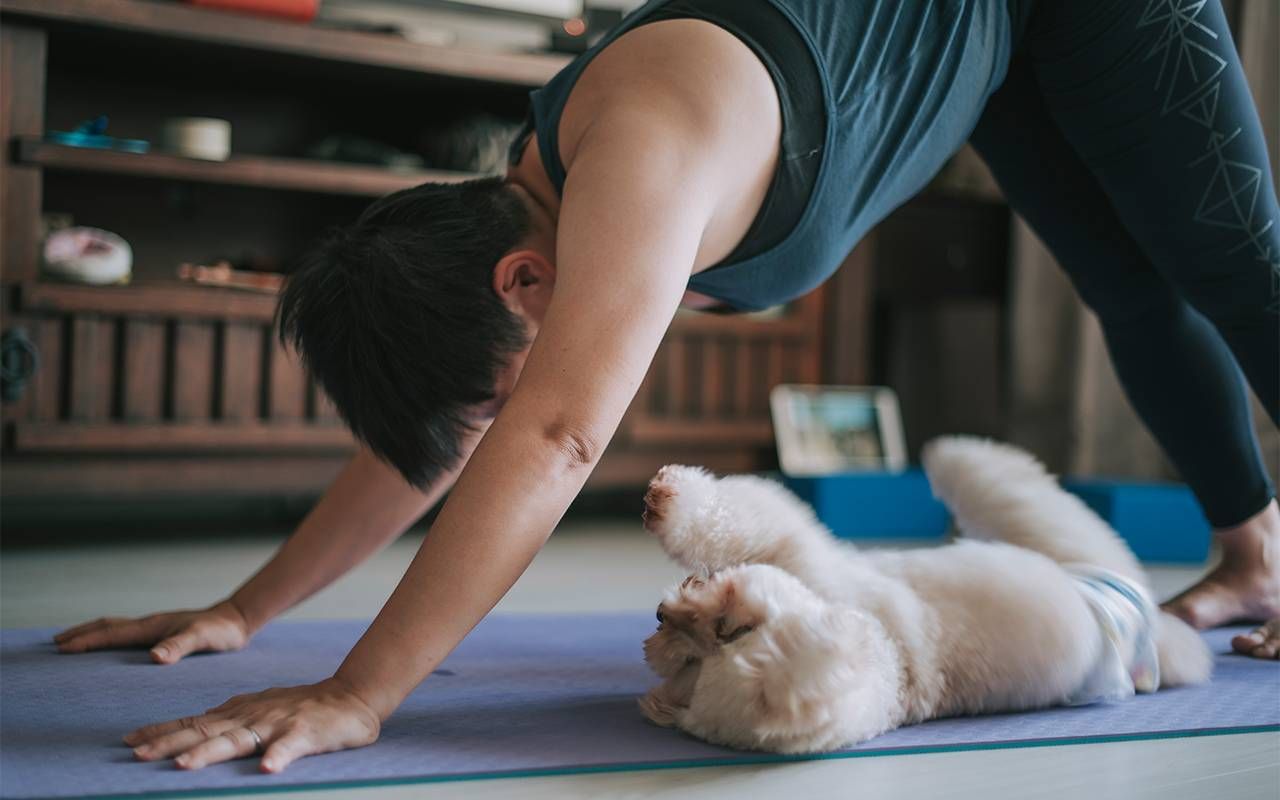 VILPA is thought to be effective in the same way a high-intensity conventional workout can be. Lead study author Emmanuel Stamakakis, professor of physical activity, lifestyle and population health at the University of Sydney's Charles Perkins Centre, and his team found that VILPA done during daily activity can provide the same health benefits as more traditional cardio activities.
"Ideally, getting 150 minutes a week of moderate exercise, or 75 minutes a week of vigorous exercise is recommended."
The researchers asked 25,000 people who said they did not work out to use a wearable device and engage in exercise "micropatterns"— frequent, spaced-out, high-energy movement as opposed to one long session. The results: Eleven VILPA micropatterns a day is all you need to do to gain results, and you can do almost any cardio — even amped-up housework does the trick.
Additional research has previously shown this workout approach to be favorably effective. For example, a French - US study found that spreading outbursts of physical activity throughout the day positively affected mood, appetite and energy levels. 
Also, the study found that moving for three minutes every half hour – which you can achieve by taking some stairs or jumping jacks – helped control participants' blood sugar. 
"Ideally, getting 150 minutes a week of moderate exercise, or 75 minutes a week of vigorous exercise is recommended," says Cindy Sullivan, owner of Cindy Sullivan Fitness in Boston, which trains older adults. "That equals about 30 minutes a day, but it can be broken up in many different ways to be effective."
Do you want to try this time-saving, health-boosting "workout"? We asked two top exercise experts for their advice; here are their five easy tips for getting the most out of VILPA.
1. Get A Physical
No matter how briefly you do it, higher–intensity cardio requires endurance and good health. So you want to make sure before you start any VILPA that it's safe for you to start. 
"You definitely want to speak with your doctor before you do this kind of exercise," says Ron DeAngelo, director of sports performance training at the University of Pittsburgh Medical Center. 
"I would also recommend using a pulse oximeter while doing this exercise, for safety. If you measure 95 or more, your oxygen level is good. You don't want it dropping below 93," he says.
Your doctor may also advise you to monitor your heart rate before, during and after exercise.
2. Vary Your Activity
Making micro-bursts a habit throughout your day should never feel like a chore. Instead, it should be something that invigorates you. The key to making this happen? "Try to make it fun," suggests Sullivan. 
"You can do microbursts while brushing your teeth or taking out the garbage." 
"For example, I have a client who admitted to sitting and watching TV a bit too long. I encouraged her to start including little bursts of exercise during commercials. We make it like a game to see how many chair squats, standing and sitting, she can do in 60 seconds during the commercial."
"Another way to do this could be to sneak in a microburst workout while the water is boiling while you are cooking. You can march in place, raising your knees high with your arms overhead. You can do standing push-ups off your kitchen counter. You can do microbursts while brushing your teeth or taking out the garbage." 
Remind yourself that you are doing good for your body and you will also experience an incredible sense of accomplishment.
3. Watch Your Form
"Even though you might be speeding up your moves, you still want to maintain proper form throughout your movements," Sullivan stresses. 
"This is especially important as we get older to maintain good joint health, posture and alignment, and to prevent overall injuries," she adds.
Remember to engage your core, not hunch over, and do a few stretches before and after you complete a micro-burst. 
You can consult a trainer at your local gym for tips on a specific form to ensure you are maximizing your results.
4. Focus on Recovery
The period after you stop exercising is just as beneficial as the workout. For example, the physiological changes that exercise causes that are good for your heart occur as you rest. 
Therefore, it's crucial to stop after short activity, drink water, and allow your system to "catch up."
"Go at a comfortable pace and listen to your body as you go."
"As we get older, recovery is even more important," says DeAngelo. Another critical reason to pause for recovery: you'll rejuvenate, so it will be less stressful on your body when you do your next micro-burst. 
"It's not unusual to be out of breath after intense exercise, but you don't want to be totally out of breath," DeAngelo adds. 
"So, you have to have an excellent recovery period. If you run up and down the stairs to get your laundry in the basement, for example, take breaks. For fit people, the work-to-rest rate is about 10 seconds of going upstairs, then 1 minute of recovery."
5. Don't Overdo
You'll notice some quick and positive changes after following a VIPLA routine. Of course, it's normal to feel a little fatigued at first, but chances are, your energy level will increase as your body gets used to the activity boost. 
Still, this doesn't mean you should push too hard or fast. "Start slow and build up the intensity to avoid injury," notes Sullivan. It's great to set mini-goals – say, increasing the number of micro-bursts you do throughout a couple of weeks. 
However, there are no rules as to how fast you should progress. "I think a good way to think about this is that everyone is different," DeAngelo explains. "An intense 5 minutes for me might be longer for someone else." 
"Go at a comfortable pace, and listen to your body as you go." Be consistent and you'll notice the difference.
Lisa Mulcahy
is an internationally established health writer whose credits include Oprah Daily, Good Housekeeping, Prevention, Elle, Cosmopolitan, WebMD, Glamour, Men's Health, Marie Claire, The Los Angeles Times, Harper's Bazaar, Woman's Day, Health, Family Circle, Self, Redbook, Parade and Seventeen.  She is the author of eight best-selling books, including the Amazon #1 new release, The Essentials of Theater.
Read More